Remaster Class: Superman
In part because it has now endured for 40 years, but also because it is the sort of thrilling cinematic entertainment we never seem to tire of, Superman has appeared on just about every home entertainment format, and deservedly so. The first comic book blockbuster, director Richard Donner's visually stunning epic stars Christopher Reeve as the only survivor of a brilliant but arrogant alien culture who finds his place in our world as a god-like protector.
Superman debuted on home video in a two-CED set for the RCA SelectaVision videodisc system. Audio was mono and the picture panned and scanned, the 4:3 image hobbling Geofrey Unsworth's glorious widescreen cinematography. The original VHS release was truncated from 143 minutes down to about two hours, reportedly due to a lack of videocassettes longer than a T-120.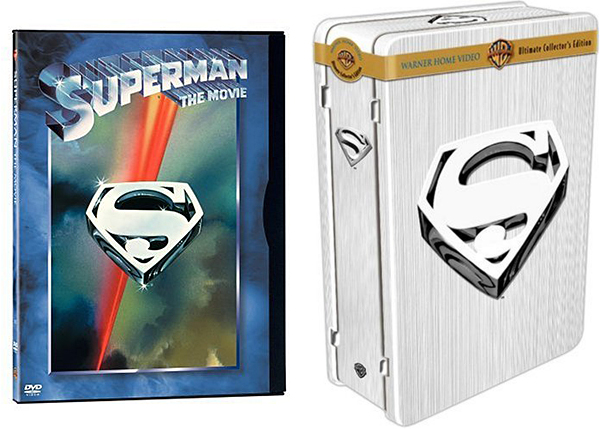 American audiences were finally given a widescreen version with the release of the laserdisc in 1990. Color and overall picture quality left much to be desired, but at least the marvelous and vital compositions were finally set free. Not much changed until Superman entered the digital age with the 2001 DVD. This marked a pivot to a longer, director-approved "Special Edition" cut, complete with a version- specific commentary with Donner and creative consultant Tom Mankiewicz. This was the only cut of the movie on five-inch disc until the 2006 "Ultimate Collector's Edition" DVD tin, which included the long-overdue theatrical version.
Not until the 2011 "Motion Picture Anthology" Blu-ray boxed set appeared was the original 1978 cut available in high definition. Then, in 2017, Warner Archive Collection made many a fan's dream come true with the "Extended Edition," a sprawling three-hours-plus kitchen-sink cut that restored footage only seen in TV airings, but now presented in letterboxed form on Blu-ray.
Which brings us to 2018, and a new Ultra HD Blu-ray that honors the past while delivering the best of today. I've seen this movie more times than I can count, and in 4K I spotted little bits of background action I've never noticed before. Of course, there's more detail exposed in the matte paintings, as well as real precision in the wafting wheat stalks of Smallville. The organic peculiarities of focus, from the lenses, filters, etc., are beautifully maintained. Grain is sometimes substantial, and not only in the process shots.
The film's color balance has been tweaked a few times over the past 17 years, and for the 4K disc the producers appear to have settled on a happy medium that is both vibrant and faithful. HDR10 and Dolby Vision impart a pleasing pop to the 2.40:1 image. There's also a subtle beauty to the color range that wasn't there before, with more nuance in the fleshtones, although some makeup is also noticeable.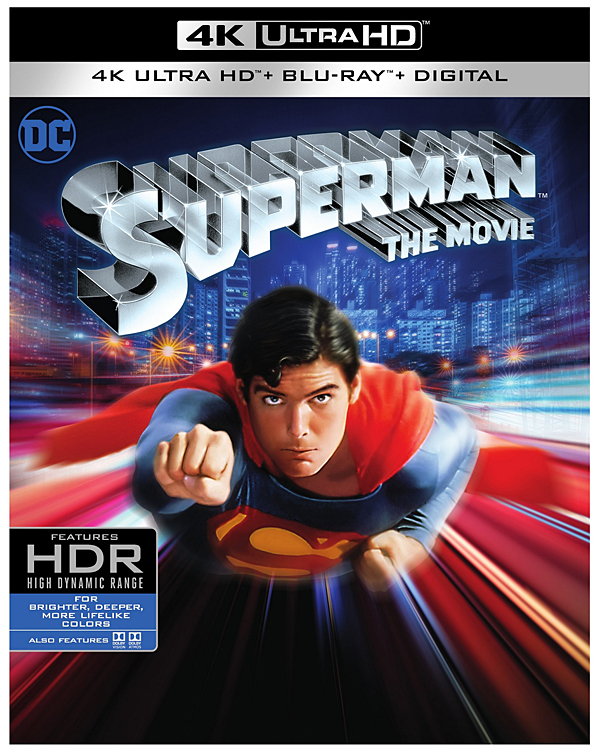 The first DVD packed a remixed, modified 5.1-channel soundtrack reimagined for contemporary tastes, and that provides the basis for the Ultra HD Blu-ray's new Dolby Atmos mix. Somewhat surprisingly, the disc defaults to a high-bitrate Dolby Digital 5.1-channel presentation...which marks the home entertainment debut of the original 1978 theatrical six-track! Dolby's Ioan Allen once explained to me that this was the first 5.1-channel soundtrack (pre-dating even Apocalypse Now) as evidenced by its split left/right surrounds and directional dialogue. While it doesn't offer the whiz, crash, and boom of modern tracks, it is nonetheless an exhilarating and enveloping audio accompaniment.
The 4K disc ports commentary by producers Ilya Salkind and Pierre Spengler that is repeated on the bundled Blu-ray, but only with a subset of the many super extras of the past. For picture and sound, this new disc is a champion, but don't banish your old discs to The Phantom Zone just yet.