Hands On: Pyle Wavebase PSBV600BT Soundbar Takes a Stand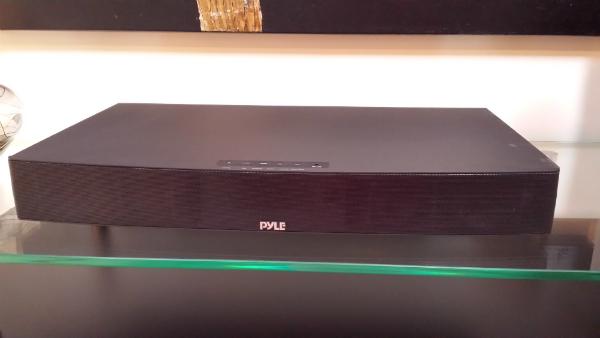 Ever since I left the world of car stereos, Pyle Audio has fallen off my radar. When offered an opportunity to listen to their latest soundbar, the PSBV600BT ($300), I have to admit that I was intrigued. I knew this company had a long history of making good speakers for the automotive world, but haven't heard any of their home products. This was going to be interesting.
The PSBV600BT isn't your typical soundbar. They call it a WaveBase Sound Stand. I call it a tabletop speaker that you can put up to a 44-lb. TV on, with a maximum TV stand size of 19 x 8.5 - this is not the soundbar on which to mount your behemoth 85" monstrosity. Not gonna happen. For a smaller secondary TV, however, this lightweight (9.5lbs) unit has merit.
The PSBV600BT has a good array of inputs; a wireless Bluetooth 3.0 connection makes listening to a quick YouTube video from your phone simple. Pairing was painless and the connection stayed solid up to 30 feet. It also has RCA connectors and an optical input on the back panel. For convenience, there's an "MP3 Link" 3.5mm input on the top edge right on the front of the unit near the other controls.
The top of the unit has the power button, source select, pair/play/pause button, volume up and down, along with that 3.5mm input. The front of the unit has a slight curve so even if your TV stand comes close to that leading edge, the curve should keep those buttons accessible and the MP3 input safe. A compact remote is included with buttons for power, source, volume+/-, play/pause, track reverse, track forward, Bluetooth pair, EQ, and mute. Sometimes simple is good.
The front of the unit has status indicator LEDs for power and sources: Aux, Bluetooth, Optical, MP3 Link. It also has an LED labeled "Movie/Music." When the EQ mode is in "Movie" mode, the LED lights solid. In "Music" mode, it slowly flashes. There are four 1.5" full-range drivers mounted in the front of the unit and a downward-firing 3.5 woofer and a rear-facing port. Total power is 60-watts.
Setting up the unit is quite simple, and switching modes from phone with music to cable input or Blu-Ray player was simple. An HDMI input might be nice, but for me, the optical input sufficed.
I checked it out first with the hardwired "MP3 Link" connection to my phone, using full-res WAV files. It sounds balanced and natural, with a slightly narrower stereo image than I expected. Movie dialogue was clear and locked onto the center of the screen, but effects that were panned out to the edges felt closed in and the image was small. Switching between Music and Movie modes significantly bumps up the bass. The bass boost is reserved for Movie mode. That said, I rather liked it on the latest from David Guetta, but for the most part, it's overpowering for most music mixes. On movies, however, it did generously increase the bass impact of explosive sound effects.
The Pyle PSBV600BT is a good soundbar for a secondary system. The quality of the speaker drivers is rather nice, as I expected from Pyle Audio. Let's face it, anything is better than the sound from most of today's flat-panel TVs, especially the smaller ones. This is a quick and simple way to upgrade your system. It doesn't have the power or range to carry a home theater, but for a bedroom TV, office, dorm, or small apartment with a smaller TV, it is more than adequate.