PSB Imagine XB Speaker System
PRICE
$1,846
AT A GLANCE
Plus
Clarity and evenness
Compact, tuneful sub
Affordable price
Minus
Dynamic limits of small sub
THE VERDICT
PSB's Imagine X series refreshes a popular speaker line with reliably excellent sound.
A small but growing number of my younger readers care more about headphones than loudspeakers—but might eventually want to own both. That's why I'm about to use headphones as the starting point in a speaker review.
There are names that evoke loudspeakers: Bowers & Wilkins, GoldenEar, KEF, Klipsch, MartinLogan, Paradigm, Wilson, Definitive Technology. Then there are names that evoke headphones: AKG, Audeze, Beyer, Grado, Koss, Sennheiser, Stax. However, though several speaker manufacturers have dabbled in headphones, it's hard to think of many brands known equally well in both categories. One is Bose. But what other brand bids to become a powerhouse with multiple paths to our ears, with equal credibility and/or success in both product types? Let me put forth this name: PSB. Paul Barton, the man behind the iconic Canadian speaker brand, has been designing headphones for both his own brand and stablemate NAD. He's not the first speaker designer to try his hand at headphones, and he won't be the last. What's noteworthy is that the headphones are getting as many rave reviews as the speakers.
The point being, if headphone credibility happens to be your starting point in a search for the right speakers, PSB hits the bull's-eye in both categories. Now let's talk about speakers.
Imagine X Is the New Image
The PSB Imagine X line replaces the Image line with trickle-down technology from the Imagine (with no X) line, packaged into less elaborate enclosures. With me so far?
There are four new models, including two towers, a monitor, and a center, the latter two reviewed here. As for the ones not reviewed here: The larger tower, X2T, is based on the higher-end Imagine T2. It's priced at $649 each, enabling purchase of odd-numbered units for large-scale surround systems. This three-way design is the first Imagine speaker to have a midrange—a 5.25-inch cone—in addition to dual 6.5-inch woofers and similar 1-inch ferrofluid-cooled titanium tweeters used throughout the line. The other new tower, X1T ($449 each), is a 2.5-way speaker with dual 5.25-inch woofers.
The XB monitor ($499/pair) and XC center ($399) are both two-way designs in rear-ported fiberboard enclosures. No, these 0.67-inch- thick enclosures don't boast the 2-inch-thick baffle and seven-layer construction of the higher-end Imagine line. But they do have similar convex plastic baffles, which are intended to reduce diffraction and optimize off-axis response, as well as improved internal bracing and damping. The channel running down the baffle, another migrant from Imagine to Imagine X, is largely a cosmetic touch.
The monitor has a 1-inch titanium dome tweeter and a 5.25-inch clay- and ceramic-filled polypropylene cone woofer of PSB's own devising. Covering the tweeter is a PSB badge; as with the Imagine Mini (Home Theater, December 2011, and soundandvision.com), it serves as a phase plug, improving on-axis response and off-axis dispersion. The woofer has a bullet-shaped phase plug of its own. The center speaker has similar drivers, with two of the woofers, in a larger horizontal enclosure. Fabric-covered speaker grilles are attached with pins, and the gold-plated binding posts have textured metal nuts that are easy to grab onto without resorting to a hex wrench.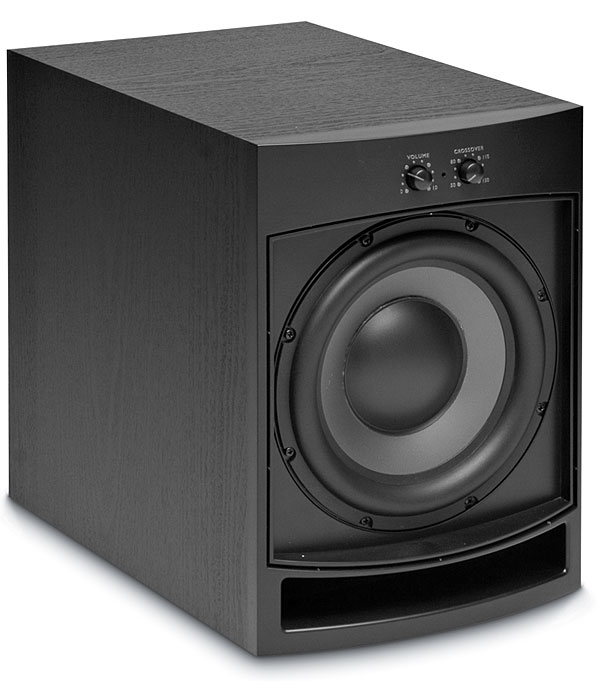 The SubSeries 125 subwoofer ($449) has a single 8-inch polypropylene cone driver firing out the front of a convex-baffled enclosure. Beneath the driver and the metal grille is a large slot-shaped port. Above the driver (cue applause) are knobs controlling volume and crossover frequency. (Why can't all subs have a front-mounted volume control?) On the back are stereo line- and speaker-level inputs plus two toggle switches, one for absolute phase, the other to switch between internal or external crossovers. The crossover toggle effectively turns the stereo line input into an LFE input—just the companion your receiver's subwoofer output is seeking.
Associated equipment included a Pioneer Elite VSX-53 A/V receiver and Oppo BDP-83SE universal disc player. All movie demos and the first music demo were on Blu-ray Disc with DTS-HD Master Audio soundtracks.
Tell Me All
The satellites took a dozen hours to limber up, but once they hit their stride, they were uncanny at bringing out the musical essence of nearly everything I played—and I say nearly only because the 8-inch sub, as good-of-this-kind as it was, lacked the force necessary for full-tilt action-movie thrills and rock 'n' roll. Traditionally, PSB's loudspeaker lines have been voiced on the warm side of neutral, with final tweaking done in the anechoic chamber of Canada's National Research Council, where Barton has been refining speaker designs for decades. But while you won't catch the Imagine XB adding false brightness to trebly material, it sidestepped additive warmth just as scrupulously, instead affording a top-to-bottom clarity and evenness. These speakers tell all but are especially flattering to the best recordings.