PSB Alpha PS1 Multimedia Speakers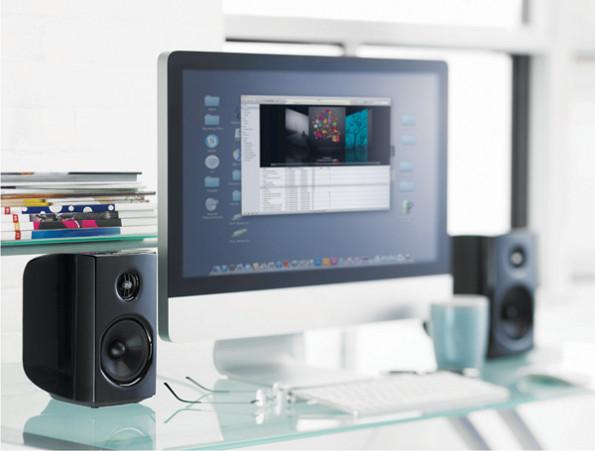 Price
: $299/pr
At A Glance
: Consistent off-axis response • Sub output • 20 watts times two
"A Book of Verses Underneath the Bough/A Jug of Wine, a Loaf of Bread—and Thou." So runs the most famous translation of The Rubáiyát of Omar Khayyám. The essence of the quotation is we need only a few basic things to attain happiness, and the Persian poet seems to imply that the fewer, the better. So what does it take to make you a happy listener? Does an audio system invariably have to follow the traditional model of speakers, amp, and source components?
For a reference-quality home theater system, the answer is still yes—but for desktop listening, bedroom listening, and casual listening of all kinds, we're free to make other arrangements: A laptop, powered speakers, and thou. A tablet, powered speakers, and thou. A smartphone, powered speakers, and thou. You get the idea. PSB intends its Alpha PS1 multimedia speakers to be the only things that stand between thy favorite devices and thou.
The enclosure is made of ABS plastic, which is tough, impact resistant, capable of maintaining its shape from –4 to +176 degrees Fahrenheit, and used to make everything from Lego bricks to drain pipes to musical instruments. The gloss black finish includes a UV-resistant coating on all sides, which curve inward toward the back. The standard base aims the speaker ever so slightly upward. An optional PTB-1 Tilt Base ($30) increases the firing angle by 15 degrees.
Although no grille protects the 0.75-inch aluminum dome tweeter and 3.5-inch metalized polypropylene cone woofer, the tweeter is protected from destructive little fingers by two vertical bars and an oval PSB badge. The plastic woofer cone is stiffened by vapor-vacuum-deposited aluminum. This is claimed to expand its pistonic operating range and therefore extend its upper frequency range. Internal amplification is rated at 20 watts per channel. The amp uses energy-efficient and cool-running Class D topology, so there are no protruding metal fins to dissipate heat. The design imposes no DSP processing between amp and drivers.
A speaker-level cable connects the right speaker to the left. The left speaker contains the back-mounted volume dial and power switch. Connectivity includes two stereo line-level inputs, with RCA and minijacks; a subwoofer jack, which outputs a summed mono full-range signal, leaving your subwoofer's filter to handle crossover duties; a power jack, which connects to a cable incorporating a 5-inch-long power supply brick; and a USB input, which accommodates an optional Bluetooth apt-X receiver (unavailable at press time).
The USB jack does not support a digital-to-analog converter, so if you don't like the sound of your computer's soundcard, you may want to add a USB DAC such as the Meridian Explorer used for this review. Along with a Lenovo Win 7 desktop PC, the DAC got the best out of several new FLAC downloads from HDtracks as mentioned later.
With the back-mount volume dial not within easy reach, I made most of my volume adjustments with the playback software (Foobar 2000 for high-res FLAC, Windows Media Player for low-res MP3). To achieve a moderate listening level while seated at my desk, with my ears 2 feet from the speakers, I set the software volume controls to their middle positions, allowing easy adjustments in either direction, and the Alpha PS1's knob at just one-third of its range. To reach a comfortable volume at my armchair 7 feet away, the Alpha PS1 volume control didn't need to go beyond its middle position. There was gain to spare.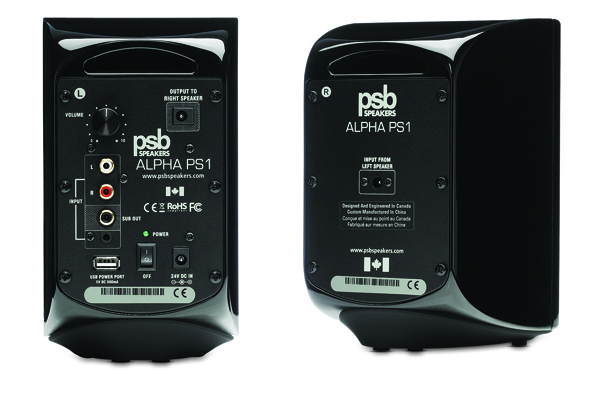 Aside from the predictable bass rolloff—inevitable in a speaker of this size—the Alpha PS1 offered a well-proportioned balance of frequencies with more top-end air than you'd expect and generous (but not excessive) detail in the presence region. At first the spatial perspective seemed slightly forward, but that proved to be content-dependent: In the Saint-Saëns Organ Symphony with Charles Munch and the Boston Symphony (a 24-bit/176-kilohertz FLAC file), I felt as if I were in the front row of the concert hall, with brash brass and cymbals. But when I switched to Mussorgsky's Pictures at an Exhibition with Fritz Reiner and the Chicago Symphony (also 24/176), I felt as if I'd moved several rows back. Being up front with Saint-Saëns didn't make the violins anything less than smooth and sleek, and being farther back didn't deprive Mussorgsky's brass of its zing. But the spatial distinction was palpable.
The Alpha PS1 also allowed me to observe distinctions in the resolution of content. In David Bowie's The Next Day, the vocal became bigger and firmer when I switched from MP3 at 192 kbps to FLAC at 96/24, and the other instruments gained a subtle vibrancy. A track from Donald Fagen's Kamakiriad amazed me in 24/96—for years I've been using "Tomorrow's Girls" as a test track at CD resolution but have never heard such lovely imaging and layering till I auditioned the high-res version with the Meridian Explorer and Alpha PS1.
While the system provided its best imaging in an equilateral-triangle desktop listening position, it maintained excellent off-axis response at a greater distance. Voices kept their tonal shape, and higher volumes were possible. The Alpha PS1 proved its mettle as both a desktop system and a general in-room system for background music. With a sub added, it would give lower-powered component systems a run for their money.
It should come as no surprise that these powered speakers are high performers. PSB is a heavyweight speaker brand, and its founder Paul Barton developed the Alpha PS1, testing and tweaking the design at Canada's National Research Council facility in Ottawa. Why shouldn't speakers for desktop or casual listening be designed by a master?
Audio editor Mark Fleischmann is also the author of the annually updated book Practical Home Theater (quietriverpress.com).