Polk Monitor XT10 Subwoofer Review
PRICE
$299
AT A GLANCE
Plus
Compact Design
Plenty of output above 30 Hz
Wallet-friendly street price
Minus
Weak output below 30 Hz
A bit boomy

THE VERDICT
If you're on a tight budget and aren't looking for subterranean bass output, the XT10 will provide some oomph down to 30 Hz for a wallet-friendly price.
Polk Audio is an American manufacturer of high-performance audio products, founded in 1972 by Matthew Polk, George Klopfer, and Sandy Gross. The company quickly made a name for itself in the audio industry by introducing innovative technologies such as the first ever satellite speaker for home use, and later the patented SDA (Stereo Dimensional Array) technology that offers a holographic stereo listening experience.
Polk Audio was an early pioneer in the use of high-end materials and finishes for comparatively affordable audio equipment. The company played an instrumental role in making high-fidelity sound accessible to a wider audience and it has added home theater systems, sound bars, and wireless speakers to its line of products over the years.
In 2006, DEI Holdings purchased Polk Audio. After eventually buying DEI from another private equity firm, Charlesbank Capital Partners, in 2011, that business merged the brands of Polk, Definitive Technology, and Boom Movement to form Sound United in 2012.
Today, Polk Audio is part of the Sound United family of audio brands, which also includes Denon, Marantz, Definitive Technology, Boston Acoustics, and Bowers & Wilkins. The story doesn't end there, though. In 2022, Masimo Corporation, a global technology company with headquarters in Irvine, California, bought Sound United again. Sound United still holds all the audio brands.
Polk products can be found at a large variety of retail locations, both online and B&M. My personal exposure to them has been through Best Buy, although I've never owned or auditioned any of their speakers in my own home until the Monitor XT10 arrived from FedEx.
Just The Facts
The XT10 features a compact and sleek design that blends well with most home environments and virtually any home theater system. It's relatively small and lightweight for a subwoofer, making it easy to move around and place in the optimal location within the room. The subwoofer has a black matte finish that has a high SAF (Spousal Acceptance Factor) and looks like a simple square box since its 10-inch woofer and port are located on the bottom.
At a budget-friendly price point of $299, don't expect tank-like build quality. The vinyl-wrapped MDF cabinet is solid, and thankfully, I didn't notice any vibrations or resonances coming from it. I'd also consider the subwoofer to be pet and kid-friendly since the woofer and port aren't accessible unless one tips the subwoofer on its side. Therefore, there's no worry about your cat using the woofer as a device to sharpen its claws or your child doing a science experiment to see how many Legos they can fit into its flared port.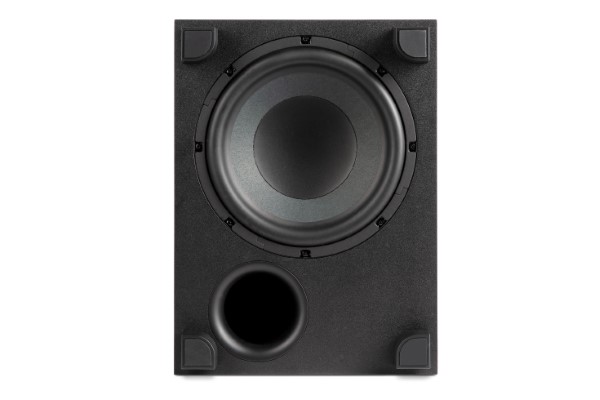 The XT10 offers a range of features one would expect on an entry-level subwoofer to tailor its performance to your specific needs. It's powered by a 50-watt Class D (100-watt peak) amplifier, which at first blush seems rather low. Using REW, I was able to get 108dB of output at 50Hz, which somewhat surprised me given its pedestrian power numbers. Granted, this little sub isn't going to wake the dead with foundation-shaking bass, but it performs quite well for its size and above 30Hz.
Controls include an adjustable crossover with a range of 40-160Hz, which allows you to blend the subwoofer in with your main left/right speakers and avoids any frequency overlap that could result in muddy or distorted sound; if you choose to use the crossover built into your AVR, then use the LFE input and set the crossover to its highest setting in order to bypass it in the subwoofer.
Other rear controls include a volume knob to adjust to the level of your main speakers. Best practices are to use a calibrated SPL meter, but these days most people are downloading an app on their phone/tablet for this task, which is good enough for the vast majority of the population.
The XT10 also features a phase switch, which helps ensure the subwoofer is in sync with your main speakers. By flipping the switch from 0 to 180 degrees, you can adjust the timing of the subwoofer's output relative to your other speakers. I found that 0 worked for me, and I adjusted the delay in my AVR to ensure the subwoofer was time-aligned in my system.