Polk Audio Command Bar Soundbar Review Page 2
It's worth noting that, although the Command Bar's control panel looks and behaves like an Echo Dot (right down to the multicolored light ring that acts as an indicator for volume and various other functions), it lacks the full voice capabilities of a standalone Echo smart speaker. As with the Sonos Beam, there are limitations pending ongoing firmware updates, which in this case includes Alexa voice calling and messaging. The Command Bar also lacks multiroom functionality to send music to other rooms via any of the usual platforms (Chromecast, AirPlay 2, or even Amazon's own MRM that allows sharing of music on some specified Echo speaker models; Polk says a firmware update for the latter is forthcoming). On the other hand, most functions you'll want to control by voice are there, including home automation (via Philips Hue lighting and Wemo smart devices, for example), music from the Alexa-friendly services (Amazon Prime Music, Spotify, Pandora, iHeart Radio, Tune-In), audio books from Audible, and the usual queries about the weather.
Performance
So, how does Polk's Command Bar sound? Pretty darn good...for a $300 soundbar. To begin with, it was surprisingly authoritative. It played really loud and clean, having no trouble hitting peaks in the 95- to 98-decibel range with both music and movie soundtracks in my large space. At loud but more typical volume, the Command Bar did a great job tracking dynamic swells and peaks when called upon by audio effects or a big crescendo. On the minus side, it suffers from at least one of the faults we generally complain about with soundbars: a lack of front-to-back image depth that would otherwise add dimensionality and body to instruments and vocals.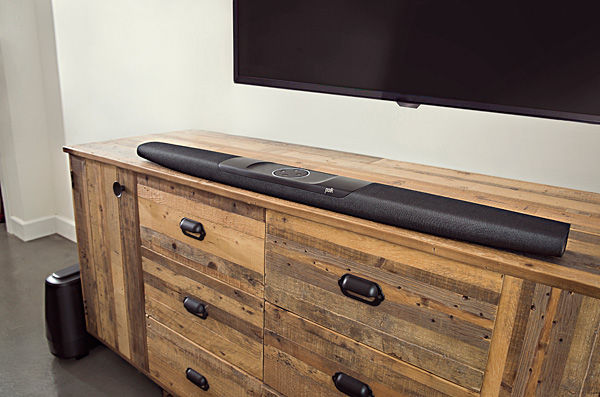 My only other complaint— also common with inexpensive soundbars—was that the supplied subwoofer couldn't always keep up with the bar. It did go low for a small, plastic sub; frequency sweep tones in my studio revealed noticeable output at 40 Hz and above, and there was no obvious sonic gap at the crossover to the bar. On the other hand, while it delivered punchy impact with action movie soundtracks, it could also sound one-notey and overwhelmed when pushed and didn't do as well handling driving bass lines in music or orchestral scores.
Fortunately, Polk's controls provide some ability to adjust the sound. I found it best to keep the bar in its Music mode for all content, including movies, and then use the Bass and Voice rockers on the remote to optimize the sound. I also found that propping the front of the bar on my 26-inch-high TV stand for better aim at my ears improved its projection into the room.
Thus tuned, the Command Bar delivered a fairly wide and tall image that nicely matched the height of my TV's 60-inch screen and went beyond its edges. The early battle scenes in Wonder Woman, in which Diana first crosses the No Man's Land into German-occupied territory and then helps liberate the town of Veld in Belgium, is a non-stop frenzy of gunfire, exploding bomb shells, shield-deflected bullets, and crashing metal and concrete. The Command Bar brought it to life and delivered the effects with solid visceral impact. Dialogue was clean and well reproduced, and it was easily adjusted to taste with the Voice control, a click of which gave the vocals a touch of etching to help them stand out from back- ground chaos without adding any edge to the overall sound.
Though the Command Bar is best-suited to TV sound, music on it was quite palatable. Even with compressed streams from my George Winston Radio station on Pandora, the bar exhibited good timbre and decay on piano notes, and only disappointed in its ultimate lack of fullness and dimensionality. When I got into feeding a variety of CD tracks to the bar via my Oppo disc player, I noticed that it was discerning enough to like high-quality recordings and not readily gloss over poor-quality ones; it wasn't all-forgiving. But a superb recording like John Mayer's "Movin' On and Getting Over," from The Search For Everything, projected Mayer's huge, up-close vocal and gave impressive realism to the bluesy guitar licks and finger snaps and other percussion. This is a $300 soundbar, after all, so it's not a system that I would necessarily recommend to serious audiophiles. But as a secondary music system, it will satisfy even critical ears for day-to-day music listening.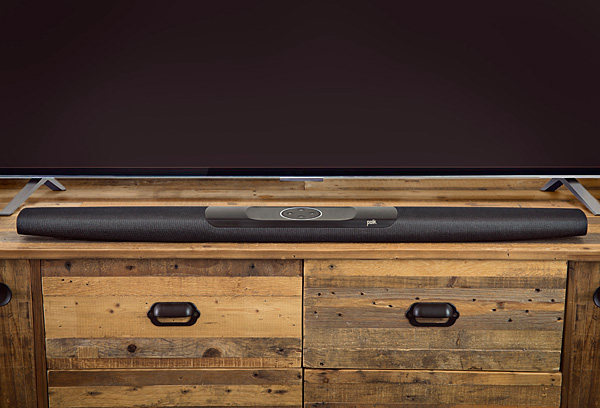 Comparison
After having positive things to say about the $399 Sonos Beam in the last issue, I made it a point to compare the standalone Beam (without extra-cost surrounds or subwoofer) with the Command Bar on some movies and music tracks. The Beam is a compact speaker (just 26-inches wide) that sounds reasonably full without subwoofer support and relies on spatial processing to spread its soundstage. It's clear sonic advantage over the Command Bar is the extra dimensionality the processing imparts, which adds texture and weight to instruments and voice (helping to round out George Winston's floating piano notes, for example). But the Beam couldn't come close to matching the Polk system's visceral impact with bass effects, and it couldn't play nearly as loud. Furthermore, the Beam's spatial processing affects vocals, making them sound subtly but artificially reverberant and recessed. It couldn't bring John Mayer into the room in quite the same way as the Command Bar did or provide the same level of midrange detail. Still, the Beam boasts other benefits, including the Sonos multiroom music platform and the ability to add surrounds or a subwoofer, albeit at significant cost.
Conclusion
If you're married to the idea of an Alexa-enabled soundbar, both the Command Bar and Sonos Beam have their place and create engagement in a different way. But what can't be questioned is that the Polk has serious chops, and, at $300, it noticeably overdelivers on features and performance. I don't hesitate to recommend it.