Polk Audio Command Bar Soundbar Review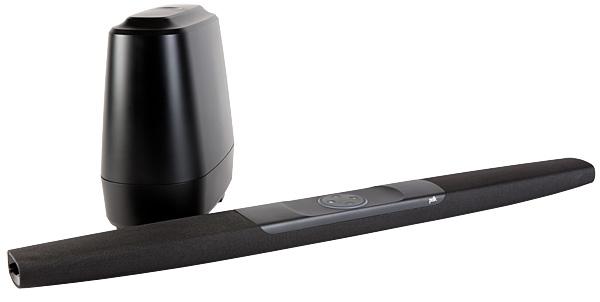 PRICE
$300
AT A GLANCE
Plus
Alexa voice control
Flexible connectivity
Good sound quality
Great value
Minus
No multiroom music functions
THE VERDICT
Polk's feature-packed soundbar offers Alexa voice control and above-average sound quality. For $300, there's plenty here to like.
A couple of Consumer Electronics Shows ago I was visiting the booth of Sound United, the parent of Polk Audio, when a friendly executive invited me up a narrow staircase to a private meeting room. Once I was sworn to secrecy, a long, thin, black travel case was brought out and laid on the ground, and its buckles were snapped open for the big reveal. I half expected it to house a bazooka of some sort. Instead, what popped out was the prototype of a thin spear of a soundbar that appeared to have an Amazon Echo Dot sunk into its middle. Polk's team was rightfully excited about their new project. The smart speaker was just beginning its explosive push into people's homes, and no one had yet combined Amazon's increasingly popular Alexa voice control technology with a soundbar. It seemed liked a perfect fit for the emerging market. So, in a way, it really was Polk's new secret weapon.
The Command Bar was finally released for sale in summer 2018, concurrent with the launch of the Alexa-enabled Sonos Beam soundbar I recently reviewed. As the only two of their ilk, they beg comparison. But let's first have a close look at Polk Audio's Smart soundbar offering.
At $300, the Command Bar is priced aggressively and provides a robust feature set for its cost. It's 43 inches wide by 2 inches tall and 4 inches deep at the middle, tapering off on both ends to about 3.25 inches. Build quality is typical for the price point: lightweight (just 5 pounds) with a molded plastic case, but with admirable fit-and-finish.
Polk's soundbar has a pair of forward-facing active drivers mounted near each end: a 1.25 x3.25-inch oval-shaped paper pulp midwoofer and 1-inch coated silk dome tweeter. Open ports on each endcap help to reinforce bass, but the bar is not meant to be used without the supplied wireless subwoofer, which sports a downfiring 6.5-inch paper pulp driver in a ported, molded cabinet. Despite its two-channel configuration, the Command Bar has 5.1-channel Dolby Digital and DTS decoders. There is no option to add discrete surround speakers.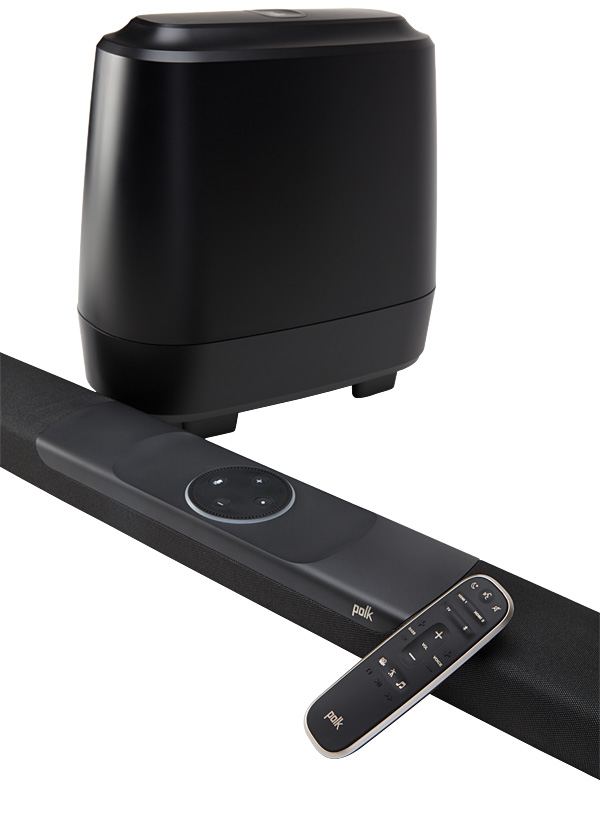 There is, however, ample connectivity. You'll find two 4K/ HDR-compliant HDMI 2.0a inputs plus an HDMI ARC-enabled output, which allows direct switching of HDMI sources without forcing the TV to perform those duties (with possible denigration to the source signals), as is done with the Sonos Beam. There's also an optical digital input for legacy TVs. One of the HDMI inputs is intentionally situated in a recess where an Amazon Fire TV Stick streaming dongle (or comparable product) can be plugged in and fully hidden, with a nearby active USB port supplying power. Alexa's compatibility with Amazon Fire media players allows voice command for some functions, including searches, requesting content from specific streaming services, and transport controls.
The supplied, contoured remote is 6 inches tall and has a nice, solid feel. I was impressed with its ergonomics. Behind the sealed, rubberized face are membrane buttons alternately raised or recessed to allow the user to differentiate by feel in a dark room. Along with a volume rocker and mute there are dedicated buttons for the subwoofer bass level and for Polk's patented Voice Adjust technology to sharpen dialogue. Four dedicated buttons activate Movie, Sports, Music, and Night listening modes, and there are also dedicated buttons to select the wired inputs or onboard Bluetooth. Play/pause and transport keys work with streaming music services or the aforementioned Fire TV Stick for track advance and such. The same keys also worked with my Oppo Blu-ray player thanks to HDMI-CEC.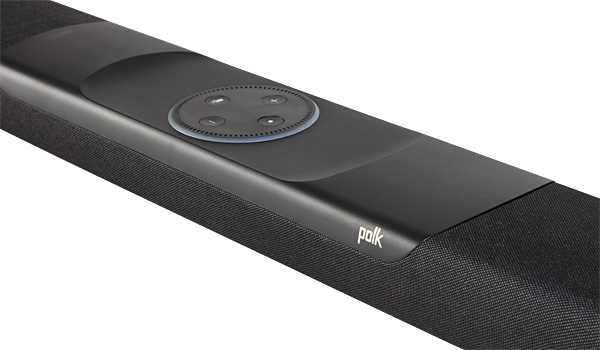 Finally, an Alexa button at the remote's top drops the volume and puts the Command Bar in listening mode in case it has trouble hearing your wake-up command over music or a loud movie soundtrack. I never really needed it: The speaker drivers are intentionally mounted at the bar's ends to inhibit interference with the two-microphone, directional far-field array that captures voice commands, and it worked well for me. Although I sometimes had to raise my voice over really loud soundtracks, I mostly found the system sensitive even from long distances.
Beyond Polk's remote, you'll find that HDMI-CEC enables the volume rockers to work on the Command Bar if you pick up your set-top box or TV remote; no programming should be required for most leading TV brands. Alternatively, you can program any remote to operate the bar via an IR-learning feature. As for Alexa, once awakened you can ask her to change the volume, the bass/subwoofer level, and the Voice Adjust. She'll activate any of the listening modes, and also select any of the inputs, including Bluetooth.