Pioneer VSX-1124 AV Receiver Page 2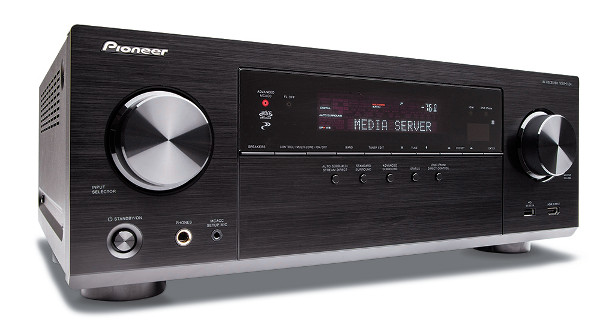 Luc Besson's 3 Days to Kill plunges Kevin Costner's ailing assassin into Paris—or as I think of it, Paris!—with plenty of mordant humor and a soundtrack that's dynamically varied in the best way. The receiver integrated challenging high-level action scenes with slower, quieter, character-based scenes like the marbling on a fine cut of steak. Rather than experience peak moments as interludes of stress, I relished them as part of a story well told. Bass effects were heavy but the sub EQ kept them from tipping into bloat.
The Purge starts with a disturbing use of Debussy's "Clair de Lune," as the backdrop to mock-news-reports about a society that uses an annual day of mayhem as an escape valve for social tensions. Music is one thing this receiver does well, and it was unsettling to hear a fragile slice of it juxtaposed with street violence. Subsequent in-home combat came complete with a security gate that came down with a resounding thud and loads of clattering gunplay. Again, the receiver mingled action sequences with dialogue, hushed but clear enough, and held the story together.
Prisoners is a serial killer epic with star turns by Hugh Jackman and Jake Gyllenhaal. It sustained 153 minutes of my attention with moody effects including plenty of enveloping rain and thunder—effects to which I'm emotionally susceptible when it fills the room. The receiver scrupulously measured out subdominated effects that underscored ruminative moments of impending threat.
Sang and Sparkled
What little the VSX-1124 left out of a Lang Lang piano concerto CD was negligible. His traversals of Prokofiev 3 and Bartók 2 for Sony Classical, with Simon Rattle conducting the Berlin Philharmonic, sang and sparkled. The receiver delivered rock-solid imaging and didn't neglect the depth dimension. The bottom end was neatly proportional, though when I switched the receiver into pure direct mode, turning off the sub and redirecting bass to the left and right channels, the presentation lost some of the weight I know is possible with my stand-mounted reference speakers (full-range-capable performance costs more). Still, I could close my eyes and almost believe that the piano and orchestra were in the same room—only the customary room noise broke the spell. I thought to myself: This is exactly how I want this music to sound. What a step-up receiver or boutique amp might have made of it was the furthest thing from my mind.

The John Pizzarelli Trio's Live at Birdland lit up the receiver's DSD indicator. A true 5.1-channel SACD, it placed the bandleader's vocal in the front center channel, exactly where it belonged, and applause in the surrounds. I will never condone the practice of underusing the center channel in the mix to compensate for the possibility of a badly matched center speaker. The Pioneer delivered a warm, natural, yet lively presentation, with firm, tuneful bass and irresistible swinging momentum.
Keith Emerson and Greg Lake's short-lived duo tour is preserved in Live from Manticore Hall. Much as I love my Peachtree/Era desktop system, the Pioneer/Paradigm system handled this CD better, with richer tone color and better overall focus. Lake's voice is no longer the silver trumpet it once was, but it's still a formidable instrument on songs like King Crimson's "I Talk to the Wind," and the receiver's handling of vocally crucial frequencies let me relish its masculine grace and depth.
Having reviewed receivers for generation after generation, I'd say this product category has been enjoying a golden age, and while I don't want to bum everyone out, I can't help wondering how long distinguished manufacturers like Pioneer can keep it up. The global economy is a tumultuous place, and all the good reviews in the world weren't enough to save Pioneer's world-beating Kuro plasmas. Now the brand is going through major corporate changes, with a private equity firm taking a majority stake in a combination of Pioneer's and Onkyo's AV businesses. Will future Pioneer receivers be as brilliantly executed as this one? Only time will tell.
This leaves the UHD-conscious consumer with a dilemma. Should you buy into this receiver's expertly fine-tuned sound while you still can and accept that it lacks HDCP 2.2 digital rights management, potentially a requirement for future 4K content? Or should you wait for the next model year when HDMI support will probably include HDCP 2.2 across the board? It's a tough call, and the extra-cost approach to Bluetooth and Wi-Fi also diminishes the value proposition. But I'm happy to testify that the VSX-1124 is a top-performing receiver at a competitive price point. For readers who want a great receiver and can't afford to pay much for it, that may be reason enough to buy it.
Audio editor Mark Fleischmann is also the author of the annuallyupdated book Practical Home Theater ( quietriverpress.com ).