Pioneer VSX-1124 AV Receiver
PRICE
$600
AT A GLANCE
Plus
Outstanding sonics for the price
HDMI 2.0 interface
Roku Ready via MHL
Minus
HDCP 2.2 DRM not included
Bluetooth, Wi-Fi cost extra
THE VERDICT
The Pioneer VSX-1124 delivers sterling sound, though with a slightly reduced feature set, at a highly competitive price point.
The phrase "believe in miracles" is a powerful one in pop music. It turns up in songs by the Bee Gees, Jefferson Starship, Pearl Jam, Slade, and others. It appears prominently in the Hot Chocolate hit "You Sexy Thing," covered by everyone from David Bowie to Barry White. Perhaps the most poignant use of the phrase is in "I Believe in Miracles" by the Ramones: "I used to be on an endless run/Believe in miracles 'cause I'm one." One of the ongoing miracles in my life, besides the fact that I'm still walking around, is the audio/video receiver.
Let me remind you that the AV receiver—especially at the $600 price point—is one of the great miracles of consumer electronics. A miracle in that it delivers a huge amount of functionality at a humane price. That the better ones, intelligently paired with efficient speakers, are lean, mean music machines. That affordable surround sound is a thing of genius, a perfect complement to a big flat-panel display, and a way to immerse yourself in a movie that is unmatched by traditional two-channel stereo.
So before we get started, let it be said: The Pioneer VSX-1124 is a miracle.
HDMI 2.0, Roku Ready
Annual turnover brings new receivers in both of Pioneer's receiver lines, the Elite line and regular line. The new Elites include the VSX-80 ($700) and VSX-44 ($500). In the regular line, the new entries are the VSX-1124 ($600), reviewed here, plus the VSX-1024 ($500) and VSX-824 ($400). None have the new Dolby Atmos functionality.
But all of them have HDMI 2.0, which supports UHDTV at 60 frames per second and the 4:4:4 color gamut (which would benefit 4K-capable streaming servers and computers). As implemented here, the HDMI connection supports a data rate of 18 gigabits per second—but does not support HDCP 2.2 digital rights management and cannot be updated to support it. That means it's possible in the future that some copy-protected 4K content won't pass from an HDCP 2.2 compatible source component through the receiver to an HDCP 2.2 compatible UHDTV; you'd have to bypass the receiver and route the signal directly from source to TV. The VSX-1124 and VSX-80 also support UHD upscaling.
These receivers are Roku Ready certified. Plug a Roku Streaming Stick (3400M, $70) into the rear MHL-enabled HDMI jack, and enjoy movies, TV shows, and music. The jack also supports any MHL 2.0 phone.
Audio-related improvements include the addition of subwoofer equalization to Pioneer's MCACC room correction system. As Pioneer explains: "Subwoofer EQ determines the distance and characteristics of your subwoofer and makes adjustments using four different frequency parameters and an extremely low-latency DSP to reduce phase and timing errors that are often found in other room calibration systems."
Other audio improvements include additional support of multichannel WAV and FLAC file formats up to high-res 96/24 resolution. Past generations already supported two-channel versions of those formats as well as the usual MP3, AAC, ALAC, AIFF, and the not-so-usual Direct Stream Digital (DSD). If you can load that stuff onto a USB drive, this receiver can play it. And of course AirPlay wireless streaming covers the Apple-approved formats up to CD quality.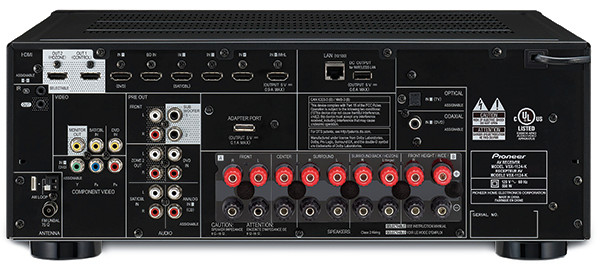 Pioneer says its new ESS SABRE DAC brings warmer, more natural, and more linear sound. I usually don't make a big deal of audio processors because I can't review silicon in isolation from the rest of a receiver. What would really impress me would be a computer-worthy USB input, something Pioneer provides only rarely and at a higher price point (and most other manufacturers don't provide at all).
Pioneer has made incremental improvements in its user interface. iControlAV5, the latest version of the Android and iOS control app, now includes control of the Roku Streaming Stick and selection of signal type from the AVR's internal video scaler.
Pioneer's AVNavigator, which allows some functions to be controlled via computer Web browser or mobile app, is built into the receiver. The computer version lets you click on an onscreen facsimile of the remote control. In addition to day-to-day use, the app also helps with speaker positioning, connecting sources, renaming inputs, optimizing sound modes, adjusting MCACC, and more. It also has a two-way tutorial called the Interactive Operation Guide.
Though several receiver brands offer built-in Wi-Fi, Bluetooth, and AirPlay at this price point, this model supports only AirPlay out of the box. Bluetooth requires the AS-BT200 adapter ($99) to be plugged into a rear adapter port. If you want Wi-Fi, add the AS-WL300 adapter (price lowered from $149 to $129). It plugs into the Ethernet jack and is powered by the rear DC output port. Network audio features include Spotify, Pandora, and generic Internet radio.
While this receiver supports seven HDMI signal sources and two displays, there is but one component video input jack and no component video output. Composite video for legacy sources is whittled down to two inputs and one output, probably sufficient for most users. As usual at this price point, analog ins and outs are stereo only, not multichannel, though there are two output jacks for the mono subwoofer feed.
Associated equipment included five Paradigm Reference Studio 20 v.4 speakers, Paradigm Seismic 110 subwoofer, and an Oppo BDP-83SE universal disc player. All movie demos were on Blu-ray Disc with DTS-HD Master Audio soundtracks.
One Home Run After Another
While Pioneer is not the only manufacturer that can make an AVR sound great for $600, it has had the knack longer than most. The VSX-1124 not only lives up to that standard but exceeds it a little. Even break-in listening, before I ran the MCACC auto setup and room correction, was a pleasure. In the formal demos, this little receiver hit one home run after another, with midrange voicing just a little on the warm side of neutral. The top end—where most cheap receivers are weakest—was smooth and communicative, about as far from that dirty, gauzy, cheap-receiver sound as you can get without moving well into four-figure price territory. If you want truly airy and perfectly resolved highs, slammin' bass with full-range speakers, or if your speakers are of low efficiency, consider a step-up receiver (or move into separate-amp territory). But if your speakers are of average or better efficiency, and you want satisfying, well-rounded performance, this receiver delivers and then some.