Pioneer Shows Personal Sound 'Clarifier'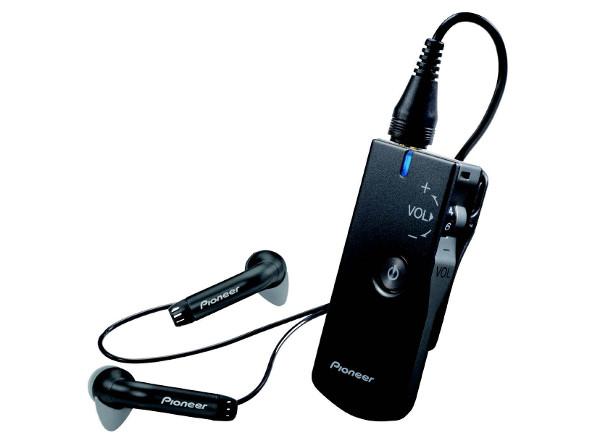 Hundreds of press announcements crossed our desks in the weeks leading up to, and during, CES 2018. One of the many products we didn't have a chance to investigate in person was Pioneer's PHA-M70 Personal Sound Amplifier, which is nick-named "Nani?" (Yes, the question mark is part of the unusual moniker…)
Hailed as the "latest innovation in sound and design" from Pioneer & Onkyo U.S.A. Corporation and the culmination of years of experience in digital processing, the PHA-M70 is intended for "anyone who could use a little help hearing daily conversations, TV dialogue, phone calls, or lectures." You might think of it as a sort of dialogue enhancer you can take with you wherever you go. Pioneer says the device is optimized for voice frequencies and "tuned for clear, natural, undistorted sound enhancement."
The PHA-M70 comprises a set of earphones with built-in microphones and a discreet amplifier/processor loaded with sound enhancing features such as automatic ambient noise reduction, signal processing to maintain directionality, L/R balance adjustment, automatic input reduction (to protect against sudden loud noises), and anti-howling technology (to prevent feedback).
The amp/processor weighs less than an ounce and at 1.3 x 3 x 0.6 inches is small enough to clip to a shirt pocket (clip included). With only a power button and side-mounted volume dial, it's designed to be operated with one hand and last for 21 hours when its battery is fully charged — or you can pop in an ordinary AAA battery.
"Technologies coalesce inside this compact device to let daily conversation and communication become rich and rewarding once more," Pioneer explained in the official press release. "Microphones for left and right ears collect sound for amplification and playback through two big 10mm drivers. Roll your thumb on the volume wheel to adjust the sound levels during conversations, watching TV programs, and in many other situations. The earphones are comfortable, and the amp is lightweight so users will hardly know it's there."
Pioneer is careful to point out that PHA-M70 is not certified for use as a medical hearing aid or intended to replace hearing aids for people with diagnosed hearing loss. Rather, it's "intended for use in amplifying daily sound within a user's personal space."
Pricing and availability were not announced.
For more information, visit pioneerelectronics.com.