Pioneer Elite VSX-52 A/V Receiver Page 2
Associated equipment included five Paradigm Reference Studio 20 v.4 speakers, an Oppo BDP-83SE universal disc player, a Rega Planar 25 turntable, Shure M97xE cartridge, and Bellari VP530 tube phono preamp. All movie selections were Blu-ray Discs with DTS-HD Master Audio soundtracks.
À la Modes
Pioneer presents the user with several listening-mode choices. Some of them apply even to pristine lossless multichannel source material. Thanks to this A/V receiver's THX certification, I had access to THX Cinema and Loudness Plus modes. I opted not to use the former, but I jumped at the chance to use the latter—which adjusts frequency response and surround parameters for playback below the incredibly loud Cinema Reference Level. Pioneer offers its own Auto Level Control (ALC), also designed for low-volume listening; and an Optimum Surround mode, which adjusts dialogue, bass, and surround levels based on master volume setting. Having used ALC and Optimum Surround in past A/B binges, I have a healthy respect for their ability to massage a soundtrack without altogether mangling it. However, with Loudness Plus engaged, these additional modes would have been superfluous. (As a default choice, I would normally prefer Auto Surround, which allows no processing aside from MCACC room EQ and Phase Control. This lets me meditate directly on the source content and the basic quality of amplification, which in an Elite receiver is usually gratifying.)
The Lincoln Lawyer stars Matthew McConaughey as a fast-talking defense attorney who gets up close and personal with various deadly characters, his voice often dropping in face-to-face confrontations to rapid-fire sotto voce. This offered a beautiful demonstration of THX Loudness Plus in action. I had no trouble finding a master volume level that kept the hushed conferences in listenable proportion with occasionally aggressive effects and bursts of music. The snatch of soul music in an early scene showed off both the benign warmth of the Elite's amplification and the bassline-sculpting prowess of MCACC room correction. The soundfield was everything I like: huge, open, and fine-tuned to a fare-thee-well, with MCACC and Loudness Plus preventing any quiet spots from collapsing the soundfield. Listening to this soundtrack was such pure pleasure that I had no trouble watching the movie again a few days later when a guest brought it over for movie night.
Shutter is the kind of haunted-house movie in which music and effects blend so seamlessly that it's hard to distinguish where one ends and the other begins. Even with Loudness Plus engaged, the surging and ebbing of effects were dynamically powerful (but probably easier to take). Bass effects were especially impressive, not only in loud passages, but in quiet ones in which more subtle bass effects might have gotten lost if Loudness Plus hadn't been there to keep them above the threshold of audibility. The Pioneer and its various digital helpers had the gift of integrating all soundtrack elements into a seamless whole.
Drive Angry pits Nicolas Cage against Satan worshippers in a sonically caustic mix that no form of digital diplomacy could assuage. It's possible that Satan mixed this movie.
Au Naturel
Switching to music eliminated the need for THX Loudness Plus. I like to hear musical subtleties exactly as the artists intended.
Giorno e Notte contrasts the woodwind recorders of Conrad Steinmann with period stringed instruments in several Vivaldi flute concertos. The 5.1-channel SACD from Divox Antiqua makes adroit use of the surround medium, including a full-fledged center channel and moderate use of the surround channels. What was most striking in this union of high-resolution content and the Pioneer's good amps and digital tweaks was the legato of the woodwind soloist and the way his notes flowed together into sinuous instrumental lines.
Some Girls, the landmark Rolling Stones album that marked Ron Wood's debut as lead guitarist, arrived on vinyl. When it was first released, the album was all over the free-form FM radio I listened to in the 1970s, so my LP copy is practically virgin. The combination of my mellow tube phono preamp and the Elite amp's natural warmth did not prevent the "guitar weaving," as Keith Richards called it in his recent autobiography, from crackling with electric excitement.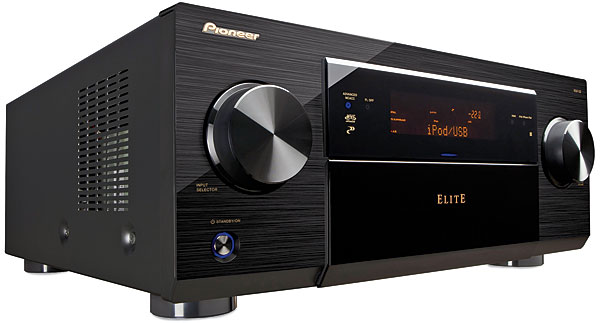 Andy Statman's Nashville Mornings, New York Nights showcases his virtuosic bluegrass-inspired mandolin playing (as opposed to his Klezmer clarinet). With numerous fiddles, guitars, and banjos in attendance, the overall texture leaned to the light side, although the Pioneer-Bellari combo kept it from becoming unduly thin.
I discussed Apple AirPlay and the iControlAV2 app in depth in my last Pioneer AVR review, as did Michael Fremer in is review of the SC-57, so I'll skip all the details this time around. But use them I did, and as before, they transformed my experience of the system. I suspect a lot of consumers will find the app easier to use than the remote, although to get the best out of either, you still have to understand how an A/V receiver works—and how the Pioneers work
in particular, with their numerous proprietary listening modes and sonic adjustments. As for AirPlay, it's just about the easiest way ever invented to kick back and listen to music.
The Pioneer Elite VSX-52 is a stellar member of the under-$1,000 A/V receiver category. It pays scrupulous attention to the fundamentals of performance and pleasure. It also combines transformational licensed features, including THX and the Apple stuff, with the company's own formidable MCACC auto setup and room correction. Sure, there are less expensive AVRs out there with similar feature sets, including Pioneer's own—but this one is worth its modest price premium. The wine lives up to the Elite name on the bottle. Uncork and enjoy.