Pioneer Elite SC-68 A/V Receiver
Price
: $2,500
At A Glance
: 32-bit asynchronous USB DAC • D3 Class D amplification • All the Apple trimmings
Like a parent who charts a child's growth with colored pencil marks on the wall, I've been observing the growth of audio/video receivers since the beginning of the product category. The wall is covered with ascending marks: Here's the first A/V receiver, with composite video switching and no surround processing. Here's the first Dolby Surround model, the first Dolby Pro Logic model, the first Dolby Digital model—and the first with DTS, THX, lossless surround, room correction, satellite radio, HDMI, network audio, Apple everything.
By my reckoning, Pioneer receivers have seen some remarkable growth spurts in the last few years: The pencil marks still rise ever upward. The SC-68, scion of the upper-crust Elite line, uses a new generation of switching amplification Pioneer calls D3. And the feature roster is as long as a mobster's rap sheet. It has virtually everything a receiver could possibly have, plus a few things no one but Pioneer has, such as AIR Studios Monitor Certification.
What stretches the distance between the pencil marks even farther is this receiver's USB DAC, which can accept direct input from a computer, essentially turning the receiver into a 32-bit, 192-kilohertz, asynchronous, jitter-busting, digital-to-analog conversion machine, one that can turn a chaotically clocked bitstream into something musical. In theory, this might put Pioneer in the same category as the high-end USB component-DAC makers, and I can just hear those guys chiming in with something along the lines of "like hell it does."
D to the Third Power
D3 is the third generation of Pioneer's switching amplification strategy. Pioneer's implementation of Class D, based on ICEpower modules, made its debut in the Elite SC-09TX, which cost $7,000 when Tom Norton reviewed it in 2008. Later and lower-priced versions went on to claim raves from Michael Fremer in 2009 in his review of the SC-07, and again in 2011 with the SC-57, which saw the first introduction of D3. Class D, in general, is more energy efficient than the Class AB used in most receivers because it dissipates less energy in the form of heat. Pioneer says D3 uses 44 percent less energy than its previous version of Class D, and 50 percent less than Class AB, while providing a wider dynamic range and supporting speaker impedances down to 4 ohms, even when more than one zone is operating. My review sample ran warm but not hot. The amp also benefits from a newly designed heat sink, discrete seven- and nine-channel inputs, and more direct signal paths, eliminating EMI filtering, feedback loops, impedance selectors, and current limiters. Pioneer says this reduces coloration, ringing, and noise, especially at high frequencies.
Just 7.25 inches tall, this 9.2-channel receiver is rated at 140 watts into 8 ohms with two channels driven. Surround is at heart a 5.1-channel medium, so you have two extra pairs of amp channels to play with, plus provision for a second sub. You might use the extra amp channels to run front-height and back-surround speakers simultaneously. But they have other potential uses, including biamplification of the front left/right channels and multiple zones. Mix and match to your heart's content: This receiver will let you set up to 10 output configurations. And it facilitates multiple wiring schemes, with 11.2-channel preamp outs and 11 sets of binding posts. If you like having high def in more than one place, note that one of the four zones is associated with an HDMI output, another with component out, and two more with composite outs—so half the total is HD capable.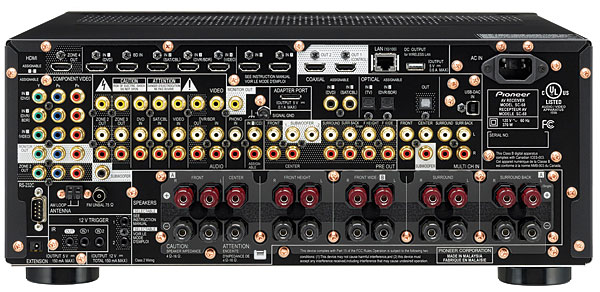 Most manufacturers say their products are great, but few can point to multiple sources of credible outside certification. The SC-68 is an exception: Pioneer's top-end models are the only receivers "mastered," as the company likes to say, at AIR Studios in London. That means the prototype's sound was evaluated and tweaked by Sir George Martin's henchmen until it earned AIR Studios Monitor Certification. The receiver is also THX Ultra2 Plus certified, meaning it can produce sound pressure levels of up to 105 decibels in a room of up to 3,000 cubic feet when mated with THX Ultra2–certified loudspeakers.
Though Pioneer rolls its own auto setup and room correction system, the resulting MCACC (Multi-Channel Acoustic Calibration) ranks with the best licensed competitors. This receiver lets you select Full Auto MCACC; Auto MCACC, which lets you customize some setup options; and Manual MCACC, which allows still more setup options for the advanced user. Running Full Auto MCACC will also invoke Pioneer's Full Band Phase Control, which adjusts group delay in an attempt to keep your system's unruly woofers and tweeters coordinated in the time domain. It can be switched on or off separately from MCACC using a dedicated remote button.
Want to get music from your smartphone or tablet into the receiver? Pioneer offers multiple wireless and wired paths. Prominent among them is Apple AirPlay. It's oh so easy to use: Just enable Network Standby in the GUI. But you're not limited to that. Pioneer now supports the HTC Connect standard for music streaming from HTC One smartphones, pushing album art and metadata to the video display. This receiver accommodates MHL (Mobile High-definition Link)–compatible devices via the front-panel HDMI jack—and it's noteworthy that MHL has at least the potential to offer better-than-CD resolution. The receiver also offers Bluetooth support with the optional AS-BT100 adapter ($99). Note that many Apple devices support Bluetooth in addition to proprietary AirPlay. There's also DLNA 1.5 support for a router-connected computer. If running an Ethernet cable to the receiver is inconvenient, get the optional AS-WL300 adapter (price knocked down from $149 to $129). It'll be easier to configure if your router has WPS protection. Mine has old-fashioned WEP, so I settled for Ethernet.