Pioneer Elite SC-61 A/V Receiver Page 2
Stop the presses and servers: New to this receiver is HTC Connect. Run a firmware update, and your HTC smartphone can stream music to the receiver via DLNA and your home network. The SC-61 does lack one significant feature introduced on the SC-68: a high-resolution digital-to-analog converter for the USB input, which would enable the receiver to get the best out of computer-fed high-resolution music files. Of course, at $2,500, the SC-68 sells for more than twice as much, but I can't wait for this feature to trickle down.
Video processing is Marvell Qdeo, a usually excellent choice—see our Video Test Bench for results. For custom installation, the back panel has the usual suspects (RS-232, 12-volt trigger, IR remote). The SC-61 is hip to Crestron, AMX, Control4, Universal, Savant, and RTI whole- house systems.
While proprietary (as opposed to licensed) auto setup and room correction schemes sometimes provide poor results, Pioneer's MCACC is world class. I set it up without incident aside from my usual switch to Small speakers and an 80-hertz crossover (I'm fussy that way).
Associated equipment included five Paradigm Reference Studio 20 v.4 speakers and Seismic 110 subwoofer with EQ turned off, an Oppo BDP-83SE universal disc player—yes, it's two generations ago, but the great thing about a long-term investment is that it keeps on ticking—a Lenovo Win7 laptop, and a Wadia 121 USB DAC. All movie demons (I meant to type demos, but the typo fits) were Blu-ray Discs with DTS-HD Master Audio soundtracks. All music demos were high-resolution digital material of one kind or another.
Little Big Man
When I reviewed the SC-68—at more than twice the cost of the SC-61—I was wowed by its ability to handle challenging loads without clipping, its superior dynamic flow, its prodigious bass output, and its clean midrange. While the junior model isn't as potent, it has much the same personality, with slightly scaled-down versions of the same characteristics, and still feels brawnier than most receivers I've listened to in its price range.
The Ridley Scott space epic Prometheus reaches for huge bass-heavy moments in both music and effects. While the SC-61 handily aced those thundering passages—and here I speak of both amplification above the sub crossover and the MCACC-sculpted subwoofer signal below it—the receiver was just as impressive when conveying more subtle bass effects, such as the constant low rumble of the spaceship heading into the unknown. The soundfield it conjured transcended the locations of speakers and easily dominated the room. It was a big, confident sound if not a terribly airy one.
Chernobyl Diaries—a pseudo-documentary exploration of lurking threats at the historic meltdown scene—stayed quiet most of the time. But when the effects struck, such as a bear attack, they were big and startling, arising out of almost dead silence and then just as suddenly falling back, a testament to the receiver's dynamic potency: It can make big noises start and stop on a dime. In the Marilyn Manson song that runs over the end credits, the receiver extracted the frazzled vocal from the metallic shock-rock background, emphasizing the human element over the machine.
Headhunters is a Norwegian thriller, fast paced and full of plot twists, about a corporate recruiter cum art thief who meets his match in a demonic businessman. Even when the soundfield filled with low-level sounds, the Pioneer managed to sound big. It made subtle bass lines warm and deep, and bongos snapping through the soundfield were rhythmically exciting, offering further testimony to the receiver's low-frequency control.
High-Res Perspectives
The arrival of the deluxe box set of King Crimson's Larks' Tongues in Aspic: the Complete Recordings was a big event in my household (it tormented my roommate for weeks). Steven Wilson's 5.1-channel mix of the 1972 progressive-rock milestone is offered in uncompressed, lossless, and lossy versions; I chose uncompressed LPCM from the Blu-ray Disc. Welcome to wonderland, I thought, as Jamie Muir's African thumb piano segued into a soundfield brimming with still more eccentric percussion instruments and suddenly erupting metal mayhem. The receiver's top end was far from vague—David Cross' violin was detailed and natural, and when Robert Fripp chose to have his guitar sting, it stung hard. Pioneer's king-size soundfield combined with the sprawling surround mix to give this difficult masterpiece the giant canvas it has always craved.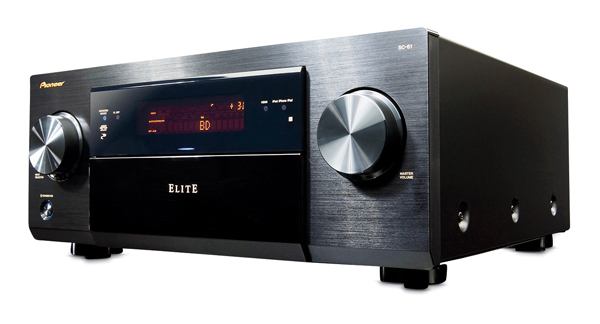 John Coltrane's Blue Train is a 24/192 download licensed by Blue Note to HDtracks. Per my usual habit, I switched back and forth between the MCACC room-corrected version and the pure direct analog version. It was a choice between brighter and tighter or warmer and larger. The use of an echo chamber was more audible on all instruments in the pure direct mode, and the bandleader's tenor sax had more image size, body, and warmth in pure direct. The sax highlighted one odd imaging effect: MCACC tended to move it to the left. I confirmed this with headphones. The probable cause was my having set up MCACC in All Ch Adj mode, which treats each channel individually, versus the Symmetry mode, which balances frequency response in the two front channels. Symmetry is the default in MCACC setup; I should have stuck with it.
Bruckner's Fourth Symphony, as performed by Bernard Haitink and the London Symphony Orchestra, is a 24/48 download from the Bowers & Wilkins Society of Sound. With the LSO's bright canary-in-a-coal-mine string section, MCACC was brittle and smaller, whereas pure direct sounded more relaxed and larger. I preferred the latter. With his massive symphonic superstructures and dynamic tidal flows, Bruckner has to be big, and with no room-correcting wizardry standing between his score and the D3 amps, big is what I got. I've said MCACC is good, but good is not perfect, and the real test of a great amp is how it sounds au naturel. This receiver passes the test.
When Class D sounds this good, why would anyone stick with Class AB? Sentimentality, perhaps, coupled with a fear of change. The fear of change extends to a reviewer like me, and I also have to be concerned with what other people—specifically speaker manufacturers—would think of using Class D in a reference system. They might wonder whether the top end of their products is getting the best possible belt-and-suspenders demo. So the Pioneer Elite VSX-53, with Class AB, will continue to serve as my reference receiver indefinitely. However, if I were just a civilian designing a system for my own satisfaction, I might reach a different decision.
Someday we may look back on the emergence of D3 as a high-water mark in home theater technology. The Pioneer Elite SC-61 shows how well the technology scales from a hefty list price to a moderate one. For that alone, it would be worth studying—but what makes it worth buying is its strong performance, ability to run 4-ohm speakers, and comprehensive feature set. I have a feeling that very few people who approach this receiver with an open mind will find it wanting.
Audio editor Mark Fleischmann is also the author of the annually updated book Practical Home Theater (quietriverpress.com).