Pioneer Elite SC-09TX A/V Receiver
What separates a good A/V receiver from a great one? The line has certainly blurred over the past few years, and you can find phenomenal values for under $2000 that offer many of the features once included only in the flagship models, minus a few bells and whistles.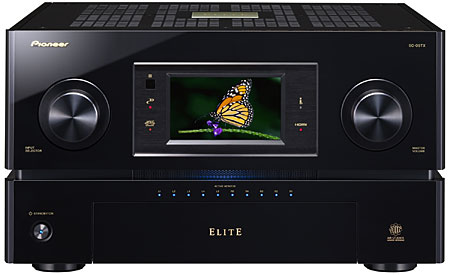 Does that mean the era of the flagship receiver is over? Hardly—even though many of the exclusive features once offered only in flagships are trickling down into more moderate models at a faster pace, top-of-the-line models have some upgrades worth paying for.
For example, consider the Pioneer Elite SC-09TX, which has a wow factor you won't find in lower-priced models—or, for that matter, in other flagship receivers. You will pay a hefty price for the privilege of ownership—$7000 to be exact, which makes it the most expensive flagship receiver on the market. Is it worth that much coin? Read on and see…
Features
The Pioneer Elite SC-09TX is one of the classiest-looking AVRs to ever grace my equipment rack with its glossy piano-black finish. The clutter of corporate logos (Dolby, DTS, THX, etc.) are absent from the front panel—these are relegated to the top of the unit. Instead, the centerpiece of the front panel is something that separates the SC-09TX from the pack—a full-color LCD screen in lieu of the typical text-based display. This allows easy navigation and control of connected devices and management of digital media—wow indeed!
Not only is it beautiful, the SC-09TX is built like a tank with rigid, separated construction for the digital, analog, audio, and video sections in a dual-chassis structure. Separating the digital processing and amplification blocks minimizes interference between them. Add a hatch and a turret, and the US Army could put this to good use in Iraq—it's solid enough to handle a mortar round or two.
In collaboration with Bang & Olufsen, Pioneer has developed a unique Class D amplifier the company calls a "Direct Energy High Fidelity Class D (HD) amplifier," which is a variation on B&O's ICEpower technology used in the Wyred 4 Sound Ice Cube power amp. The amplifier offers a total of 1400 watts of simultaneous, fast-response, low-distortion (0.005%) power into 8 ohms with a multitude of configuration options. With its Class D design, Pioneer claims 87% efficiency, which conserves a lot of energy. For my testing, I utilized a 7.1-channel setup that is spec'd to provide 200Wpc (20Hz-20kHz) into 8 ohms. According to the manual, if all 10 amp channels are used, the power output drops to 140Wpc.
The SC-09TX has virtually every feature and connection available, highlighted by six HDMI 1.3a inputs and two outputs—although only one is active at a time. With the HDMI inputs, the AVR is able to receive and decode both DTS-HD Master Audio and Dolby TrueHD bitstreams from a Blu-ray player, and it supports Deep Color as well. With its THX Ultra2 Plus certification, it offers THX Loudness Plus, which preserves an original sound mix for an accurate listening experience at any volume level.
Other features include XM and Sirius satellite-radio support and a dedicated iPod terminal (iPod cable included) that lets you control and playback audio and video content. You can control all operations using the front-panel LCD or your connected display. Strangely lacking is support for HD Radio, a feature found on lower-end components and something that should be included in a flagship model.
Utilizing its Ethernet port, the SC-09TX features Home Media Gallery, which lets the AVR access digital movies, music, and photo files from a DLNA (Digital Living Network Alliance) server such as a suitably configured Windows PC. Home Media Gallery can also access these files on a USB flash drive plugged into the AVR's USB port. A wide range of file formats are supported. including MPEG-4 and WMV for video and MP3 and WMA (lossless included) for audio.
Two features that have made their way into AVRs over the past few years are automatic acoustic calibration and video processing. Pioneer's Advanced Multi-Channel Acoustic Calibration (MCACC) measures the acoustic characteristics of your room, room noise, speaker sizes, and distance from each speaker to the main listening position, and then calculates the appropriate channel delays and levels as well as equalization. Using the supplied microphone, the AVR generates a series of test tones to optimize the speaker settings and EQ for your particular room, and it also calibrates the frequency-phase characteristics of the speakers.
Marvell's Qdeo video processor provides the deinterlacing and scaling for the analog inputs. Unfortunately, Pioneer chose not to process any HDMI signals—instead, they are passed through without any processing. The composite, S-video, and component inputs can be transcoded to HDMI and output at resolutions up to 1080p/60, which means you only have to run one cable from the AVR to the display.