Pinnacle Black Diamond 650 Series II Speaker System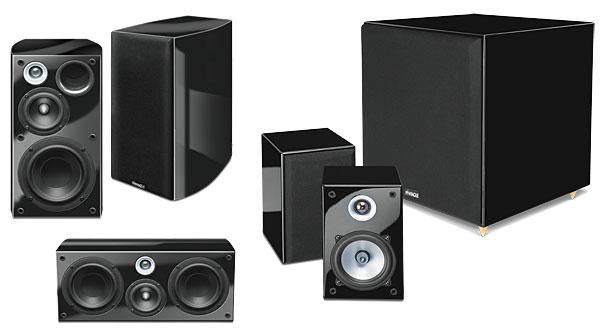 PRICE
$3,996
AT A GLANCE
Plus
Sweet dedicated midrange
Solidly musical bass
Multilayer lacquer finish
Minus
Sub is merely average
THE VERDICT
The Pinnacle Black Diamonds are stellar performers with a winning personality, delivering consistently pleasing sound.
Even in our industrial twilight, the USA still has a cornucopia of great loudspeaker brands, and Pinnacle Speakers is one of them. Since the company's founding in 1976, it has always been a family-owned business—and if there's one kind of outfit you don't want to mess with, it's a family outfit. I haven't reviewed a Pinnacle product in eight years, but just when I thought I was out, they pull me back in.
A limousine screeched to a halt outside my building, and two bulky guys in Men's Wearhouse suits got out. They didn't leave me much choice: I was blindfolded and driven around for hours and hours until I had no idea where I was. At one point, I thought I smelled Secaucus, New Jersey. Another time, the blindfold slipped, and out of the corner of my eye I saw Satriale's Pork Store.
Eventually, we pulled up outside a McMansion, I was hustled inside, they roughed me up a bit, and I was taken to the garden out back. There, an old guy I wouldn't care to cross made me an offer I couldn't refuse: Review another Pinnacle product, or else. I am convinced the only reason I still have 10 fingers is that I needed them to type the review.
Black Diamonds I and II
Actually, it's always a pleasure to review Pinnacle (and I've just about recovered from the kidney punches, though I've still got the stitches in my face). This review celebrates the Black Diamond Series II in a system featuring the BD 650 II three-way bookshelf speaker. (In the normal course of things, our style sheet would have me call it a monitor speaker. But remember what I said about still having 10 fingers?) Also included are the BD 600 II three-way center speaker, the smaller BD 500 II two-way bookshelf speaker, and the Sonic 500 subwoofer. Other members of the Black Diamond line (not reviewed here)—some with the Series II designation, some older models—are the BD 2000 II and BD 1100 towers, the smaller BD 300 II center, the BD 200 LCR, and the BD 100 satellite.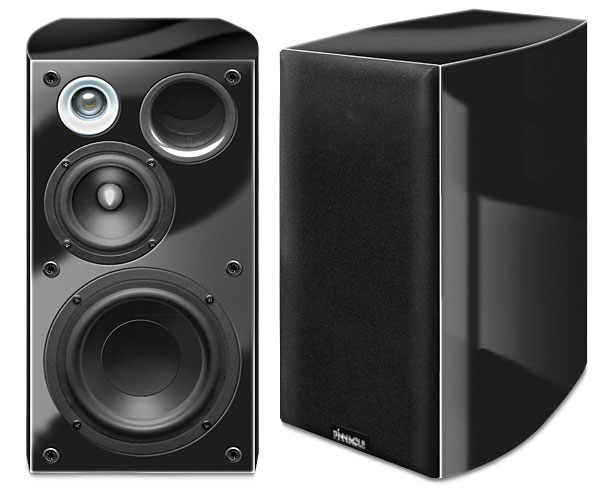 Each speaker comes in a piano black lacquer finish that requires a week of labor and "40 meticulous procedures and processes." All Pinnacle products are designed in Massachusetts, and most are assembled at Pinnacle HQ in the great state of New York, using both domestic and foreign materials.
The speakers share similar 1-inch liquid-cooled silk-dome tweeters with neodymium magnets. Each tweeter is recessed into a half-inch-deep waveguide, which Pinnacle calls a horn. The BD 650 bookshelf adds a 4-inch midrange (with a die-cast phase plug) and a 6.5-inch woofer (in a die-cast basket). The side walls of its front-ported enclosure curve toward the rear. The BD 600 horizontal center has a similar midrange and woofer, but it adds a second woofer and has a sealed enclosure, with asymmetrical curves on top and bottom. Midrange drivers are isolated in their own chambers, enabling them to achieve high outputs while maintaining purity of tone. The BD 500 bookshelf, here used for the surround channels, has a 5.25-inch woofer with phase plug in a rectangular enclosure. All woofer and midrange drivers utilize polypropylene cones with rubber surrounds.
Every speaker has a specified nominal impedance of 8 ohms. Crossover frequencies in the three-way BD 650 and BD 600 speakers are 500 hertz between woofer and midrange and 4 kilohertz between midrange and tweeter.
The Sonic 500 sub has a front-firing 12-inch heavy-gauge polypropylene woofer (with 2.5-inch voice coil and 50-ounce magnet) in a sealed enclosure, backed with a phat amp (170 watts RMS, 625 watts peak).
Associated equipment for this review included a Pioneer Elite VSX-53 A/V receiver, an Oppo BDP-83SE universal disc player, a Micro Seiki BL-21 turntable, a Shure V15MxVR/N97XE cartridge, and an Onix OA 21s integrated amp serving as the phono preamp. All movie demos were Blu-ray Discs with DTS-HD Master Audio sound- tracks.
Consistently Sweet
Some speakers are chameleons that you don't notice. The Black Diamond IIs are the other kind: They have a sweet, gentle, winning personality that never fails to assert itself. The upside is that they make everything sound a little better than expected, which is exactly what most listeners hope and pray to get from their loudspeakers. The downside—which may be insignificant to a real-world audience—is that their one-sound-fits-all approach delivers few serendipitous surprises as you wend your way through your music collection.
Don't take that to mean that these speakers are anything less than fabulous-sounding, five-star performers. The top end is polite but not reticent and certainly not gauzy. It makes a graceful transition to a midrange that is warm, generous, and well controlled even at high volumes. As a bonus, the monitors—um, bookshelf speakers, sorry!—have strong bass response for their size. If you're not looking for percussive slam, they can deliver most kinds of music reasonably well without a sub.