Phase Technology Teatro PC-3.0 L-C-R Speaker System
Price
: $2,400
At A Glance
: 40-inch-wide soundbar speaker includes front left, center, and right channels • Surrounds and sub are extra-cost options • Refined sound
Stars and Bars and L-C-R
Two bars walk into a guy. Sorry to be so gender-specific, but that's generally how these jokes begin. One bar says, "I've got 5.1 channels, including fake surround, to add to the grandeur of your studio apartment." The other bar says, "I've got the front three channels of good, honest sound to accompany the luster of your flat-panel TV." What does the guy say? Frankly, I haven't got the slightest idea. The interesting thing is that he has a choice.
In a market that boasts a boatload of one-piece surround solutions, here comes Phase Technology's Teatro PC-3.0 L-C-R soundbar. You can tell the company is excited by the two hyphens it needlessly injected into the perfectly acceptable acronym LCR. That stands for left/center/right, which are the three speakers that you can replace with a one-piece wonder if you are the happy purchaser of this system.
However, the Teatro does not provide any coverage for the surround or low-frequency-effects channels. That means you'll discover the pleasures of three-channel stereo (no hole in the middle!), or you'll add some unintrusive surround speakers like the wall-mountable Velocity V-Surrounds that are reviewed here. The review package also includes the FL-10 subwoofer, which brings the package up to a full 5.1 channels, handled by four objects, shipped in three cartons, and reviewed in one piece of text.
Soft Dome Pioneer
Phase Technology is a distinguished American speaker brand with a 50-year pedigree that includes the invention of the soft-dome tweeter in 1967. Founder Bill Hecht is still involved with the company, as is his son Ken. The Teatro PC-3.0 L-C-R is one of Phase Technology's two soundbar products. Shorn of the surrounds and sub reviewed here, it costs $1,200. The company also offers a Teatro V3.0 soundbar (simpler, with fewer drivers) for $800. And it has several other product lines, notably including the bleeding-edge dARTS system.
This larger Teatro is a three-way design, in triplicate, and then some. The front baffle has three 1-inch tweeters, three 1.5-inch soft-dome midranges, and three 5.25-inch woofers. On the sides is another pair of 1.5-inch soft-dome drivers that operate with spatial processing. Because the woofers on the front are next to the tweeters instead of below them, the arrangement is not quite symmetrical from channel to channel. This leaves the center woofer and tweeter/mid on either side of the center position, with two ports to the left of them and one port to the right.
Although the tweeters and midranges are both soft domes, they are made of different materials. The tweeter domes are a woven synthetic blend, while the midranges and side driver domes are made of cotton that's been heat-treated and sealed. And the woofers are a composite of glass fiber, Kevlar, and rigid polymer foam (RPF). The crossover keeps everything both acoustically and electrically in phase—as you'd hope with a company that calls itself Phase Technology.
A note of warning about the side drivers: The grille does not extend around them, and there are no other structures to guard the drivers. So they are unprotected—and very fragile, as I discovered when I picked up the speaker and managed to crumple them both. This is not recommended for homes with a toddler, a drunk, or (the most dangerous animal) a ludicrously clumsy critic.
The bar is 40 inches wide and therefore would look perfect with a 40-inch-wide flat-panel set. If your set is more than 40 inches wide, you can tell Phase Technology the exact width of your set, and the company will create a custom grille for an extra $150. The mounting hardware includes leveling and tilting control.
Meanwhile, the Velocity V-Surround is a selectable bipole/dipole speaker—at least where the 1-inch soft-dome tweeters are concerned. They are mounted on either side of the angled enclosure. The front has a single 5.25-inch vapor-deposited titanium-coned woofer. The enclosure also has a keyhole in back for easy wall mounting.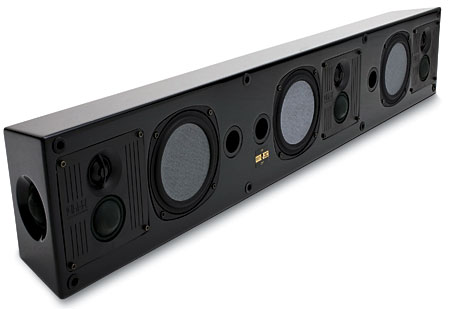 The FL-10 sub comes with a down-firing passive radiator and prioritizes controlled bass response over brute force. It has no port and therefore no port-related problems such as chuffing. The enclosure curves at the sides, which reduces internal standing waves. Although I usually don't give away the story this early in the game, I don't mind admitting that I was consistently impressed with the sub's ability to deliver bass frequencies in an even and thoroughly listenable manner. Some subs are impressive with movies but reveal their essential crudity with music. This one was a smooth aristocrat in both realms. It was all I could do to keep myself from offering it a cocktail.
Associated gear included the Rotel RSX-1065 A/V receiver, now in the waning days of its long and happy reign over my system. You'll see me using something HDMI-savvier in some future issue. My Pioneer BDP-HD1 first-generation Blu-ray player is similarly eligible for upgrade. Watching the poor thing load a disc nearly breaks my heart, and it doesn't handle DTS-HD Master Audio at full resolution. It will be harder (perhaps impossible) to part with my Integra DPS-10.5 DVD-Video/-Audio/SACD player. Although strictly speaking, it's no longer universal in this brave new Blu world.
Source and Codec: The Meditation Continues
The Teatro performed well enough to further propel my ongoing train of thought on what qualifies as good surround sound. To me, there are three main determinants of an effective surround experience. One, of course, is the quality of the playback equipment. Another is the quality of the source material. Finally, there's the surround encoding/decoding technology that delivers it. With all other things being equal, a lossless codec (which reconstructs the studio master bit for bit) will outperform a lossy one (which permanently eliminates data for efficiency). Ah, but all things are rarely equal, which is why the old-school lossy Dolby Digital soundtrack of Traitor on DVD sounded better than the higher-resolution lossless Dolby TrueHD soundtrack of War, Inc. on Blu-ray. I never consider it a bad day when my assumptions are shattered. It keeps me on my toes.