Phase Technology PC-1.5 Speaker System
Price
: $4,925
At A Glance
: Soft-dome tweeter and solid piston woofer • Absolute phase crossover keeps drivers in polarity • Wireless servo-controlled subwoofer
Set Your Phaser on Stunning
Whenever I hear a surround speaker demonstration that uses only movie content and ignores music, I always feel like something has been missed—or even deliberately hidden. As Phase Technology notes in the brochure for its Premier Collection speakers:
"We engineer our speakers to the highest standards, knowing that if a speaker reproduces music with true transparency, then it will faithfully reproduce movie soundtracks with the same clarity." Now I'll put my oar in the water.
The reverse is also true: Some of the highest-quality recordings I've heard in recent years—with the most moving dynamics and the most complex layering—have been movie soundtracks delivered in lossless form on Blu-ray Disc. A system that's capable of reproducing such soundtracks is also ideal for orchestral works and other challenging musical content.
So: A system that reproduces music well is also good for movies. And a system that reproduces movies well is also good for music. We're lucky that high-resolution formats are now available for both movie and music content. In today's environment, a surround audiophile is hip to the fact that neither medium, movies or music, is inherently second best in relation to the other.
Anyway, back to Phase Technology. It is an all-American company with an epic history. In the early 1950s, founder Bill Hecht was involved in the development of cinema sound and the installation of both projectors and sound systems in places like New York's Radio City Music Hall. In 1955, he started hand-building speakers. His product literature from that year includes the pregnant phrase, "theater sound for the home." In 1950, Hecht's United Speaker Systems designed the first Fisher loudspeaker, the XP-1 monitor.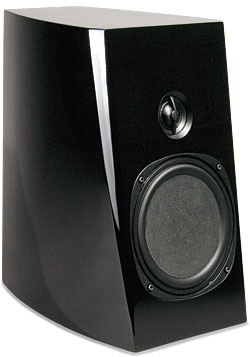 His most famous patent is for the soft-dome tweeter, although he has several other patents, mostly for driver-related technologies. In 1981, he established the Phase Technology brand, in which his son Ken has been active. Ken's innovations include dARTS (the Digital Audio Reference Theater System), which thoroughly integrates digital signal processing and speaker design to provide powerful, room-corrected sound in high-end applications. Phase Technology is now part of the MSE Audio Group, along with Induction Dynamics and others.
Made in the U.S.A.
In addition to dARTS, Phase Technology's product lines include the affordable Phase Velocity Series, the CLR left/center/right speaker, and Teatro soundbars, along with in-wall, in-ceiling, outdoor, and multiroom products. But this review will focus on the Premiere Collection, which includes two monitors, a floorstanding model, two centers, and a bipole/dipole surround. I chose the PC-1.5, the larger of the two monitors. I also added the WL12 subwoofer, which supports both wired and wireless operation. Before we get down to specifics, please note that Phase Technology is one of the rare American speaker brands that currently manufactures domestically. Drivers are made in the company's Jacksonville factory, and final assembly takes place in Kansas City.
The PC-1.5 is a stand-mount, two-way speaker in a sturdy curved cabinet made of 0.75-inch MDF. It mates one of Phase Technology's soft-dome tweeters with a 6.5-inch woofer on an angled baffle. The tweeter is fluid cooled and utilizes a silk-blend textile dome, as opposed to plastic, with a neodymium magnet. Phase Technology was the first speaker maker to use this type of lightweight but powerful magnet in a tweeter. This particular soft dome trickled down from the bleeding-edge dARTS system.