Performance Personal Computers Dream 3D HTPC I Page 2
In my opinion, regardless of the hardware, the most important thing you need to turn a PC into an HTPC is software that makes you forget you're using a computer and believe you're controlling an honest-to-goodness A/V component.
Media Center of Attention
For years, in a quest to dominate the home theater room (as well as everything else), Microsoft has offered various versions of Windows Media Center (WMC), a program that in theory is supposed to make a PC act more like a user-friendly A/V component—and for oh so many years, the company has failed abysmally at it. However, the version of WMC that comes with Windows 7 is surprisingly good. First of all, WMC's simple layout and large graphics are ideally suited for viewing and navigating from a distance. (The 10foot user interface is a common reference to the fact that manipulating a computer from a big screen that's more than a few feet away is different than working with one that's inches from your face.) The main WMC screen presents a limited number of media-related options (in my case, Tasks, Sports, TV, Movies, Music, Pictures + Videos, CyberLink PowerDVD 11, and Extras) from which to choose. While this, of course, hides access to the overall power and versatility of the PC part of the HTPC, the flip side is that this type of simplified onscreen user interface is perfect for the HT part.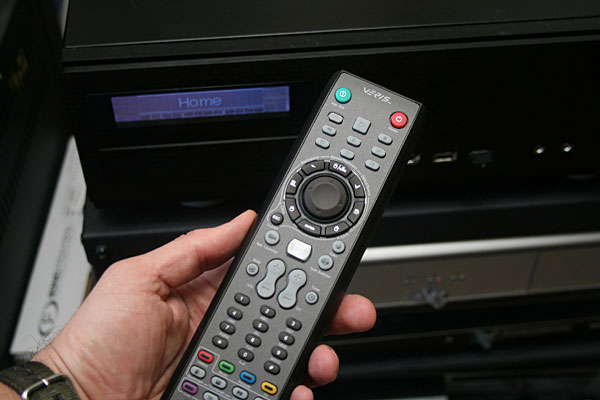 I consider myself a pretty astute computer user. But when I walk into my theater room, I'm normally looking for a slightly more passive experience that doesn't involve anything more mentally taxing than finding out where the remote control is hidden. So I definitely appreciated the ease with which WMC got me where I wanted to go, whether it was listening to Ha Ha Tonka, watching broadcast TV, searching for Internet TV shows, watching a movie on Blu-ray, or looking at digital photos. Those digital photos, by the way, have been a regular source of irritation. Family members have often complained that photos are locked away in a hard drive somewhere and too difficult to show to others.
The real value of WMC's simplicity became apparent not long after the HTPC was hooked up when I found my wife and daughter looking at pictures from a past vacation on the big screen—without any prior instruction on what to do. (That alone might be worth the total cost of the HTPC.)
There's a bit of traditional computer setup involved in the beginning, such as telling the program where your music, video, and photo files are stored (either in the HTPC or on your network), as well as other particulars about your system and the kinds of multimedia-related things you want to do. But after that necessary bit of pain, WMC makes it extremely easy to do computery things in a not-too-computery way. And if you set WMC to load and take over whenever the computer starts up, you may never need to access the computer desktop or open another program manually. (Unless you want to, of course.)
While Windows Media Center came as part of the system, there are other media center programs—some free, some not—that are as good as or, in some ways, superior to WMC. XBMC, one of the most well known, is a free, open-source media center program that's been around for quite a while, has numerous skins available to change the look and feel of the interface, and is more expandable/tinkerable than WMC. Other options include MediaPortal, Boxee, Plex, and others. However, with the extra sophistication that comes with these programs typically comes the need for more computer administrative prowess. So, although I liked what some of the other media center programs could do, I definitely think WMC is a more family-friendly alternative to have in a multi-user home theater.
Interfaceoff
The device(s) you use to interact with your HTPC are just as important as the media center program itself. The Dream 3D HTPC I came with an IR remote control that was close to impossible to use, thanks to its tiny buttons, poor layout, and a centrally located thumb stick that was way too sensitive. Performance PC also includes a Logitech diNovo wireless keyboard ($180) with the system.
I would have made sweet love to this keyboard (yes, I liked it that much) except for the annoying fact that the left and right action buttons were beneath the touchpad itself, which often made it difficult to click and drag or highlight since my left hand was holding up the other end of the keyboard. IOGEAR's oval-shaped Wireless On-Lap Keyboard ($75) has action buttons on both sides of the keyboard, but the trackball would jiggle slightly when I took my thumb off of it—often causing the cursor to move from where I wanted it. I also gave IOGEAR's Multimedia Mini Keyboard ($100) a shot, seeing as how its small size made it seem more couch appropriate while still providing a QWERTY keyboard, but its tiny trackball felt awkward. Because of an HTPC's hybrid part-PC/part-HT-component nature, it's often hard to decide whether you should use a remote control or a keyboard. Ultimately, the best way to control an HTPC will probably be with a Kinect-type motion controller when such an option can be provided.

Bypass Operation
As much as I began to enjoy having the Dream 3D HTPC I as a component connected to my Anthem processor, I started to have heretical thoughts about bypassing the Anthem altogether and taking the 5.1-channel analog audio outputs straight to my Anthem MCA 50 power amp. (Sorry, AVM 50v.) After all, the Dream 3D HTPC I could take the place of my Blu-ray player, cable box (if I had one), media server, and surround processor. The only thing it lacked to make it an HT(PC)IB was an amplifier and speakers. So after I rounded up the requisite number of mini-jack-to-RCA connectors, I reassured the surround processor that this was only a temporary situation and changed the HTPC's sound card output parameters—and it worked surprisingly well. The audio quality of the Dream 3D HTPC I's sound card was in no way equal to the Anthem AVM 50v's—this particular configuration was certainly not what you'd call an audiophile's dream. Still, operating the system was exceptionally easy, and the only real difference was that I used the HTPC to control the volume instead of the Anthem processor. Aside from marginal sound quality, the biggest limitation of the setup was the fact that it only offered two analog video inputs. (No HDMI devices for you!) In the end, though, I decided I liked the Anthem AVM 50v better and went back to the original configuration.
Meanwhile, as a Blu-ray player, the Dream 3D HTPC I was a mixed bag. With the HTPC's video card set for 1920-by-1080 (1080i) resolution, the picture quality with BDs was superb—almost as good as my venerable Sony PS3. But at this resolution, some program icons and graphics were difficult to read from the couch. (Yes, even after I changed the font size, an action that makes me feel even older than I already am. Next I'll be needing to Velcro remote controls to my walker.) Text, icons, and graphics appeared more appropriate in detail and size with the display resolution set for 1280 by 720 (720p). However, in this mode, the Blu-ray player's picture quality seemed a smidge softer. Every now and then, there would be an odd, random pause in the playback, which was annoying—but not as distressing as the rare (but still occurring) need to restart WMC or reboot the computer altogether. I liked the included Hauppage WinTV-HVR-2250 dual ATSC/clear QAM tuners (with FM tuner). The software made it easy to scan through the station guide, select a channel, and record or schedule a recording as you would with most any PVR. However, when it came to over-the-air channels, the tuner card couldn't tune in as many weak stations as the ATSC tuner in my Dish Network VIP622 PVR. The stations it did pull in were gorgeous, though. I don't have cable, so I couldn't check it against a separate cable box.
Overall, neither the user interface nor the Dream 3D HTPC I's performance with Blu-ray and TV would make me rush out and buy an HTPC to replace my current equipment. But someone more interested in spending the time searching for additional software and tweaking the system to get it just the way he wants it might find that an HTPC's flexibility outweighs any interface/performance negatives.
To HTPC or Not to HTPC?
I have to say that integrating Performance PC's Dream 3D HTPC I into my home theater was less painful and ultimately more enjoyable than I expected. And the fact that other members of my family could use the HTPC with the system instantly was a huge bonus. Not that Windows Media Center made everything shine with colorful rainbows and gleaming unicorns. Underneath, an HTPC is still a computer, after all, and prone to all the problems nonHTPC computers are. I suffered through random glitches in system operation now and then, and once I had to completely reboot the computer to get everything working again. So I can't unequivocally say it's time to throw open the doors and let the HTPCing begin. An HTPC is definitely worth considering, though, as long as you remind yourself that this isn't just another typical A/V component (like a Wii or Blu-ray player) that you're connecting to your system. But it'll also potentially do more than any other typical component. And if it makes your home theater more entertaining and useful, and puts more of your favorite content at your fingertips, then you might find that an HTPC is worth a bit more work.