A Perfect Fit: Three 1080p LCDs NEC Multeos M40
NEC Multeos M40
The M40 is undoubtedly the most unique offering in this roundup in terms of its appearance, features, and overall design philosophy. It's been a while since we reviewed an NEC display; the company has focused of late on their commercial products, but they're making a new push into the consumer realm with the Multeos LCD line. In many respects, the M40 reflects the company's commercial sensibilities, including some digital-signage technologies that I won't explore here.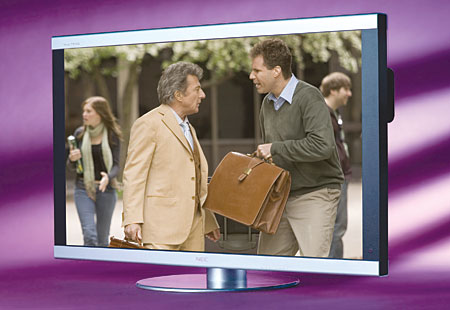 More relevant for the consumer space is the fact that NEC offers the display in multiple configurations, so you can tailor it to your exact needs. The entry-level IT version ($2,500) is essentially a high-end computer monitor, with VGA, DVI-D (with HDCP), and RGBHV connections and no internal tuner or speakers. The AV model (also $2,500) adds A/V-friendly connections like HDMI, component video, S-video, composite video, and analog audio. The AVT model ($2,800) further adds internal ATSC, NTSC, and Clear-QAM tuners (shared via one RF input) and an optical digital audio output for the complete TV experience. You can add optional speakers to either the AV or AVT versions for $350.
I requested the $2,800 AVT model without speakers, which put this 40-inch TV at the middle price point in our roundup. The M40's IT leanings give it some interesting features, including SCART functionality, a set of RGBHV outputs (with BNC connectors) to pass a video or computer signal through to another display, and an expansion-card slot to accommodate future applications like IPTV or streaming media.
However, the design also limits the number of standard A/V connections to only one of each; so, if you have multiple DVD and HD sources, you may want to mate this TV with a well-endowed receiver or switcher that accepts many sources and feeds one signal into the TV. The AVT package doesn't really earn its $300 upgrade over the AV model. If someone is willing to pay extra for the internal tuners, they should get two RF inputs to enjoy both over-the-air and cable signals, if desired. There are plenty of PIP options and adjustments, as well as a basic program guide.
The M40 has an industrial look, with an all-metal chassis that's available in black or a combination of black and brushed silver. I like the minimalist approach, but I wish the brushed silver ran all the way around the frame; the black side panels lessen the higher-end aesthetic. The remote control has a straightforward layout; it lacks backlighting but is the only one in the roundup that offers discrete input buttons.
This display is also highly configurable in terms of image adjustments, including three picture modes; an incremental color temperature from 2,600 to 10,000 Kelvin; multiple gamma options; individual color control for red, green, blue, cyan, yellow, and magenta; a host of computer-specific controls; and a 100-step adjustable backlight. Some of the terminology in the picture menu may confuse people, even though it's technically correct. Most manufacturers use the words "brightness" and "contrast" to describe black-level and white-level adjustments, respectively. The NEC M40 has a "black level" control, and it uses the word "brightness" to refer to the adjustable backlight.

The TV lacks automatic aspect-ratio detection but offers four aspect-ratio options, plus the ability to precisely adjust the image's horizontal and vertical positioning. You can change the color of the 4:3 sidebars and designate how you wish the Zoom aspect-ratio mode to size the picture. Turn this mode off, and you get a 1:1 picture that will display 1,920 by 1,080 pixel for pixel, as long as you also set the TV's overscan/underscan option to underscan.
The M40 has good color points, and, above 55 IRE, its color temperature at the 6500 user setting was almost perfect. Unfortunately, it's excessively cool at the low end, and calibration of the set was unable to resolve this. As such, night sequences in the Corpse Bride HD DVD and other dark demo scenes looked more blue than neutral. With a majority of HDTV and brighter DVD content, however, colors and skintones looked natural.
At the minimum brightness setting, the M40 had the second-best black level (0.041 ft-L) and overall contrast ratio (1,112:1) in this roundup. However, the TV's black detail and viewing angle are only average, so its performance in a dark room, while still respectable, was not as good as the Mitsubishi's.
The M40 uses a 10-bit Faroudja DCDi processing chip, and it fairly smoothly reproduced the transition from black to white in our Video Essentials test pattern. The TV smoothly rendered the firelit faces and smoke-filled room of my Lost and Ladder 49 demo DVD scenes, respectively, and created generally clean grays and solid colors in HD sources. However, at its maximum brightness setting, it was much noisier than the other TVs, so I recommend that you set the display at 50-percent brightness or less. At that setting, you still get plenty of light output (84.24 ft-L) to watch TV in a well-lit room.
In other processing news, the M40 correctly deinterlaces 1080i and picked up the 3:2 sequence with both 480i and 1080i content. It can receive both 1080p/60 and 1080p/24 signals, as well.
The TV has excellent detail, measuring out to the limits with our 480i, 720p, and 1080i resolution tests and showing good horizontal resolution with our HQV HD DVD test pattern. In other words, all of the pieces are in place for the M40 to produce attractive DVD and HD content, and it does just that.
With the Multeos line, NEC demonstrates a good understanding of the complexities of the current marketplace, where people don't just use their display devices to watch television, nor do they wish to pay for unneeded bells and whistles. The M40 is a build-to-order display, ideally suited to the convergence-minded videophile who wants to seamlessly meld PC and A/V functionality without sacrificing video performance.
Highlights
NEC Multeos M40 LCD HDTV:
• Highly configurable
• Good color, detail, and processing