A Perfect Fit: Three 1080p LCDs Mitsubishi LT-37132
Mitsubishi LT-37132
The $2,500 LT-37132 may be the smallest and least expensive TV in our roundup. But it packs a wallop in the areas of features and connections, and it just so happens to produce a beautiful image—all of which help justify its higher price tag compared with some other 37-inch LCDs on the market.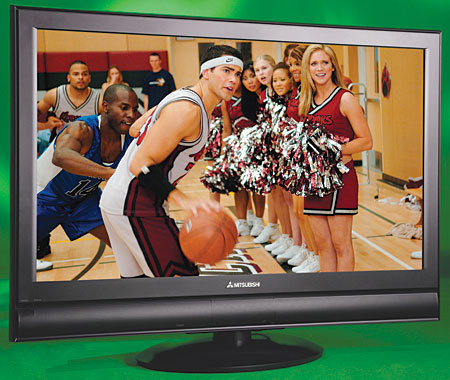 The TV boasts the highest number of HD-capable inputs—two HDMI, one DVI, and three component video—and is the only model in the roundup that includes a CableCARD slot. It sports two RF inputs to utilize the internal ATSC/NTSC/QAM tuners, as well as two IEEE 1394 connections for attaching digital peripherals and sending HD signals to an external recording device like a D-VHS recorder. Through the IEEE 1394 connections and G-Link IR-emitter port, you can control other digital and analog components via Mitsubishi's NetCommand interface. Another nice perk is the motorized stand, which swivels 30 degrees to the left or right with just a couple of button pushes on the remote.
The LT-37132 also has a full complement of picture adjustments, including a 63-step adjustable backlight, three picture modes, two color-temperature settings, video noise reduction, sharpness enhancement, and a dynamic-contrast adjustment. The ambitious videophile can make advanced tweaks to each input's color and tint using the PerfectColor and PerfecTint options. The channel-scanning process for the internal tuners is fairly quick, but it can be a bit cumbersome to add and delete channels. Split screen is the only PIP option, although you can adjust the size of each screen, and it does show 16:9 content in its correct aspect ratio.
I found the onscreen menu system awkward to navigate, but at least the menus don't cover up the screen when you try to make picture adjustments. The remote has a clean, well-organized layout, and the important buttons are backlit. It lacks discrete source buttons, but the TV does use Mitsubishi's ClearThought system, which automatically senses when you connect a new device, gives you the option to name it, and pulls up a list of only the active inputs when you hit the remote's Input button. The LT-37132 has the most aspect-ratio options for both 4:3 and 16:9 content; however, it doesn't have automatic aspect-ratio detection or a 1:1 mode to show 1,920-by-1,080 content without any overscan.

Now let's talk picture quality, beginning with the LT-37132's black level, its defining feature. At its minimum backlight setting, this TV had the best black level (0.027 foot-lamberts) and overall contrast ratio (1,150:1) of the group, which gave it a distinct advantage when playing content in our darkened testing room. Nighttime sequences from the Firefly and Bourne Supremacy DVDs, as well as from Batman Begins and Corpse Bride on HD DVD, looked very rich and well saturated, with good detail in black backgrounds. At that same backlight setting, the light output is a bit low for daytime viewing (31.05 ft-L), so you might want to switch to the medium backlight setting, which strikes a solid compromise between black level (0.078 ft-L) and light output (88.2 ft-L) for a nearly identical contrast ratio of 1,131:1.
The LT-37132 also has a good bit depth, pretty smoothly rendering the transition between black and white in our Video Essentials test pattern without any big jumps. I saw very little noise in the deep-colored sets of SportsCenter on ESPN HD, and the smoke that hangs over chapter 10 of Ladder 49 looked like smoke, not pixels. Neither the color points nor the color temperature are spot on, nor are they far enough off the mark to create noticeable issues. When we went into the service menu to calibrate this TV, we were unable to change the high points, which was the area that needed adjusting; our calibration attempts actually made the low end a little worse, so I wound up going back to the pre-calibration numbers and was consistently pleased with skintones and color saturation.
Realistically speaking, 37 inches isn't big enough to discern a clear difference in resolution between 720p and 1080p. This TV measured out to the limits with our 480i, 720p, and 1080i resolution patterns, but our HQV HD DVD test disc showed the set's horizontal resolution to be just a little softer than that of the other TVs. Perhaps to hide this fact, the HDMI inputs have a small amount of edge enhancement, even with the sharpness control set to "0." This helps high-def DVD images look razor sharp, albeit in a slightly unnatural way.
The LT-37132 did a fine job scaling 480i TV and DVD content up to 1080p, and it was able to pick up the 3:2 sequence in my 480i demo scenes from Gladiator and The Bourne Identity. It was the only display in the group that didn't pick up 3:2 with 1080i content, but I didn't see any blatant artifacts with 1080i HDTV or high-def discs at 1080i. It also accepts 1080p/60 and 1080p/24 through HDMI, should you wish to mate it with a high-def player that handles the deinterlacing itself.
In truth, I could find very little fault with this TV. Its contrast ratio, color, bit depth, processing, and detail combine to produce a consistently attractive image, no matter the source. Even some of the usual LCD caveats don't apply here. It exhibited the least amount of motion blur and had no significant screen-uniformity issues. OK, the viewing angle isn't outstanding, but it was the best in this test; and the motorized stand makes it easier for the screen to move with you around the room.
The LT-37132's smaller screen size is better suited to a den or secondary space, but its un-LCD-like performance gives it a lot of flexibility. If I had a smaller living room and were looking for a TV that performs equally well during the day as at night, this one would be on my short list of products to consider.
Highlights
Mitsubishi LT-37132 LCD HDTV:
• Has good black level and contrast ratio
• Motorized stand
• Lots of features and connection options
LATEST VIDEO