Paradigm PW Soundbar Review Page 2
Used by itself, the PW Soundbar can deliver a 3.0-channel experience, which is expandable to 3.1 by adding a subwoofer. The Play-Fi app then allows you to tack on rear speakers if you want to turn the system into a full surround rig. As mentioned, I added Paradigm's PW 600 speakers; however, at $599 each, a pair costs almost as much as the bar. A more reasonable option is the new PW 300 at $329 each, which was not yet available during my audition. In theory, however, any Play-Fi-equipped speakers can be integrated. As for the PW 600, it's a versatile little beast intended for multiroom music, with dual tweeters—so you can configure a pair for left and right, as I did, or use one as a single-point stereo speaker. With a 5-inch woofer and a 200-watt amplifier, it's actually claimed to be more powerful than the PW Soundbar. It also includes Anthem Room Correction and a test mic, just like the bar, as an aid to getting all of the speakers in your wireless surround setup to sound like a cohesive whole.
Setup
For my initial setup, I simply connected my Blu-ray player and cable box to two of the PW Soundbar's HDMI inputs, and I used hardwired Ethernet connections from my router to the bar and each surround speaker. The bar can switch between the three HDMI inputs, but it has no internal video processing—which also means that you don't get onscreen menus to walk you through the setup, as you'd find on most A/V receivers. Maybe I need to ask a 12-year-old computer genius to help me, but I felt that the setup, especially for the Play-Fi features, came with a pretty steep learning curve. There's little overall guidance from the manuals to walk you through which steps you need to take and the order in which you need to do things.
For those who attempt it: First, you need to connect all of the speakers to your home Wi-Fi network, which sounds easy but really isn't very intuitive, requiring you to get each speaker into the right setup mode to make the connection. Then, the surround setup is done using your computer, tablet, or phone within the Play-Fi app, which isn't specifically tailored to Paradigm speakers or the combination I was using.
Listening at Last
Once I finally got it all figured out, it was time to listen. Starting off with some music selections streamed from Tidal, I played " 'S Wonderful" from jazz trombonist Steve Turre's Spiritman. At first, I ran the PW Soundbar on its own, full range without a sub, and found the bass to be tuneful and tight but—not surprisingly for a svelte soundbar—without much weight or power. Even with DSP to control the output, there's only so much you can do with nine 2.5-inch drivers. Bringing in my sub added some much-needed heft, and with careful level-matching, the blend was quite good. At the other end of the frequency spectrum, drummer Willie Jones III's cymbals were clean and focused but lacked some of the shimmer and harmonic tonal color you normally get from extension into the very top octave. Turre's trombone fared better, with plenty of midrange blat and roundness.

Stereo imaging was surprisingly good as well, with a soundstage that extended well past the left and right ends of the bar, and it even provided some decent depth. This isn't something you normally expect from a speaker with multiple channels in a single enclosure. A decent pair of floorstanding or stand-mounted speakers would certainly be able to create a bigger and more focused image, but Paradigm's bar did an excellent job of getting the sound expanded beyond the confines of its box.
Cinema Sound
Switching over to movies, I played the scene in The Secret Life of Pets where Max and Duke are picked up by the animal control truck. The sound of the big dog hammering on the cage doors had plenty of impact, although it was a little thicker and darker than what I usually get from my everyday home theater rig. In any event, the PW Soundbar had no difficulty playing loud enough to get my upstairs neighbor's dogs yapping away in sympathy, and the PW 600 surrounds blended well with the bar to create a fine sense of envelopment that filled the room. With the full surround effect in play, it became difficult to tell that I wasn't listening to a genuine 5.1-channel rig with physically separated left-, center-, and right-channel speaker cabinets.
To get a better handle on the bar's dynamic abilities, I watched the first episode of the TV series Shooter, where Ryan Phillippe's character is a sharpshooter out in the woods who encounters a wolf caught in a trap. First, he shoots a round from his assault rifle to break the trap, and the impact of the sound through the bar was quite palpable and very dynamic. Then, he fires a tranquilizer dart at the wolf from a pistol, and the more metallic but far less dynamic sound of the smaller gun was clearly evident.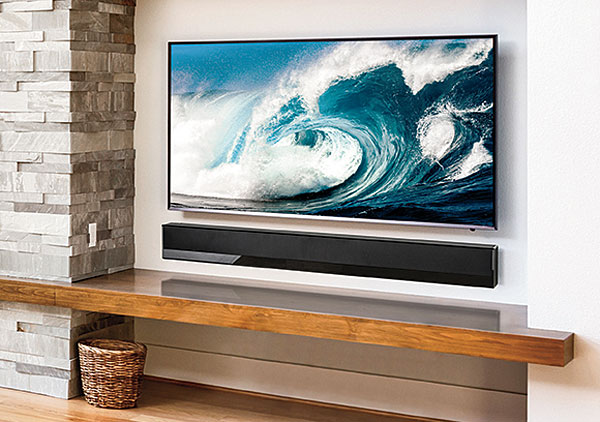 Overall, I would describe the bar's sound as being smooth and powerful, and just a little bit soft on top. That's not necessarily a bad thing when it comes to movies and TV shows, but with music, I sometimes found myself wishing for a little more openness and detail. Still, if you're going to tip the tonal balance one way or the other, Paradigm has certainly gone the right way for what is, after all, a TV soundbar. That said, if you really want to get fancy, the ARC app does allow you to enter customized target curves for each section of the bar, so you can tailor the tonal balance to your own preferences, within the abilities of the device.
That's a Wrap
PW stands for Premium Wireless, and with the PW Soundbar, Paradigm really has gone a long way toward delivering the good kind of consolidation, putting the features and functionality of a full-bore 5.1 system into a single box. The one feature they did leave out is easy, intuitive setup, something that perhaps might have been solved with an onscreen display. That's a pity, because soundbars are often bought by people who want a simple route to good sound and who aren't so technically inclined to jump through a lot of hoops on the way. Hopefully, most of them have a teenage whiz kid available, for whom this kind of stuff is child's play.