Paradigm PW Soundbar Review
PRICE
$1,299
AT A GLANCE
Plus
Wide array of wired and wireless connections, including Play-Fi
Room correction with included microphone
Wireless subwoofer connection
Minus
Confusing and non-intuitive setup
Soft-sounding highs
THE VERDICT
Paradigm's PW Soundbar ticks a lot of boxes with its long list of desirable features, but its complicated wireless setup and ergonomic difficulties make it frustrating to use.
Consolidation is one of those things that can be either a good deal or a bad deal, depending on the context. For example, with big corporations, consolidation often means less competition, which can be a bummer for the consumer. Just ask the guy who pays through the nose for 2,000 cable channels he'll never watch, or the guy who has tried to make a mini-sized bag of peanuts last through a six-hour transcontinental flight on one of the four remaining major U.S. airlines. But when it comes to consumer electronics, consolidation can be a wonderful thing. I just returned from a two-week trip to Europe, and the only tech device I took with me was my iPhone. Ten years ago, I would have stuffed my bag with gizmos, from my digital camera, camcorder, radio, and laptop to an alarm clock, a GPS device, and my trusty compass (hey, I'm an Eagle Scout, always prepared).
Consolidation has also been rampant in home audio. Big component-based entertainment systems with multiple speakers connected to a rack full of electronics have been condensed down to single-box solutions, stuffing all of the speakers, amplifiers, and preamp functions into a single soundbar or Bluetooth speaker. In the process, however, many of these soundbars have lost a lot of the flexibility and functionality of a more conventional system, with limited connectivity and no fancy features like room correction or a comprehensive display to show you what the heck is going on.
Paradigm's PW Soundbar aims to change that, by giving you a one-box solution that includes many of the features you'd normally find in a big component-based rig. For example, it offers a full array of hardwired inputs plus a whole slew of wireless hookup options. There's even a sophisticated room-correction system that comes with its own test microphone.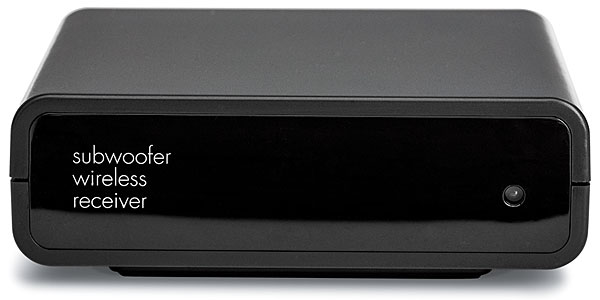 Key among the PW Soundbar's features is compatibility with DTS's Play-Fi, a high-resolution multiroom wireless protocol that lets you add more speakers that can work in harmony with the bar. Unlike other wireless hookups such as Bluetooth, Play-Fi can stream uncompressed audio at up to 96 kilohertz with 24-bit resolution over Wi-Fi, so you don't need to make excuses for the sound quality of the link. And since Play-Fi is an open standard embraced by a variety of manufacturers, you can mix and match brands and price points when outfitting your home with wireless speakers.
Soundbars often have a tough time creating a convincing surround effect, but with Play-Fi you can wirelessly add a physical pair of compatible speakers to handle the surround duties and/or a separate subwoofer to extend the bass output. For this review, I paired the PW Soundbar with a couple of Paradigm's own PW 600 bookshelf speakers working as surrounds, and I also connected the wireless subwoofer link to my trusty M&K Sound MX-350 subwoofer.
The PW Soundbar itself is a sleek but unassuming black bar, proportioned to match well visually with a typical 50- to 60-inch TV. Nine identical 2.5-inch drivers are grouped into clusters of three, one each for the left, center, and right channels. Each driver in a cluster is aimed differently, so that one fires mostly upward, one points mostly forward, and one is at an angle somewhere in between, resulting in the sound being sprayed over a wide area. The drivers at each end of the bar are also angled outward to give more fill to the sides. The clever part of this arrangement is that you can set the bar flat on your cabinet, or mount it on the wall either above or below your TV, and then adjust the configuration settings so its sound output is optimized for that location.
Features Galore
I've encountered several bars with only a cryptic set of flashing LEDs to indicate things like input and volume settings. By contrast, the PW Soundbar's detailed OLED display offers a refreshing amount of information. The text on the screen will flip depending on whether you have the bar configured to be placed over or under the screen on the wall. But if you put it on a tabletop, as I expect many will, the display ends up pointing at the ceiling. This means that during much of my setup, I had to stand right next to the bar so I could look down at the display as I scrolled through the menus using the small and somewhat confusing remote control. That remote, while quite solidly built from brushed aluminum, has buttons that are mostly identical, with truly minuscule labeling and no backlighting. On the plus side, at least the volume control takes the form of the top and bottom buttons of a ring, which are easy enough to find by feel in the dark. As with any remote, I'm sure you can get used to this one with time, but I frequently found myself having to use a flashlight to locate the button I wanted.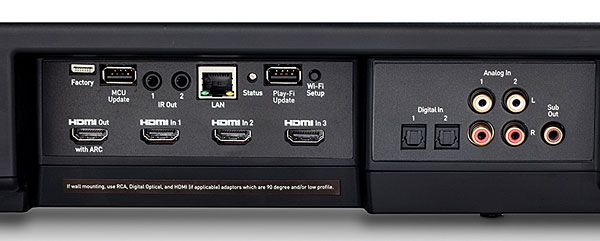 With three HDMI inputs (and one output with Audio Return Channel), two stereo analog inputs, and two optical digital inputs, the soundbar rivals some A/V receivers for connectivity. The HDMI 2.0a inputs all sport HDCP 2.2 copyright management to accommodate 4K/60 and HDR sources and passthrough. You also get an Ethernet port, a subwoofer output, and outputs for a couple of IR signal repeaters. Then there's the wireless connectivity, with Wi-Fi, Bluetooth with aptX, and Apple AirPlay, in addition to the previously mentioned Play-Fi. There's even a wireless subwoofer connection, complete with an included wireless receiver that you can use to adapt any conventional powered sub to compatible wireless operation.
Rounding out the features you'd normally expect to see only in a well-equipped A/V receiver or subwoofer is Anthem Room Correction, or ARC (not to be confused with Audio Return Channel), which comes complete with a test microphone to tune the soundbar's response to match your room. ARC can be run either from your PC using the supplied calibrated USB test microphone, or from an iOS mobile app version using your phone or tablet. The mobile version uses your phone's built-in mic, although Paradigm says there will soon be a way to connect the test mic. On the other hand, the computer version offers a more comprehensive set of tools (along with current use of the test mic), so that's what I went with. The system allows room correction for the bar and any subwoofer connected to it through the wired or wireless connection.