Panasonic Unveils Compact Gaming Soundbar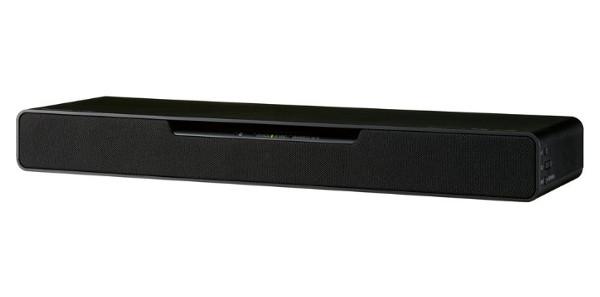 Panasonic has introduced a compact speaker designed for serious gamers that has sound modes tailored to specific types of games.
Slated for delivery in June, the SC-HTB01 supports Dolby Atmos, DTS:X, and DTS Virtual: X and features three sound modes co-developed with Square Enix, the company behind the popular Final Fantasy franchise.
RPG mode is intended to create a "sense of realism and intensity" for role playing games. FPS is optimized for first- (and third-) person shooter games, and described as ideal for the latest Final Fantasy installment, Final Fantasy XIV, providing "accurate sound location" and "allowing users to hear subtle sounds such as footsteps" more clearly. The third mode, dubbed Voice, is designed to enhance human voices.
Designed for placement beneath a TV screen or on a desk for PC-based setups, the 2.1-channel system houses pairs of 1.5-inch drivers and 0.5-inch tweeters with a dedicated 2 x 25-watt amp, a 3-inch woofer with its own 30-watt amp, and dual passive radiators in a slim enclosure 17 inches wide, 2 inches tall and 5 inches deep. Pricing was not announced.
The SC-HTB01 is equipped with HDMI and optical audio inputs, an HDMI output, and supports 4K/HDR passthrough, Bluetooth connectivity, and high-resolution PCM audio up to 24 bits/192 kHz.