Panasonic TC-P65VT50 3D Plasma HDTV
Price
: $3,700
At A Glance
: Bright, punchy picture • Blacks and shadow detail approaching reference quality • Near-complete adjustability
Panasonic has improved its plasma sets each year, and while that march forward has generated torturous verbiage to describe its continually improving plasma HDTV black levels (Infinite Black, Infinite Black Pro, Infinite Black Ultra, and, perhaps next year, Infinite Black Pro Ultra), the company has kept pushing the design envelope. And it has done so even as flat panel prices continue to drop. A 65-inch plasma for $3,700 would have been considered an impossible dream just a few years ago when the goal was to get prices down to $100 per diagonal inch.
If I were purchasing a 55- or 65-inch HDTV today, the Panasonic VT50 line would be at or near the top of both my performance and value shopping lists. Let's find out why.
Looking Around
In most respects, the THXcertified TC-P65VT50 is similar to other recent Panasonic sets we've reviewed. There are seven normal Picture modes plus two ISF modes, ISF Day and ISF Night. Out of the box, the ISF modes are hidden, but they can be opened, set up, and, if desired, locked by a trained calibrator. Calibrators can also set up the VT series using a dedicated computer program. Different settings can be entered for each input in a given Picture mode, and for both 2D and 3D as well. There are two THX modes for 2D, but just one for 3D: THX 3D Cinema.
The Custom and ISF modes offer the maximum range of control. A Pro settings menu, available only in these modes, is home for the high and low White Balance controls. There's also a White Balance detail adjustment for fine-tuning the gray scale at 10 points across the brightness range. The high, low, and detail adjustments may be used together—the most efficient way to calibrate the set is to optimize the high and low white balance controls first, then tweak the detail adjustments last as needed.
The Pro settings menu also offers hue, saturation, and luminance adjustments for refining the color gamut. The hue and saturation controls proved extremely useful. The luminance controls produced no significant change, but a recent call to the ISF indicates that a firmware fix to correct this is in the works. It should be available by the time this review goes into print. Firmware updates may be downloaded directly to the set, wired or wirelessly, from your home network.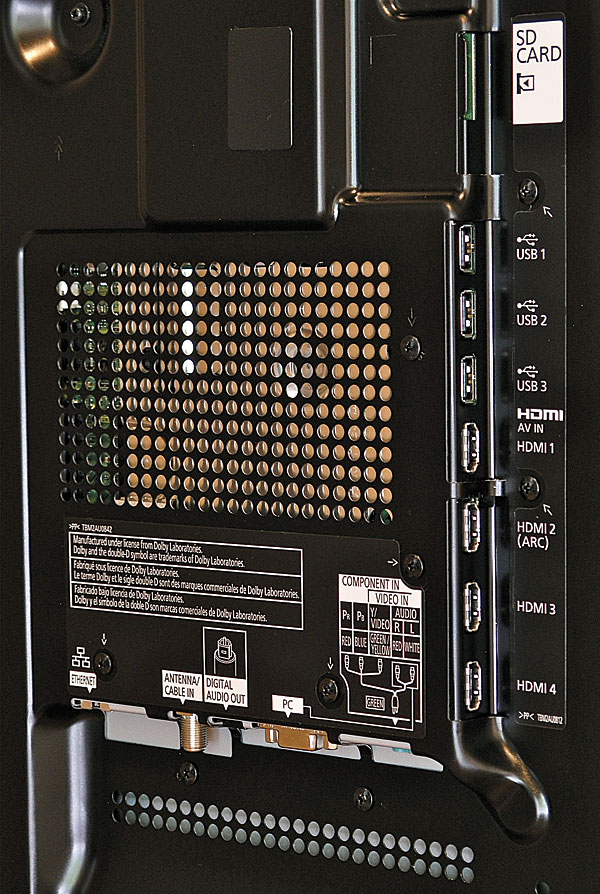 The hue, saturation, and luminance controls, available for each of the primary and secondary colors, should be labeled a color management system. But Panasonic sets have a separate legacy adjustment called Color mgmt.—a misnomer at best since this on/off control offers no help in achieving an accurate color gamut. I left it off.
The Pro settings menu also offers a Color space setting (Wide/Normal—you'll want Normal), Panel brightness (Low, Mid, High), and Gamma adjustment (six selections). There's also Black extension, AGC, and Contour emphasis, all of which I set to either zero or off.
An HDMI/DVI control selects the video brightness range. For the TC-P65VT50, the default setting of Auto worked well, as did the Light setting of the Black level control. A Color temp. control offers five settings; in the absence of a good calibration, Warm2 is closest to correct. Panasonic's C.A.T.S. (Contrast Automatic Tracking System) automatically adjusts the brightness to suit the ambient lighting in the room. I left this off for all of my testing.
For any HD source material on disc—even if it's 4:3—the HD Size control should be set to Size2 for zero overscan. There's also the usual range of aspect ratio settings. As with most of today's HDTVs, it will require some experimentation to find a combination of settings for each type of source that doesn't make people look like the Before shots in a Weight Watchers commercial.
A four-position Motion smoother does just what its name suggests. Motion smoothing is less significant in a plasma HDTV than on an LCD; LCDs have inherently more image lag to begin with. Panasonic's implementation of this feature, at least in its Weak setting, produced less of that oily, slick, soap opera look than usual. Nevertheless, I left it off in 2D, particularly on movies. Surprisingly (for me), I actually preferred the Weak setting in 3D.
For 24-hertz source material, the set's 24p Direct in control offers the choice of 96-Hz, 60-Hz, or 48-Hz refresh rates. Choose 96 Hz to minimize flicker. 60 Hz adds 3:2 pulldown, which may or may not produce motion judder (depending on your sensitivity to it). For 3D, the 96-Hz option is not available.
The IR transmitter for the 3D glasses is built into the set. Unfortunately, no glasses are included; the improved 2012 model (TY-ER3D4MU) costs $80 each. There's a 3D adjustment control for altering the 3D depth, a 2D-to-3D conversion mode (about as effective as most—useful if you like it but not the equal of a native 3D source), and a Diagonal line filter to resolve "discomfort caused by receiving a quincunx matrix signal." Umm, OK. According to Wikipedia, a quincunx matrix is "a 2×2 Hadamard matrix, and its rows form the basis of a diagonal square lattice consisting of the integer points whose coordinates both have the same parity, a two-dimensional analogue of the three-dimensional body-centered cubic lattice." I'm glad we cleared that up.
The Panasonic's screen is of average reflectivity. It's definitely not a matte finish, which is rare in modern sets. For best results, you should position the set so that it doesn't catch the light from windows or lamps. The thin metal trim piece that surrounds the outside of the screen's thin frame can also generate annoying reflections, depending on where the offending light source is located.
There are two remotes. One of them is a standard configuration model, the other a smaller, rounded one fitted with few buttons and a small track pad. Unfortunately, this smaller remote, at least our sample, did nothing more than turn the set on and off. Its other buttons and track pad were nonfunctional. Panasonic also has an app that turns a smartphone or tablet into a remote.
The Panasonic plasmas I've tested, including this one, have been moderately prone to temporary image retention. This most commonly appears as a dim ghost, visible when a full black screen immediately follows a prolonged, bright image. The TC-P65VT50 offers several selectable anti-image-retention features, including a Pixel orbiter. While temporary image retention is nothing to be paranoid about, it's nevertheless good practice to minimize prolonged display of stationary images, moving images with stationary segments (such as scoreboards), and program material that doesn't completely fill the screen. This is particularly important during the first 200 hours or so of use, when the phosphors are still young and restless. Also note that 3D images having these characteristics are far brighter on the screen than they appear through the 3D glasses and will be more likely than 2D material to stress those infant pixels.
On Line
Like all modern sets above a minimum price level, the TC-P65VT50 can connect to the Internet either directly or through your home network—wired or wirelessly—via Panasonic's Viera Connect feature. This provides you with Internet browser functionality plus direct access to a wide range of sites including YouTube, Netflix, Skype (optional $130 camera required), Hulu Plus, Amazon Internet Video, WSJ Live, Cinema Now, and much more. You can also check the picture from a video camera (not included) located anywhere in the house and linked to the set through your home network.
In addition, you can view still photos and full motion images, and load music, through a connection to your home network or from a USB device or SD card. This includes compatible 3D content you may have captured on a 3D still or video camera.