Outlaw RR2160 Stereo Receiver Review Page 2
I spent enough time with movies to remind myself how crucial surround sound is to the home theater experience. In the often unbearably brutal thriller Nocturnal Animals, a car crash fell flat from the obvious lack of envelopment inherent with surround channels that was missing here with the Outlaw's stereo delivery. But we can't fairly fault it for being stereo, and with the same scene as a test of dynamics, the receiver passed handily. It also stood up to the extended dynamic challenge of Rogue One: A Star Wars Story, layering the pumping brass and crusading strings of the orchestral score with explosions and other star-warry effects. In Manchester by the Sea, long stretches without musical accompaniment made the soundtrack's sudden eruptions deeply moving, especially in the tragic scene featuring the Albinoni/Giazotto Adagio in G minor for strings and organ. This raised expectations for the receiver's handling of music.
Contemplating rock and vinyl at the same time, I found that the Outlaw had plenty of bass weight above the sub crossover, as well as a timbrally reliable phono stage that reminded me of what I love about my turntable and poor man's audiophile cartridge. In Sticky Fingers, arguably the bestrecorded Rolling Stones album, Charlie Watts kicked hard amid the guitars in the smoke-filled rooms—and if I wanted to push up the volume, images scaled up to epic proportions with no pain. I had a similar reaction to Gentle Giant's Octopus, the first album with drummer John Weathers, who added much-needed stomp to the band's cerebral prog-rock polyphony. But this receiver was good for more than bluster. An overtly slick production like Randy Newman's Little Criminals emerged with its L.A. session aces, tidy beats, orchestral embellishments, and no-frills piano tone in excellent, fine-tuned balance.
I moved on to shiny discs and into folkier territory—the kind of music with spaces between the notes. In Bill Morrissey's North (CD), the Outlaw displayed an exquisite tenderness to his light-textured acoustic guitar and delicately quavering voice, exposing the brittle richness in his lower registers without tipping over into chestiness. Likewise, the mating of contralto and sparse instrumentation in June Tabor's Aqaba (CD) left no doubt that the Outlaw could nail a distinctive vocal timbre perfectly. It could also float a fragile but beautiful voice over intensely complex instrumentation in Nick Drake: A Treasury (SACD), resolving everything, exaggerating nothing, and establishing an unstoppable flow that was both musical and emotional.
Color and Black-and-White
A good amp has to excel with the complexities and dynamic challenges of orchestral music. My new-ish reference set of Beethoven symphonies in a hi-res medium is by Osmo Vänskä and the Minnesota Orchestra, a five-SACD box set on the Swedish label Bis. Like the Outlaw, these recordings avoid imposing any personality on the music, instead giving each section of the orchestra its own room to breathe. The result was solidly imaged and timbrally realistic, with a firm bottom end. I then switched to Ravel's Daphnis et Chloé on a Pentatone SACD with Gustavo Gimeno leading the Orchestre Philharmonique du Luxembourg. This was, if anything, even more sumptuous and colorful, thanks to its choral dimension, to which the Outlaw gave a lovely shimmer.
Yet the receiver could also depict austerity, as in the music from Alfred Hitchcock's Psycho (CD), re-recorded by composer Bernard Herrmann in 1975 with the National Philharmonic Orchestra. The strings-only soundtrack is a faithful sonic equivalent of the movie's stark black-and-white aesthetic. The Outlaw could draw it (correctly) as bright and intense, as in the last few seconds of the "Prelude"—or in the shrieks that accompany the famous shower slaying. But in numerous other sections that emphasize cellos and basses at low levels, the Outlaw could also deliver a dark, foreboding kind of string chiaroscuro, with restrained tone color but generously abundant shades of gray.
The Biddulph CD of Brahms cello sonatas was recorded by Karine Georgian (a student of Mstislav Rostropovich) and pianist Pavel Gililov in the pleasing acoustics of Snape Maltings. The Outlaw celebrated the complex interaction between the famed British festival venue—a brewery turned concert hall—and the distant-miked instruments. But acoustically plainer fare, such as the Golub-Kaplan-Carr Trio's Arabesque CD of Mendelssohn piano trios, also benefitted from the receiver's blend of laser focus and subtle escalation of scale. Downright challenging material like the Juilliard String Quartet's LP box set of Bartók's six string quartets finally goosed me into using the tone controls. The uncomfortably close-miked strings were palatable only at low volumes, and these visceral works have greater impact at higher ones, so I treated myself to a –5-dB treble cut. The net effect was a welcome darkening and a finer balance between cello and violins.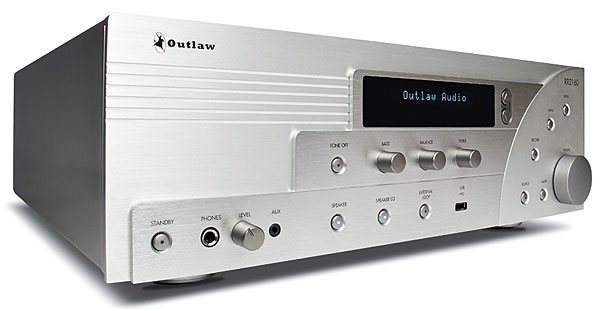 The five-CD set of Sviatoslav Richter in Concert: Historic Russian Archives (Brilliant Classics) contains an astonishing performance of Schubert's Piano Sonata No. 21, in B-flat Major (D. 960), which stretches out the first movement—conventionally played in less than 15 minutes—to more than 24 minutes by precisely following the dying composer's usually ignored repeats and tempo markings. Basically, time stops. As always, the Outlaw didn't euphonize—yet it uncovered a rich Technicolor lushness that was always buried in the 1960 analog recording but rarely surfaces with most gear. Robert Silverman's Stereophile CD of Intermezzo: Works for Piano by Brahms is more of an audiophile recording, with more defined imaging, yet it achieved a similarly rich effect. The Unique Thelonious Monk (JVC CD), recorded excellently in mono by Rudy Van Gelder, is an album of standards that Monk virtually recomposed in his usual brilliant fashion, with an extra kick from drummer Art Blakey. The Outlaw made sure it swung hard.
The Monk CD—especially Oscar Pettiford's acoustic bass—offered a good test of the Speaker EQ. The stated purpose of this bass boost control is to help with the low end when using the receiver with small bookshelf speakers and without a subwoofer; until this point, I had been using the Paradigm sub. The Studio 20 v.4 monitors reach their –3-dB point at 80 Hz, so that's where I typically set the crossover. However, the receiver got enough bass support from my room's standing wave to sketch in a little of the bass below that point, so the 80- and 65-Hz Speaker EQ settings didn't really do much that was positive for me. They plumped up the bass but also added congestion. At the 55-Hz setting, though, the bass's lower strings firmed up, and I liked the clean and extended feel.
The Outlaw RR2160 is a stupendously great-sounding stereo receiver. Its only serious omission is wireless connectivity; many listeners may want to have Bluetooth, at least, fully integrated into the receiver, though accessory receivers abound, including one from Outlaw. In any event, that may not be a deal breaker if your hi-res audio library lives on a laptop, which can feed the receiver either over the network or via the USB-PC input without going through an external DAC. And the Outlaw supports a lot of little contingencies, including HD Radio and options for both moving-magnet and moving-coil phono cartridges. I'm even glad to see old-school tone controls come into fashion: They can be handy to roll off a bright mix or tailor a full-range speaker's bass response to the room. This receiver is a music listener's best friend.