Optoma NuForce NE750M and NE800M Review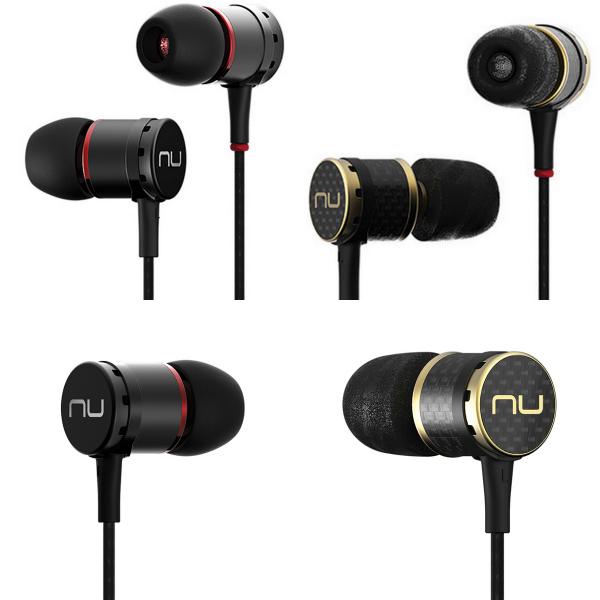 When Optoma, a home-theater projector company, and NuForce, an audio company joined forces, I'll admit it I was initially confused. NuForce made nice, niche audio products, and Optoma is mainly only doing projectors. What would their combined efforts produce? Light-emitting earbuds? Projectors with built-in speakers? But it actually makes sense; Optoma purchased NuForce to be able to provide both excellent video and audio to consumers, and they've kept the high quality that you would expect from NuForce. How do two new pairs of earphones, the NE750M and the NE800M from Optoma NuForce sound? Let's find out.
The NE750M ($100) and the NE800M ($200) have a lot in common, but a few significant differences. They're both in-ear, bullet-shaped earphones. Both feature a tangle-free cable with a built-in mic for player control and taking calls. The cable is coated but still transfers a bit of physical noise when handled. The cable is also one of the thinnest cables I've encountered recently. I'm usually pretty gentle with my electronics, but both pairs of earphones indicate that they're designed for "all-weather listening to support an active lifestyle," so I would suggest being a bit careful with the cord while running or otherwise working out.
Both the NE750M and NE800M feature a 8.6mm titanium-coated diaphragm and an N45 neodymium magnet. They both come with a small zippered carrying case filled with an assortment of silicon tips to get a proper fit. The NE800M also included two additional Comply memory-foam tips (with Wax-Guard - yuck) that block out a substantial amount of external noise.
The black and red NE750M is machined from aircraft-grade aluminum. It has a solid build, but doesn't feel very heavy once properly positioned. In fact it feels quite secure after hours of listening. The NE800M is made from carbon fiber and brass. Optoma says that the copper found in the brass has anti-microbial properties. Again with the yuck factor; I know that earphones can get funky, I just don't need to be reminded of it.
The NE750M has a well-balanced sound, but there's a slight mid-range boost that's slightly bothersome, especially on a higher-range male vocal; I found it most notable on Ed Sheeran's vocal on "Thinking Out Loud." The same problem is on the electric guitar solo in the same song. However, this was actually advantageous while watching movies on my iPod touch; it boosted the dialogue nicely. There wasn't an extraordinary amount of bass. It has a solid bass, but it's not earthshaking - most people expect most contemporary headphones to have a bit more boost in the low-end. This was evident on David Guetta's "Hey Mama."
Conversely, the NE800M had a big, warm sound - a massive amount of bass, but it tended to have a boomy, bloated quality to it. I found it to give the NE800M a slightly muddy sound, especially on bass-heavy tracks, such as Elle King's "Ex's & Oh's." However, circling back to the David Guetta track, the bass was deep and satisfying. The midrange was smoother on Ed Sheeran's voice, and the high-end clarity was very pleasant. However, even on this acoustic-heavy track, the bass was too muddy to let the treble truly sparkle. Playing with the different supplied eartips let you somewhat control the bass response to find the perfect balance between proper fit and performance. The warm sound of the NE800M was very pleasant on songs that were recorded and mixed without a big bass sound, like James Ray's "Hold Back the River." It gave the male vocals a full, round sound. For a person looking for a bass-heavy earbud with great upper-range clarity, the NE800M might be perfect - they have a very dark, warm sound that many find appealing.
Both of these offerings have a clean sound and should satisfy listeners looking to step up from the atrocious offerings that come bundled with most smartphones. For a slightly more balanced sound, you could consider the flagship Primo8 earphones ($500) from NuForce. NuForce has a range of other electronics including headphone amps and DACs that should also be on your radar if you're looking to upgrade your listening experience. One thing that isn't confusing: Optoma's NuForce products deliver high-quality components at a reasonable price point. No confusion there.