Optoma HD20 DLP Projector HT Labs Measures
HT Labs Measures
Contrast & Resolution
Peak white level: 24.0fL
Black level: 0.035fL
Peak contrast ratio: 686:1
This is pretty poor for a peak-contrast result. Ideal peak white level in dark room is 16fL; a larger image would bring peak white and black level down, which would be a good thing, but it probably wouldn't help the contrast ratio.
Color Accuracy & Grayscale
The color points were fairly close to where they're supposed to be; green, yellow, and red were a bit oversaturated, but not bad.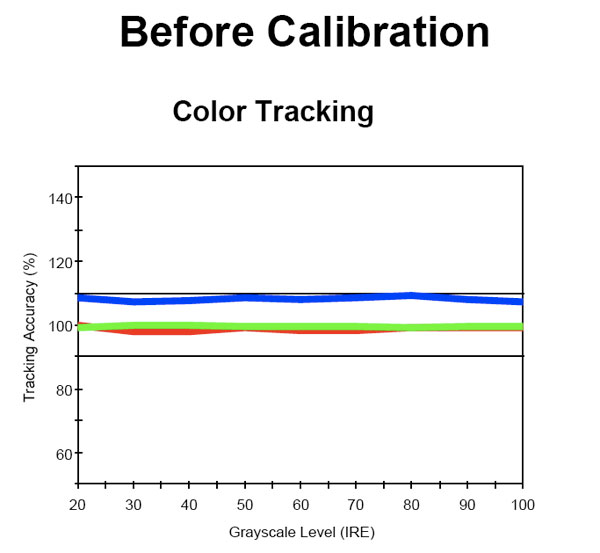 There was too much blue in the color balance before calibration.
After calibration, the color balance was almost perfect across the entire brightness range.
| | | | | | | |
| --- | --- | --- | --- | --- | --- | --- |
| 3:2 HD | 2:2 HD | MA HD | VIDEO CLIPPING | BLACK&WHITE RESOLUTION | COLOR RESOLUTION | SCALING |
| PASS | FAIL | PASS | PASS | PASS | BORDERLINE | GOOD |
3:2 = film-originated content sent interlaced to display (broadcast movies and many TV shows)
2:2 = progressive video-originated content sent interlaced to display (not common)
MA = Motion Adaptive (interlaced video-originated content sent interlaced to display; becoming common for 1080i TV shows)
COMPANY INFO

ARTICLE CONTENTS
WHERE TECHNOLOGY BECOMES ENTERTAINMENT