Onkyo TX-RZ610 A/V Receiver Review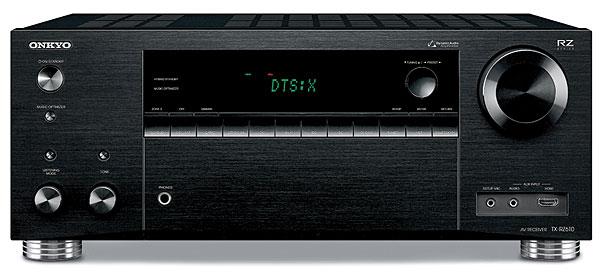 PRICE
$799
AT A GLANCE
Plus
Crisp, clear top end
FireConnect wireless capability
Attractive, simplified remote
Minus
Atmos limited to 5.1.2
Single-position room correction
THE VERDICT
The Onkyo TX-RZ610 is an excellent-sounding receiver with sensible ergonomics and unusual FireConnect wireless capability in addition to the usual Wi-Fi, AirPlay, and Bluetooth.
Onkyo has long been an industry leader when it comes to packing the latest and greatest features into their under-$1,000 A/V receivers. The Onkyo story has been just as interesting behind the scenes. A few years ago, Gibson Brands—yes, the guitar people—acquired a majority stake in Onkyo USA, while also investing directly in Onkyo Corp. (Onkyo Corp. also invested in Gibson, Onkyo reminded me; each CEO now sits on the other's board.) More recently, in the spring of 2015, Onkyo Corp. acquired Pioneer's Home A/V division. Together, Gibson, who is in essence partnered with Onkyo, and Onkyo, under the aegis of its corporate parent, now market three prominent AVR brands, including Onkyo, Integra (aimed at the custom installation market), and Pioneer (it's actually four brands if you count separately Pioneer's offshoot premium Elite brand). In the small world of AVR manufacturers, that makes this American/Japanese duo something of an empire.
RZ Times Five
The subject of this review, the TX-RZ610 ($799), is one of three Onkyo RZ-series 7.2-channel receivers released this year. Also available are the THX Select2 Plus–certified TX-RZ710 ($999) and TX-RZ810 ($1,299); the latter is promised to be especially beefy, with advanced build-quality and features. Still to come (with prices unavailable at press time) are the 9.2-channel TX-RZ1100 and 11.2-channel TX-RZ3100, as well as the PR-RZ5100 preamp/processor.
Although the TX-RZ610 does handle Dolby Atmos and DTS:X, its decoding and seven amp channels limit it to the 5.1.2 configuration (with two monaural sub-outs). Of course, this is the limit for most seven-channel AVRs (though some seven-amp-channel models with nine-channel processing are starting to appear). For the more impressive 5.1.4 experience in a complete package, you can step up to the nine-channel TX-RZ1100. For 7.1.4, try the 11-channel TX-RZ3100.
Onkyo's front panel takes some distinctive approaches. Input selection is with a row of dedicated curved-edge buttons beneath the display. Most other manufacturers use a dial nowadays, but if you know where your favorite input lies on the row, a quick button hit is faster than cycling through a list. In addition to the volume knob at top right, there are two smaller knobs at bottom left, for bass/treble controls and listening modes, each activated by a small button overhead. Near the volume knob is a concave navigation dial that scrolls through menus up/down or left/right; press for enter.
User interface issues are competently handled. The mostly monochrome GUI uses an elegantly slender font and a fairly standard menu structure. In addition to the main GUI setup button, the remote includes a Quick Menu button that accesses tone and level controls and—quite helpfully—toggles the room correction. It's great to be able to do that without burrowing into menus. The remote itself is quietly attractive, well organized, and less intimidating than the average AVR remote.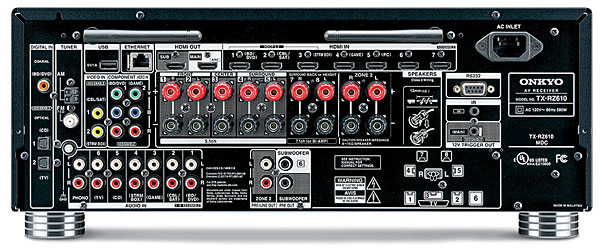 The back panel is par for the price point. The seven amp channels are served by nine pair of binding posts, with one that can be used for height channels, back-surround channels, or biamping, and another dedicated to second-zone use. A custom integrator will appreciate having access to 12-volt trigger, IR, and RS-232 jacks in a $799 product. The two aforementioned mono sub-outs offer connection convenience for dual-sub setups, and the phono input will feed your vinyl mania.
One unusual feature is FireConnect, a wireless multizone system using technology from San Francisco–based Blackfire Research Corp. It can take Tidal, Spotify Connect, Google Cast, and anything connected to a receiver's input and fling it throughout the home to a FireConnect-compatible speaker (not included with the receiver). Dual antennas are provided for Wi-Fi, part of the formerly triple, now-quadruple wireless connectivity package along with AirPlay and Bluetooth. Although not DLNA-certified, the receiver is plug-and-play capable to stream audio from network-connected PCs and media servers.
Rated power is 100 watts into 8 ohms with two channels driven. According to Onkyo, that rises to 170 watts into 6 ohms with one channel driven. "Dynamic power" (for extremely short bursts) is said to be 120 watts into 8 ohms, 210 into 4, and 240 into 3. See our Test Bench for independent two-, five-, and seven-channel continuous sine-wave measurements. Few manufacturers specify power into multichannel loads simultaneously, but we do. (You're welcome.) The receiver comes with a three-year warranty.