Onkyo TX-RZ610 A/V Receiver Review Page 2
Associated equipment included five Paradigm Reference Studio 20 v.4 speakers, two Klipsch RP-140SA Atmos elevation modules, Paradigm Seismic 110 sub, Oppo BDP-83SE universal disc player, Micro Seiki BL-51 turntable (rotated back into my system, replacing the smaller BL-21), Shure M97xE cartridge, Denon PRA-S10 stereo preamp serving as phono preamp, Lenovo Windows 10 media laptop (just upgraded from Windows 7) running Foobar, and Moon Neo 230HAD serving as USB DAC. All movie demos (and the first music demo) were on Blu-ray Disc.
Crisp and Clear
I expect Onkyo receivers to have a crisp top end (and I know at least two happy customers who wouldn't have 'em any other way). On the TX-RZ610, dialogue was commendably clear, even at low volumes. Dynamic horsepower was typical for this price class: This receiver could drive speakers of average or better sensitivity to moderately loud volumes in my medium-sized room with just enough dynamic gradations to make movies and music come alive. Bass was lean and reasonably impactful. The homegrown AccuEQ room correction, which I hadn't encountered in a while, worked better than expected, tampering only minimally with the agreeable midrange character of my room. It includes an AccuReflex component that aligns phase for up-firing height speakers like the Klipsches. AccuEQ's measurement routine is limited to one listening position, however, which may be a bit of a limitation in some environments. As is typical with most room correction schemes in my room and with my reference Paradigms, it set the subwoofer crossover too high; I reset it to 80 hertz.
I used the Dolby Atmos Blu-ray Demo Disc (2015) to give the receiver a chance to show off its Atmos decoding and 5.1.2-channel remapping. The aerial combat of Unbroken wasn't quite as all-enveloping with just two height channels in front, turning the Atmos bubble into more of a wedge. However, with active use of the side-surrounds, the soundfield certainly didn't collapse. If I hadn't been listening specifically for overhead front-to-back pans I know are there in a full 5.1.4 system, I probably wouldn't have missed them. In the Minuet from Haydn's Symphony No. 67, with Nicholas McGegan and the Philharmonia Baroque Orchestra, the difference between 5.1.2 and 5.1 was negligible. But the musical highlight of the demo disc—Makoto Nakura playing a transcription of Bach's Partita for Violin No. 2 (Ciaccona) on marimbas—still dazzled, with the front-heights intimating the tall, hard walls and ceiling of the church in which it was recorded. In music, there are no overhead pans, so I didn't miss the rear-height speakers; the front-heights were sufficient.
The Dolby Atmos surround package includes Dolby Surround, which simulates height information for 7.1, 5.1, and stereo source material. I was surprised at how much heightdriven information the Onkyo derived from the DTS-HD Master Audio 5.1 soundtrack of Remember, a tense drama in which an aged Martin Landau seeks justice from an aged Nazi murderer. The keening chamber orchestra score got a generous measure of added air and presence in the height channels and generally more output than expected. The height levels in the speaker menu didn't look unusually high compared with the others, so perhaps this was the AccuReflex part of Onkyo's room correction in action, better aligning the height channels.
I played Star Wars, Episode VII: The Force Awakens (DTS-HD Master Audio) in basic 5.1 with no Dolby Surround enhancement. The receiver handled this dynamically challenging soundtrack reasonably well, playing moderately loud without becoming unduly irritating. A megabucks receiver would have accessed more dynamic gradations with more punch. A less capable model would have clipped more annoyingly at peak moments, making it hard to find the right tradeoff between aggressive effects and intelligible dialogue. The Onkyo trod the middle path, delivering the bold strokes of the dynamic structure and maintaining listenability.
The Bruckner Experiment
Long and repetitive, but also soaring and muscular, Bruckner's symphonies finally got through to me just a few years ago. I have a couple of CD sets by the Berlin Philharmonic (one conducted by Eugen Jochum, the other by Herbert von Karajan)—but I prefer orchestral music in a hi-res format when I have a choice. So I was happy to add Kent Nagano's recordings of Symphonies Nos. 4, 7, and 8 with the Bavarian State Orchestra on a Blu-ray Audio disc from FARAO Classics in DTS-HD Master Audio 5.0 and LPCM 2.0, both 96/24. The beautifully mixed 5.0-channel soundtrack was an absolutely reliable way to gauge the Onkyo's personality in direct mode, shorn of its room correction and Dolby Surround processing. The receiver mustered enough resolution to give the string section a little bite and lots of presence, without sounding thin or clinical. Brass seemed a touch brassier than expected, though not displeasingly so. Only at peak volumes did the imaging blur and textures harden slightly. Even so, this is about as close to a concert hall as a $799 receiver will get you.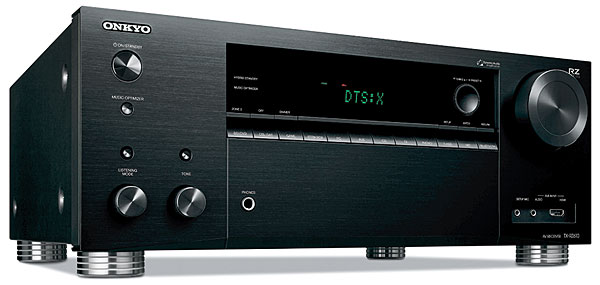 It saddens me that Dave Swarbrick, the demon fiddler who helped Fairport Convention invent British folk-rock, died recently at 75. But listening to his music cheers me right up. When I played the U.K. vinyl release of Close to the Wind, his duet album with Fairport rhythm guitarist Simon Nicol, the violin once again had a nice bite, though the tone colors shifted appropriately with the clever production. The Onkyo favored attack over woody body presence, but not excessively. The twin masterpieces of Swarbrick's solo discography are Smiddyburn and its sequel, Flittin', combined in the Raven CD release. The reverb-rich mix of Smiddyburn has a sharp cutting edge that I prefer to hear slightly blunted by a warmer-voiced amp. But the rest of Swarbrick's solo discography prospered with the Onkyo treatment, especially at low late-night volumes.
King Crimson's Live in Toronto is available as a double CD, though I played the 44.1/16 FLAC file downloaded from dgmlive.com. "My self-imposed brief," said mixer David Singleton, "was to make a stompingly powerful album that reflected the live show that we have all been enjoying." Having enjoyed the current Crim's mighty three-drummer lineup myself, I find this album a good approximation, and the Onkyo surprised me by valiantly delivering its meaty bottom end both above and below my manually set 80-Hz sub crossover using the AccuEQ settings with no level changes. The receiver passed my rock 'n' roll test. It doesn't bloat bass-heavy material.
The Onkyo TX-RZ610 is an excellent-sounding receiver with a wellexecuted version of the brand's usual crisp voicing. Most manufacturers are providing triple wireless connectivity at this price point; Onkyo ups that to four kinds, with FireConnect as icing on the triple-layer cake of Wi-Fi, AirPlay, and Bluetooth. The product is pretty easy to use by AVR standards. And though I make no secret of loving receivers with a touch more warmth and dynamics than this one has—including the $2,999 Denon I currently use as a reference piece—I still liked the sound of this sub-$800 model enough to listen to many hours of movies and music for pleasure, not just for notetaking. The Onkyo people know what they're doing.