Onkyo TX-NR838 AV Receiver Page 2
I tried the same challenge with multichannel SACD music, at first also with a direct, no-subwoofer setting to fully challenge the receiver's power amps, and the results were every bit as impressive. A familiar disc like Mahler's Symphony No. 1 on Telarc (with Benjamin Zander conducting the Philharmonia Orchestra)—a balanced, highly lifelike production—sounded, um, balanced and highly lifelike. The TX-NR838 delivered more than enough dynamic ability to show off both the format's high-res dynamic range and Mahler's dramatic use of loud and soft, at full concert-hall levels with no pinching of believability.
Stream Away
The new Onkyo's video processing is from Marvell's well-regarded Qdeo silicon family, so I wasn't surprised to discover no significant artifacts or glitches as it turned standard-def DVD video, or test patterns, into 1080p HDMI. (Lacking a UHD display or source, I have nothing to say about the receiver's 4K upscaling abilities.) To editorialize for just a moment, however, while it's no doubt nice to know that solid video processing is there in your A/V receiver if you need it, I do wish that manufacturers would get their, uh, stuff together and decide where the processing should live. In the source component? The receiver/video switcher? The display? Sure, these video-DSP chips are comparatively cheap nowadays, but nearly all of us are paying for three or more in our systems, which surely adds up to something.
Onkyo was one of the first to endow receivers with streaming facilities, and as I've already alluded, the TX-NR838 is fully equipped for wired or Wi-Fi audio streaming. I used wired, as my rack includes an Ethernet switcher, but Wi-Fi worked without hassle as well, and the receiver played all of my high-res FLAC files up to 192-kilohertz/24-bit without incident. It also played most (but not all) of my DSD files coming in over Ethernet, something only a very few receivers have managed hitherto; it's a definite plus in my ledger, as I count myself a DSD fan and am slowly building my collection.
All well and good, but while the TX-NR838's capabilities of locating, accessing, and playing your own streaming content (via DLNA) are better than some I've encountered, they're still neither outstandingly well organized nor outstandingly rapid—though this may have as much to do with the DLNA server (Mac OSX TwonkyMedia, in my case) as with the client (i.e., the Onkyo). Still, the A/V industry needs to fix this: It often seems like it's faster to find a physical CD and play a track than to call up the song to stream from my server. Of course, the TX-NR838 proffers the usual array of subscription or ad-supported streaming audio services (including Pandora, Spotify, and SiriusXM) and the near-limitless horizons of free Internet radio via the TuneIn.com service. Like most streaming clients, the TX-NR838 doesn't display format/bit-rate info for free Internet-radio streams, something I wish all streams would embed (some do) and all components show.
Safe Surroundings
Since surround sound is any A/V receiver's prime reason for being, a trip through a busy, rent-busting soundtrack like the one on Skyfall seemed de rigueur. But neither this pristine DTS-HD Master Audio production nor any of the various others I listened to succeeded in uncovering any flaws in the Onkyo's surround playback: My system sounded just as dynamic and spatially cohesive as in its normal arrangement (with separate preamp/processor and 150-watts-per-channel power amp), effortlessly delivering the pounding of the climactic battle-on-the-moor. This is not to say that the TX-NR838's power reserves are limitless. On surround material like the Bond flick's closing-credits music, when pushed to a point well above any I'd ever naturally demand (a good deal louder than commercial-cinema SPLs and certainly higher than reference level), I could induce the telltale transient edge of substantial clipping. But note that this was in a large room, with loudspeakers that are a decibel or two lower in sensitivity than most, and at a resulting level that was far too damned loud anyway.
The THX Select2 Plus–certified TX-NR838 does include THX's Re-EQ feature, which I value on many if not most soundtracks (definitely so on Skyfall), as well as the Late Night compression mode that's built into all Dolby Digital decoders. But the receiver has dropped the various "smart-dynamics" options of earlier models, including Audyssey's Dynamic EQ and Dynamic Volume, and Dolby Volume—all of which I have found useful, under different conditions, for quotidian listening-viewing. Instead, there's one equivalent here: the THX-modes-only Loudness Plus. I suppose too many consumers found all of these options confusing or used them wrongly or in the wrong circumstances, or perhaps it made no sense in 2014 dollars to keep paying license fees on multiple variants. Too bad, in my book, but I understand the choice at least from a business perspective.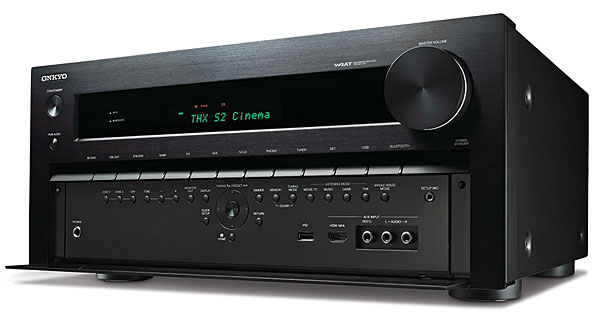 Conclusion
From a hands-on standpoint, I had few complaints about Onkyo's latest. It's no phoenix of ergonomics, but the receiver is eminently usable with its somewhat cluttered but workmanlike remote control, generally sensible menu organization, and excellent onscreen quickness. The TX-NR838 incorporates Onkyo's InstaPrevue feature that lets you call up low-frame-rate onscreen thumbnails of all active HDMI sources and select among them via cursor, which might prove useful to those with more than just one live HDMI source. (But I found it no faster, in fact, at the actual switching, and you have to call up the onscreen thumbnails through a couple of menu moves first.) There's also built-in Bluetooth, of course (seems like everything with a battery or a power cord these days now must include this), and this year's revised model also offers the ability to route different, high-def HDMI video programs to two rooms simultaneously, via its two HDMI outputs, another real boon to multiroomers. Onkyo makes available free Apple and Android apps on the appropriate download stores. These make operations a bit more fun and offer quicker access to many features, but they're short on user-customizations or other more leading-edge opportunities.
None of this is exactly groundbreaking. Nor is the TX-NR838's very fine fundamental audio and video performance, which is merely what we all count on from any new Onkyo. But the TX-NR838 does perfectly fit the Brand O philosophy in all other ways we expect: It is incrementally better than the one it replaces, richly endowed with features (several of which are thoughtfully useful) and up-to-date technologies, and fairly priced.