NY's Value Electronics to Host JVC/Panasonic HDR Demo Saturday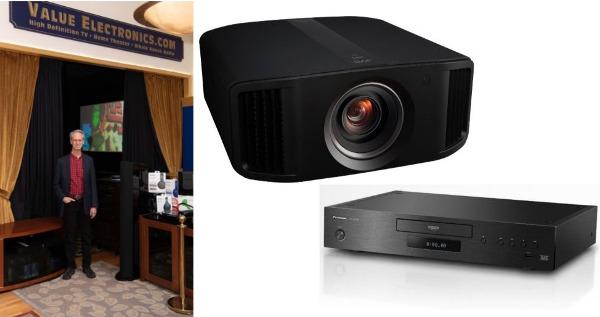 Scarsdale, NY-based retailer Value Electronics is hosting the world's first public demonstration of a
unique technology collaboration between JVC and Panasonic
that pairs JVC's new NX9 4K HDR projector with Panasonic's new UB9000 4K HDR Blu-ray player to deliver the "best possible" high dynamic range (HDR) performance.
JVC's NX9 projector has color profiles designed to work with the HDR Optimizer feature in Panasonic's UB9000 player, which analyzes HDR10 metadata and "tone maps" the content to match the projector's capabilities. The result is a "more realistic HDR image with more accurate gradation compared to what's achieved using Auto Tone Mapping or HDR Optimizer alone," according to JVC and Panasonic.
The live presentation will run from 11 a.m. to 5 p.m. on Saturday, March 23 at the Value Electronics showroom at 35 Popham Rd., Scarsdale, NY 10583. Attendees are asked to register in advance via email at rzohn@valueelectronics.com.
"Attendees will be treated to a true theater image quality presentation never seen before, which is representative of what the Hollywood colorists and graders see when they are finishing a film for theaters or Blu-ray mastering," said Value Electronics founder and president Robert Zohn. The objective is to demonstrate advancements in picture quality made possible through the collaborative efforts of engineers at JVC and Panasonic.
The event will kick off with a meet and greet with industry experts, presenters, and members of the press, including Sound & Vision contributor Kris Deering of deepdiveav.com, who will be setting up and calibrating the system to ensure the best possible SDR and HDR performance.
JVC executives and industry experts will then present demo clips from the latest 4K HDR Blu-ray titles with a focus on evaluating HDR contrast range, color fidelity, color volume, and Electro-Optical Transfer Function (EOTF).
The demonstration will be followed by a full theater demonstration, featuring the JVC projector and Panasonic 4K Blu-ray player, and then a Q&A session.
"Guests should be prepared to be dazzled," Zohn said. "Seeing Hollywood films faithfully reproduced in a home cinema system will bring the viewers to a new level of entertainment and excitement!"