JVC & Panasonic Team Up to Optimize Big-Screen HDR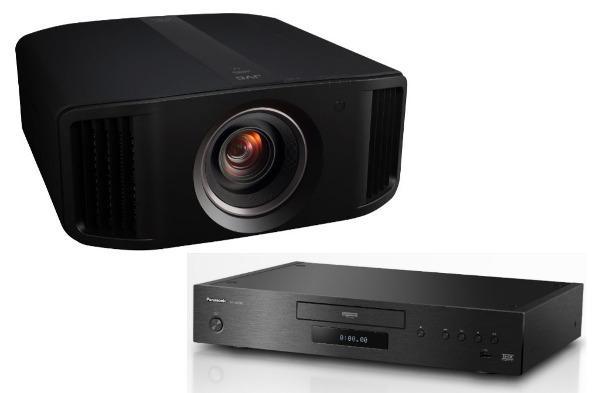 JVC and Panasonic today announced a unique collaboration intended to deliver the "best possible HDR" (high dynamic range) image quality when certain JVC projectors are paired with Panasonic's flagship 4K/Ultra HD Blu-ray player.
Native 4K models in JVC's 2019 Procision and Reference series D-ILA projectors include color profiles designed specifically to work with the HDR Optimizer feature Panasonic provides on its DP-UB9000 player. The Optimizer analyzes HDR10 metadata and "tone maps" the content to match the projector's capabilities. The result is a "more realistic HDR image with more accurate gradation compared to what's achieved using Auto Tone Mapping or HDR Optimizer alone," the companies said in a press release.
To optimize HDR video performance, users can choose one of two dedicated color profiles on the projector when it's connected to the UB9000 player: "Pana_PQ_HL" (high luminance), which makes image brightness the priority, or "Pana_PQ_BL" (basic luminance), which makes wide color gamut the priority.
To engage the player's HDR Optimizer feature, users select their display type from a menu of options, which include OLED, High Brightness Projector, Basic Brightness Projector, etc.
The HDR Optimizer color profiles are available on six JVC projectors, including two models that employ JVC's 8K e-shift technology: DLA-NX9/DLA-RS3000 ($18,000, with 8K e-shift), DLA-NX7/DLA-RS2000 ($8,000), and DLA-NX5/DLA-RS1000 (6,000). (Watch for our review of the DLA-NX9 projector with 8K e-shift technology.) The profiles will be available via a firmware upgrade for projectors currently in use and projectors in production will ship with the new firmware. The upgrade for existing projectors is slated for release by the end of the March.
"The Panasonic DP-UB9000 has been widely praised as the gold standard among Ultra HD Blu-ray players, and its HDR Optimizer works beautifully with our projectors to deliver stunning HDR images," said Fred Zecha, general manager for custom installation sales at JVCKenwood USA. "By including custom color profiles specifically designed for the Panasonic player, performance is further improved by optimizing HDR content for the player/projector pairing and the result is truly cinema-quality images."