News & Gear: Mid-Winter 2022 Page 2
TechLogix's 8K HDMI Fiber Cable Is Good for 100 Feet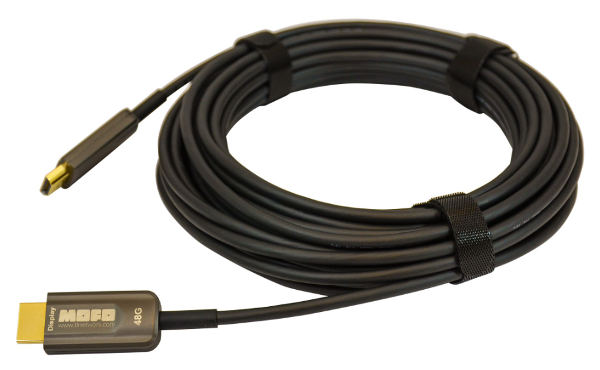 Wisconsin-based TechLogix Networx is now shipping its MOFO HD21 Series of fiber-based HDMI cables, which the company says can send 8K video up to 98 feet without interference and the need for in-line boosters or power supplies.
The cables range in price from $240 to $500 and are available in lengths from 1 meter (3.2 feet) to 30 meters (98.4 feet). The 10- and 15-meter cables have received Ultra High Speed certification from the HDMI Forum, which guarantees all features and capabilities of the HDMI 2.1 spec are delivered from source to display. Among these capabilities is support for bandwidths up to 48GB and the ability to accommodate 8K video at 60 frames per second (fps) and 4K video at 120 fps. (See HDMI 2.1a: What You Need to Know for the latest on HDMI 2.1.)
TechLogix says the cables' fiber core has a 70-pound pull rating and minimum bend rating of 1.8 inches for improved durability and handling, and can be spliced and re-terminated with standard fiber optic tools and connectors. The fiber core is protected by a plenum-rated jacked designed for installation through a wall or conduit with a diameter of 1 inch or greater.
"8K pushes the limit of copper-based technology," said company co-founder Cameron Smith. "Uncompressed 8K HDMI requires up to 48GB bandwidth and traditional HDMI cables and twisted pair extenders simply experience too much loss and interference over distance for reliable, native signal transmission. Fiber eliminates these issues." For more information, visit tlnetworx.com.
Beale Anticipates Spring with New Outdoor Speakers
Spring can't come soon enough for Illinois-based custom-A/V specialist Vanco, which just announced a new line of landscape speakers through its Beale Street Audio brand. The weather-resistant lineup comprises a down-firing subwoofer, a new 4-inch pendant speaker to join the existing 6.5-inch model, and a mounting kit.
Designed for use with the WP4V-BSC and WP6V-BSC pendant speakers, the LS10B-BSC subwoofer ($380) is a passive design with a 10-inch woofer that fires down from a green or black enclosure designed to blend into the landscape. The system is rated down to 40Hz and boasts a weather-resistance rating of IP65, which means it's impervious to dust and able to withstand low-pressure water jets without incident, making it ideal for use near a pool. Beale recommends powering the sub with its BAV2500 2 x 500-watt amplifier.
The WP4V ($250) combines a 4-inch polypropylene woofer and 0.75-inch silk-dome tweeter in a pendant style weatherproof enclosure with an IP66 rating, signifying its ability to withstand high-pressure water jets. With a rated sensitivity of 83dB, the WP4V has a low-frequency limit of 120Hz. The WP6V ($280) is a larger version of the same design with a 6.5-inch woofer and 1-inch tweeter, 85dB sensitivity rating, and 100Hz low-frequency limit.
The WPV-LAND mounting kit ($42) includes a zinc-plated-steel base plate plus a ground stake and swivel mount for a pendant speaker. For more information about Beale's landscape series, visit vanco1.com.
Audio-Technica Targets Gamers with New Headsets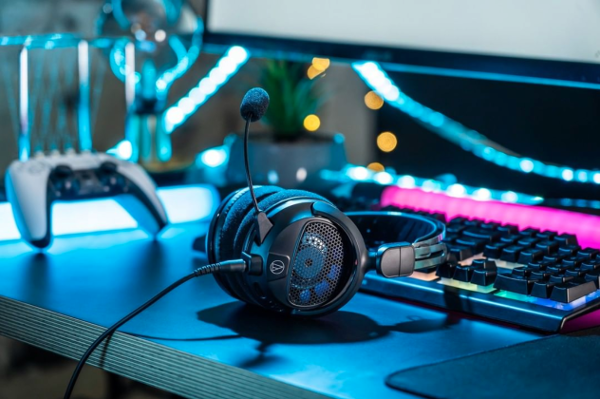 The pandemic has been a real boon to gaming and with that has come a steady stream of related products — like Audio-Technica's new ATH-GL3 and ATH-GDL3 over-ear headsets.
The GDL3 (shown, $129) is an open-back design, while the GL3 ($99) is a closed-back design that provides a higher degree of isolation. Each model weighs around a half a pound, give or take a couple ounces, and features 1.7-inch drivers, a detachable electret condenser (boom) mike, detachable ear/headpads, and two detachable cables. One cable is 10 feet long and has a standard 3.5 minijack, the other is 4 feet and has a 3.5mm TRRS plug for use with PS5, Xbox Series X, and other gaming consoles.
Both models are available in white or black. Other common features include a volume dial and mute switch built in to the left earcup. Shared specs include a rated impedance of 45 ohms and sensitivity of 98dB/mW. Purchases made through Audio-Technica's website include free two-day shipping. For more information, visit audio-technica.com.