New NAD Reference AVR Brings the Sexy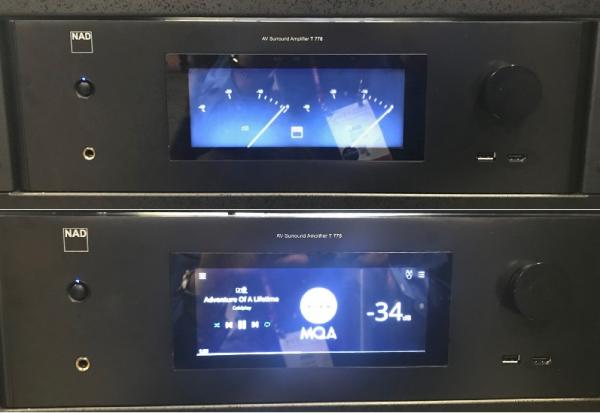 Most AVRs have the same, plain, bland look to them. Black chassis, couple of knobs, some buttons, and a two-line LCD display that provides some basic information. NAD has given its new T 778 Reference AVR a gorgeous facelift in the form of a sleek TFT touch display that can be used for full front panel setup as well as provide information during operation, such as VU meters during playback or metadata while streaming music. Of course, because it's from NAD, the T 778 is also packed with some pretty serious hardware to ensure pristine sound quality.
The T 778 features NAD's latest Hybrid Digital technology to create 9 high current channels of amplification rated very conservatively at 9 x 80 with all channels driven. The amp channels can drive a 9-channel Atmos surround system (7.1.2 or 5.1.4) or the extra channels can be used to power a second zone. To get the best performance in every install, the T 778 features Dirac Live room correction. The company also redesigned the speaker binding post layout to make it more rack and installer friendly.
Those fearing receiver obsolescence will love that the T 778 also incorporates NAD's unique Module Design Construction. This provides two removeable and replaceable card slots on the back panel that allow easy upgrading for future digital formats or HDMI 2.1. It also features five full HDMI 2.0/HDCP 2.2 inputs, as well as multiple digital and analog audio inputs and pre-outs for all channels. Video is left completely alone, providing 4K UHD pass-through untouched to the display.
Music streaming is handled via NAD's proprietary BluOS which supports high-resolution audio files up to 192/24, including MQA. Bluetooth aptX HD is also on-board, and Apple AirPlay 2 certification is expected.
The T 778 is slated to ship in November at a price of $2,999.