New Gear for Late Fall 2021 Page 2
Wrensilva Keeps the Stereo Console Alive
Wrensilva, the San Diego-based company that has revived the classic stereo console that was a fixture in living rooms across America in the '60s and '70s, is introducing three new consoles under the Club Series banner. "Every single console is an heirloom-quality conversation piece that is hand built (from the ground up) in our California workshop to honor the ritual of vinyl — with a 21st-century spin," the company said in the press release announcing the series.
The rectangular M1 and Standard consoles evoke classic console styling, while the compact Loft puts a fresh spin on the category with its pedestal-leg design. At the heart of each console is a VPI belt-driven turntable outfitted with a Grado Prestige Gold moving-magnet cartridge that feeds a solid-state preamp. From there the signal flows into an IcePower Class D amplifier that drives a two-way speaker system featuring "extensive damping to prevent vibration transference." Adding a modern touch, all systems support Wi-Fi-based streaming to Sonos systems as well as streaming over aptX-enabled Bluetooth 4.0.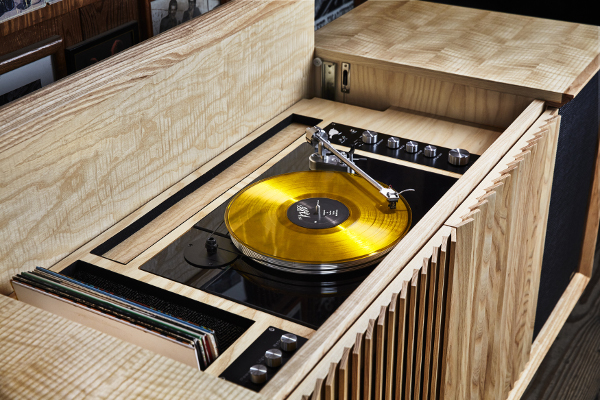 The Standard (middle in opening photo, $8,999) is a smaller, 59-inch-wide version of the flagship M1 (left, $11,999), which is 72 inches across. Both are finished in curly ash and provide storage for components and LPs behind their louvered console doors. Rated power output for both consoles is 2 x 300 watts: the Standard mates 7-inch woofers with 1-inch textile-dome tweeters and is rated down to 38Hz, while the M1 pairs 8-inch woofers with the same tweeters and plays down to 34Hz (both ±2.5dB). Connections include a 3.5mm minijack input and two stereo RCA inputs.
Measuring 32 inches across and standing 33 inches tall, the Loft ($5,999) sports a hardwood ash finish with a black oak grille and includes a shelf that holds up to 60 LPs. The system is rated to play down to 55 Hz (±2.5dB) and features a 2 x 100-watt amplifier and 5-inch woofers. For more information, visit wrensilva.com.
Klipsch Celebrates 75 Years with Limited-Ed Klipschorn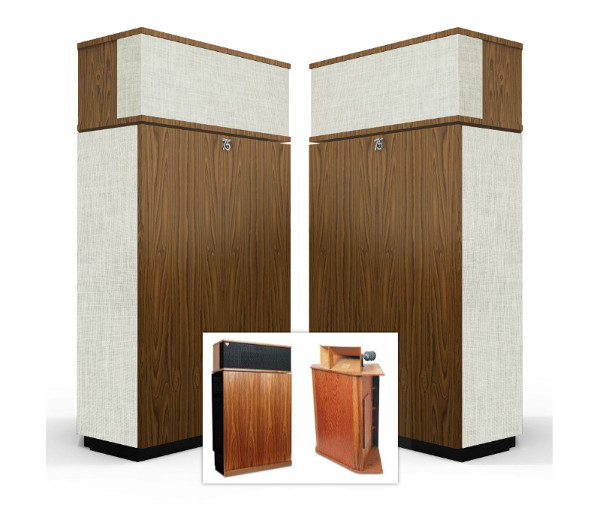 To commemorate its 75th anniversary, Klipsch is a producing 75 pairs of the iconic Klipschorn AK6, the first speaker company founder Paul W. Klipsch designed and built in 1946 and the "only speaker in the world to be in continuous production for 75 years."
Though this limited-edition AK6 remains relatively unchanged from the original, the super-efficient three-way design has been modernized with a Tractrix horn-loaded 1-inch titanium tweeter to complement its 2-inch midrange compression driver, and its 15-inch folded-horn woofer is now housed in a fully enclosed cabinet to expand placement flexibility. The updated Klipschorn is designed and built in the U.S. using grain-matched teak veneer panels, lambswool grilles, and dual binding posts, hidden in a side recess. The speaker also sports a "75" logo made of sterling silver with an embedded diamond and a signed commemorative plaque with a laser engraved serial number and date.
The price of admission is $25,000/pair and the speakers come with a LP-size box containing a certificate of authenticity, 75th anniversary book, poster, lighted Klipsch logo, specially engraved set of Klipsch T5 II earphones, four leather coasters, and a free one-year membership to the Klipsch Museum of Audio History in Hope Arkansas plus a three-month membership to the Qobuz streaming service.
Just how efficient are the AK6s? Rated sensitivity is a whopping 105dB (2.83V/1m) and the speaker is rated down to 33Hz (±4dB) with a max sound-pressure level (SPL) of 121dB continuous. The Klipschorn is backed by a 10-year warranty. For more information, visit klipsch.com.
Denon Ships its First Wireless Earbuds
When you think Denon, AV receiver is probably the first thought that comes to mind, but the brand sells plenty of other products, including wireless speakers, soundbars, headphones, and, now for the first time, wireless earbuds.
The AH-C630W ($99) is a straight-up wireless design with 0.4-inch dynamic drivers, while the AH-C830NCW ($159) uses slightly larger oval drivers and brings active noise cancellation (ANC) into the fold with dual-microphones in each earbud, a transparency mode that mixes in ambient sound, auto play/pause when the buds are placed in your ear or removed, and Google Fast Pair for expedited device pairing.
Denon says extensive ear-canal simulations were used to produce an earphone sculpted to fit any ear. Both models are water-resistant and come with three sizes of silicone tips.
Rated battery life for the C830NCW is up to 6 hours plus an additional 24 hours with the charging case when ANC is off; with ANC engaged, maximum play time drops to 4.8 hours with an additional 19 hours possible using the charging case. The C630W is rated for 4.5 hours on a full charge with an additional 18 hours through the charging case.
Available in black or white, the noise cancelling model features a glossy finish with silver accents, while the non-ANC model has a matte finish. For more information, visit denon.com.