New Gear August 2021 Page 2
Campfire Audio Targets Discerning Listeners with New Earphones
Like so many other audio brands, Portland, Oregon-based earphone specialist Campfire Audio is addressing the unwavering demand for earbuds but doing so with upscale wired earphones that, in the words of VP Caleb Rosenau, "offer something special to the discerning listener."
That something special is embodied in the new Holocene ($649, left in photo) and Mammoth ($549) earphones, which are designed and assembled in Portland using globally sourced components. Both are custom balanced-armature designs featuring distinctive acoustic chambers made of machined aluminum with glow-in-the-dark highlights and detachable cables with a locking MMCX connector on the ear end and a standard minijack on the other. The cable's conductors are silver-plated-copper wire in a multi-strand "litz" configuration, which are then insulated and twisted to resist tangling.
The Holocene is a full-on balanced-armature design with three separate armatures for reproducing the highs, mids, and lows, while the Mammoth is a hybrid design that uses separate armatures for the highs and mids and a 0.4-inch dynamic driver for the bass.
Each earphone has its own distinct sonic signature with the Holocene delivering a more balanced response across its range. "Holocene gives you all the nuance and detail out of the most layered recordings without intruding on what the artists intended for us to hear," Rosenau said, while describing the Mammoth's sound as "exciting and visceral... You may find yourself turning up the favorite parts of your favorite songs with Mammoth because I certainly did."
Spec-wise, both are rated down to 5 Hz with a sound-pressure level of 94 dB (at 6.99 mVrms); impedance is 5.4 ohms for the Holocene and 8.1 ohms for the Mammouth (both at 1 kHz). A custom-designed zipper case made of "upcycled marine plastic with glow-in-the-dark features and unique patterns on every case" is included.
For more information, visit campfireaudio.com.

Klipsch Steps Ups its Earbud Game with New Triple-Threat Models
Klipsch is expanding its earbud offerings with new tech-infused flagship models that tap into ever popular "true wireless" category. The move to more expensive, higher performance earbuds also coincides with the company's ongoing 75th anniversary celebration.
The T5 II True Wireless ANC earphones ($299) are something of a triple threat. In addition to employing a two-microphone active noise cancellation (ANC) system to suppress noise by as much as 25 dB in the lower frequency range, the 'buds use Dirac sound optimization technology to refine overall sound quality and artificial intelligence (AI) developed by Bragi to enable hands-free gesture control. Examples include nodding your head to answer a call or shaking your head side-to-side to reject a call or skip music tracks. Klipsch says the system will be updated with new functionality over the life the earphones.
According to Dirac, the sound optimization technology "corrects the impulse and frequency response of any headphone to upgrade musical staging, clarity, voice intelligibility, and bass fidelity… and reveal even the most subtle beats, tones and sounds that can be lost during the playback process."
The T5 II's are compatible with Qi wireless charging pads and include a transparency mode that lets you hear what's going on around you while protecting your ears from unexpected loud noises. The Klipsch Connect app provides another means of control and puts an equalizer with six presets and noise cancellation controls at your fingertips. Battery life is rated for up to 7 hours on a single charge (5 hours with ANC engaged) with another 21 hours possible using the supplied charging case (15 hours with ANC).
The earbuds are available in copper, gunmetal, or silver and come with six sets of different size ear tips to ensure a comfortable and snug fit.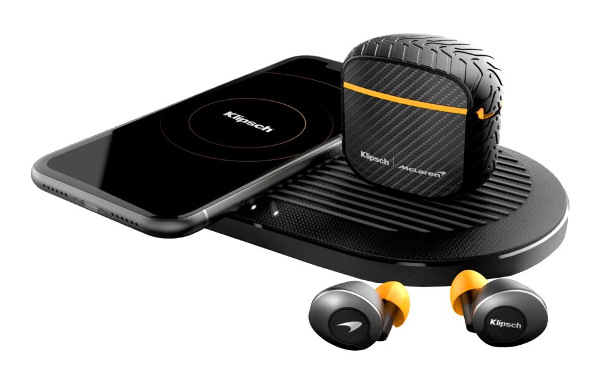 Klipsch also introduced the T5 II McLaren Edition earphones ($349, shown here), which features carbon-fiber construction, papaya-color accents, a Qi charging pad, and a charging case imprinted with the tread pattern of a Formula 1 racing tire. The charging case also makes use of NuCurrent wireless charging technology, which Klipsch says is "twice as fast as anything else on the market."
For more information, visit klipsch.com. Click here for details on the McLaren edition earphones.

Questyle Targets Audiophiles with $140 Mini Headphone Amp/DAC
China's Questyle has introduced a compact headphone amplifier/DAC (digital-to-analog converter) it spent two years developing in cooperation with California-based ESS Technology, maker of the high-performance Sabre DACs found in many high-end audio products.
The M12 "Mobile Hi-Fi Headphone Amplifier with DAC" mates ESS's flagship ES9281AC USB DAC — which decodes DSD256 and PCM up to 32 bits/384 kHz — with a patented Current Mode Amplifier in a thumb-drive-size device designed to improve the quality of phone-based music streaming. The low-quality power amps built into today's phones is effectively replaced with a sophisticated power module that boasts a super low THD+N distortion spec of 0.0003% and automatically adjusts its output to match the impedance of whatever headphones are connected.
When the impedance is less than 70 ohms, for example, the M12 self-adjusts to low-gain output. When impedance exceeds that level, the amp switches to high-gain output. For headphones with impedances above 600 ohms, the M12 automatically switches to a 2Vrms line out.
The M12 also includes an MQA Renderer, which extracts a bit-accurate MQA Core signal and completes the final "unfold" at the M12's analog output. When MQA rendering occurs, the amp's LED indicator turns magenta. Renderers, which were developed for portable applications, indicate "stream lock" but do not decode or authenticate an MQA stream.
"Whether it is the richness of female vocals, the deepest bass sound of an organ in European cathedrals or the strongest bass and guitar melodies in hard rock, the M12 will always be able to capture the details buried deep in soundtracks," said Questyle founder Jason Wang.
The M12 is compatible with Android 5.1 and above for smartphones and tablets and supports Mac OS and Windows 10 version 18.3 and above without the need to install additional drivers.
The M12 is available in black or silver. For more information, visit questyle.com.
Sanus Media Boxes Let You Hide Cables & Gear in the Wall
Sanus, the Minnesota-based company known best for its extensive line of TV mounts, has expanded its line of in-wall cable-management boxes with TV Media boxes designed to conceal and organize media and power devices in the wall behind a TV.
"There are a lot of devices and sources that need to be installed close to the TV, but that doesn't mean they need to be visible," said James Rutherford, product manager at Legrand, the parent company of Sanus. "Our TV Media In-Wall Boxes make use of the space behind the TV and complement our wide range of popular mounts, allowing homeowners to enjoy a seamless, cord-free entertainment space with all their components properly and securely stored out of view for a sleek, clean look."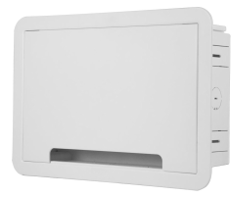 Designed to fit between studs, the TV Media boxes come in two sizes: The 9-inch SA-IWB9 ($55, also available with a power supply) and the 17-inch SA-IWB17 ($80). Both are ideal for streaming devices such as an Apple TV, Roku, or Amazon Fire TV and include knockout panels for running cables into or out of the box.
The boxes are made of "Wi-Fi transparent" material and come with a trim ring, a removable split cover, hook and loop strap, and a mounting template so you can position the box without having to cut into the drywall. An extra mounting plate that can be used to add a second layer of storage is also included.
For more information, visit sanus.com.
MORE NEWS & GEAR
Elac's Solano Series Features Signature Jet Tweeter
LG's Disappearing 4K OLED TV Is Finally Here
Sony Previews 4-Speaker Home Theater System, New Flagship Soundbar
Klipsch Celebrates 75 Years with Upscale Soundbars
Definitive Technology Introduces Descend Series Subs
Elac to Start Shipping Reference Speakers
Midyear Review: Best Gear of 2021
LG Rolls Out QNED Mini-LED TVs, Announces Dolby Vision Update