Klipsch Celebrates 75 Years with Upscale Soundbars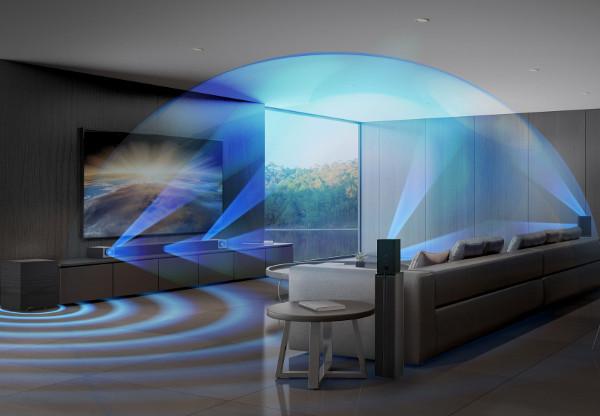 As part of its ongoing 75th anniversary celebration, Klipsch is upscaling its presence in soundbars with four new systems designed to evoke its Reference series of home theater speakers.
Ranging in price from $299 for a 2.1-channel model to $1,699 for a 5.1.4-channel Dolby Atmos-enabled model, all of the systems support Bluetooth streaming and boast the brand's signature horn driver technology, a wireless subwoofer, and wood cabinetry.
The flagship Cinema 1200 (shown, $1,699) is a four-piece system that augments left-, center-, and right-channel driver complements with Atmos elevation drivers that fire up from either end of an enclosure 54 inches across and only 3 inches tall. Each main-channel speaker mates a horn-loaded 1-inch soft-dome tweeter with two 3-inch drivers, while 3-inch angled drivers add a vertical dimension to the sound by conveying the Atmos height channels. Rounding out the package is a wireless subwoofer and a pair wireless surround speakers that expand the sound field toward the rear of the listening space; the sub and surrounds come pre-paired to ensure hassle-free connection.
Total system power is 1,200 watts and the subwoofer taps a 12-inch driver in a ported cabinet measuring about 16 x 20 x 15 inches and rated to produce bass down to 22Hz. The system includes a motion-sensing remote control with lighted buttons and supports 8K/Dolby Vision high-dynamic range (HDR) passthrough with HDCP 2.3 and, though it is configured for 5.1.4 action out of the box, it can decode up to 7.1.4 channels. Thanks to onboard Wi-Fi, the system is also compatible with Spotify Connect as well as voice-based Google Assistant and Amazon Alexa virtual assistants. Like all models in the new lineup, the Cinema 1200 is equipped with optical digital and ARC (audio return channel)-enabled-HDMI inputs for easy hookup to any TV.
The Cinema 800 ($879) is scaled down 3.1-channel version of the Cinema 1200 that drops the up-firing Atmos speakers (though it still supports 7.1.4 Atmos decoding) and mates same horn-loaded tweeters with one or two oval midrange drivers (two for the center channel) in a 48-inch-wide cabinet rated to deliver 800 watts of power. The system lacks surround speakers, though you can add a pair for an extra $279, and includes a slightly smaller subwoofer with a 10-inch driver and 28Hz low-frequency rating.
Like its big brother, the Cinema 800 has two HDMI inputs and, in a nice twist, includes a set of walnut end caps for those who prefer a natural wood look over the black end caps installed at the factory.
The Cinema 600 ($499) and Cinema 400 ($299) are 3.1 and 2.1 systems with a soundbar 45 or 40-inches long and standard remote control. The Cinema 600 comes with the same subwoofer as the Cinema 800, though with a reduced system output of 600 watts. The subwoofer included with the Cinema 400 has an 8-inch driver and provides 400 watts of total system power. Both are equipped with Dolby Audio processing and have one HDMI input.
All of the new soundbar systems, except for the Cinema 400, work with the Klipsch Connect App, which provides EQ controls and doubles as a remote control.
For more information, visit klipsch.com.