New AV Gear Worth Checking Out Page 2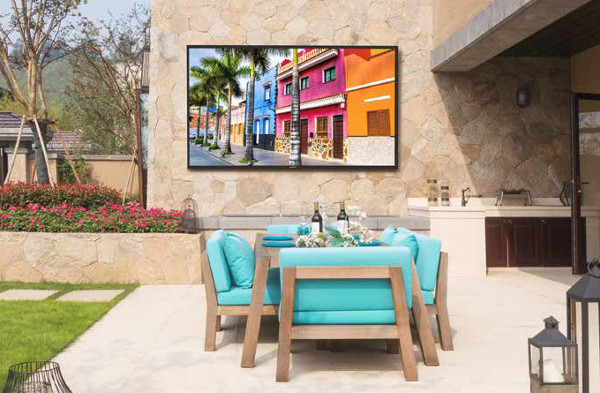 Peerless UltraView Outdoor TVs
While we wait for the world to get back to normal, most of us are spending quite a bit more time than usual in the backyard, so bring on the music — and video. Peerless-AV recently expanded its UltraView series of "all-season" 4K TVs with a gargantuan 86-inch model that will instantly make your neighbors jealous.
Like all models in the line, the TVs are encased in aluminum to protect against inclement weather, designed for use in direct sunlight, and built to operate at temperatures between –22° to 122° F. The TVs are hailed as three times brighter than a typical indoor TV and include an ambient light sensor that automatically adjusts screen brightness for optimal viewing (and power consumption), an IR (infrared) extender input and IR repeater output for integration with home control systems, built-in speakers, and a waterproof remote control. There's even a sealed rear compartment for the A/V connections, which include a USB port and three HDMI 2.0 inputs. Though the TVs are described as "maintenance free," the company recommends using the supplied dust cover when the TV is not in use to prolong its life.
The UltraView series has four models: the 49-inch UV492 ($3,479), 55-inch UV552 ($4,059), 65-inch UV652 ($5,219), and 86-inch UV862 ($13,919). Peerless also offers the Bluetooth-enabled Xtreme Outdoor Soundbar ($506) as an audio upgrade for its outdoor TVs. The 200-watt, four-driver soundbar has an IP65 rating, meaning testing has shown it to be dust tight and able to withstand powerful streams of water. Visit peerless-av.com for more information.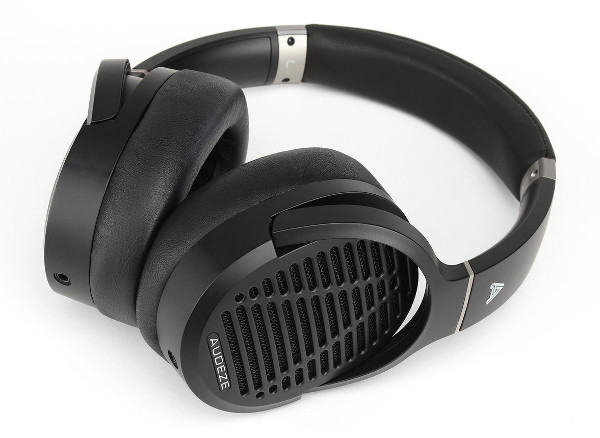 Audeze LCD-1 Planar-Magnetic Headphones
We've been consistently impressed with Audeze headphones but the models we've reviewed in recent years start at $699 and go up from there — way up. The California-based company has lowered the cost of entry with its new LCD1, a full size open-back model featuring big 3.9-inch planar-magnetic diaphragms in a convenient foldable design that weighs just over half a pound and sells for $399.
Working in conjunction with a patented voice coil and magnets, the transducers produce "articulate audio with visceral power and impact" and an expansive soundstage. The phones are made in the U.S. and feature a tangle-free detachable cable and memory-foam-filled earpads to ensure comfort during extended listening. A travel case and phone-plug adapter are included. Visit audeze.com for more information.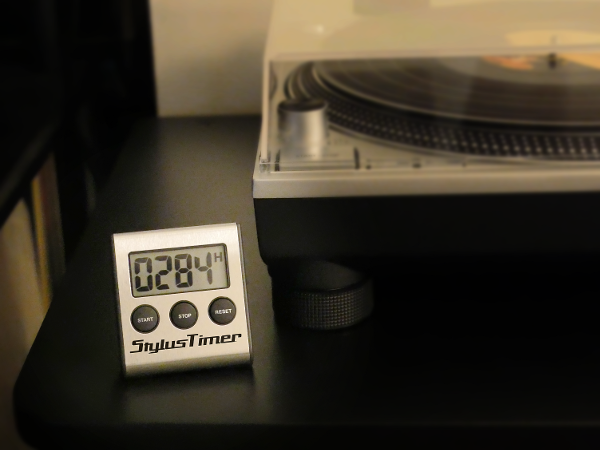 StylusTimer Turntable Odometer
If your audio setup includes a turntable, here's a gadget you didn't know you needed. The StylusTimer is a chronograph that tracks listening time in hours so you know when it's time to replace your stylus (a.k.a. needle). Its patent-pending design displays hours logged and has an "H" indicator that flashes when the timer is running. It even remembers time when you change its (AAA) battery and, to prevent an accidental reset, you have to press the Reset button for 3 seconds to revert to zero.
Creator Don Lindich says the stylus on most phono cartridges should be replaced after 1,000 hours of use and sometimes sooner, depending on the cartridge and quality and shape of the stylus. "A worn stylus degrades sound quality and can damage your valuable record collection," he explains. "Unfortunately, most turntable owners have no idea how much time is actually on their stylus, especially as the months and years go by." The StylusTimer is available through stylustimer.com for $19.95 with free shipping.
Monitor Audio Updated Bronze Series Speakers
U.K.'s Monitor Audio begins shipping the sixth generation of its popular Bronze Series speakers this month. With prices ranging from $325 to $1,295/pair, the line has undergone a complete upgrade, including the addition of a new Uniform Dispersion (UD) waveguide designed to disperse sound more evenly, and introduces the company's first Dolby Atmos-enabled speaker module, the Bronze Atmos, which sells for $550/pair.
The line also includes the Bronze 200 ($995/pair) and Bronze 500 ($1,295/pair) tower speakers, which mate a 1-inch tweeter with two 5.5- or 8-inch woofers; the Bronze 50 ($475/pair) and Bronze 100 ($595/pair) bookshelf models, which pair a 1-inch tweeter with a 5.5- or 8-inch woofer; the Bronze C150 center speaker ($325) with a 1-inch tweeter flanked by 5.5-inch woofers; the Bronze FX effects speaker ($550/pair), featuring a wall-mountable trapezoidal enclosure with a forward firing 5.5-inch driver and angled side panels, each with a 1-inch tweeter; and the compact Bronze W10 subwoofer ($795), rated down to 33 Hz and featuring a 10-inch driver and 220-watt amplifier. Finish options include black, white, walnut, and a new Urban Grey color. Visit monitoraudio.com for more information.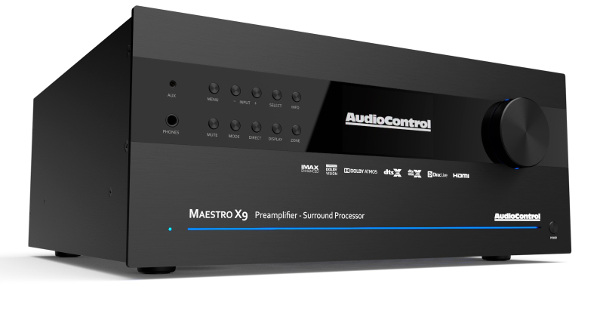 AudioControl X Series Receiver and Preamp/Processors
AudioControl recently began shipping the Maestro Series high-performance preamp/processors and Concert XR Series AV receivers previewed at CES 2020. The top-line Maestro X9 (shown, $9,600) provides 16 balanced and unbalanced channels and boasts an impressive array of features, including Dirac Live automated room correction, seven HDMI 2.0b inputs, IMAX Enhanced processing, and Dolby Atmos, DTS:X, and Auro-3D immersive surround sound for layouts with up to 9.1.6 channels. The X9 includes a companion app and supports Dolby Vision HDR (high dynamic range) as well as streaming via Google Cast, Airplay 2, and aptX-enabled Bluetooth.
The top line XR-8 AVR ($6,600) packs a 7 x 200-watt amp section and provides the same surround processing options as the X9 as well as Dirac Live room correction. Enthusiasts will appreciate having six user-configurable outputs, which can be pressed into action to accommodate height- and high-pass channels and multiple subwoofers. The XR-8 is also app controllable and supports Dolby Vision HDR and streaming via Google Cast, Airplay 2, and aptX-enabled Bluetooth. Visit audiocontrol.com for more information.