New AV Gear Worth Checking Out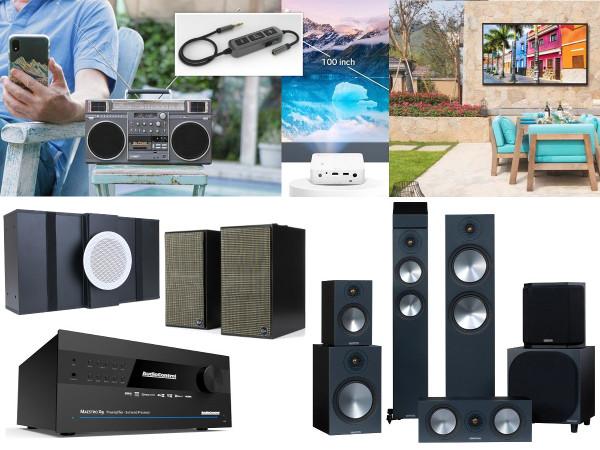 No question, new product introductions dropped off from what we usually see during springtime but they didn't grind to a halt. Dozens of products were announced during the historic COVID-19 lockdown that transformed the life of every American for more than three months and continues to threaten our return to normalcy. As we prepare to celebrate the founding of this great country, we pause to take look at some of the gear AV companies have rolled out in recent weeks, including a few you may have missed. Here's to hoping that the current wave of flare-ups is short-lived.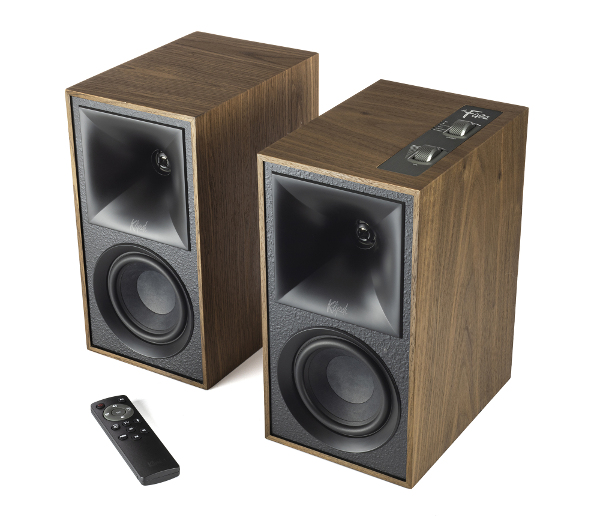 Klipsch The Fives Powered Speaker System
A follow-up to The Sixes we reviewed a couple years ago, The Fives are the most versatile speakers Klipsch sells and offer plenty of bang for your buck at $799/pair. Plug in the source of your choice and you're ready to rock without having to worry about hooking up a receiver or external power amp. The amplifier built into the right speaker delivers 60 watts to the 4.5-inch woofer and 20 watts to the horn-loaded titanium-dome tweeter located in each enclosure for a total output of 160 watts. The system supports 192-kHz/24-bit high-resolution decoding, Bluetooth streaming, and is equipped with an arsenal of connections, including an ARC (audio return control)-enabled HDMI port for making a quick connection to your TV, a USB port, an optical digital input, and an analog minijack input. Icing on the cake is a set of analog RCA inputs that can be switched between line-level and phono, which taps into a built-in phono preamp for turntable hookups. The system also boasts dynamic bass equalization, a subwoofer output, and a remote control. Finish options are walnut veneer (above) or matte black (shown in opening photo) with removable woven-cloth grilles. Visit klipsch.com for more information.
LG PH30N Ultra-Portable Projector
You can set up an impromptu theater just about anywhere with LG's new CineBeam projector. Weighing in at just over a pound, the PH30N is small enough to fit in the palm of your hand and capable of delivering HD-quality (1280 x 720) images up to 100 inches (diagonal) when placed 10 feet from a wall or screen. For a truly portable experience, the projector supports wireless smartphone mirroring and has a built-in battery that lasts up to 2 hours when fully charged as well as a Bluetooth-enabled output for streaming audio to a wireless speaker. HDMI and USB ports are also included and the projector is equipped with vertical keystone correction and an LED lamp rated to last up to 30,000 hours. The projector costs $400 but is currently available for $360 at Best Buy and on lg.com.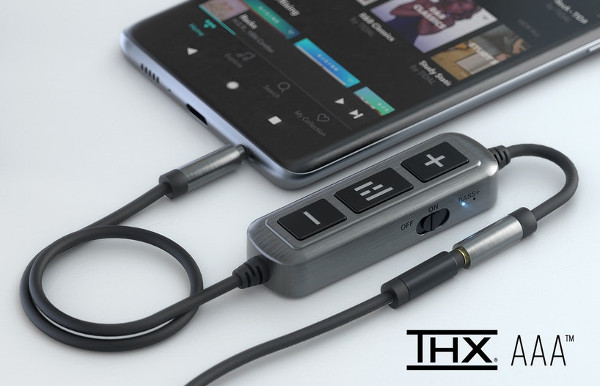 Helm Audio DB12 AAAMP THX-Certified Headphone Amp
Helm Audio, a relatively new company specializing in headphones and related accessories, will soon ship the "first of its kind" THX-certified portable headphone amp it previewed a year ago at CanJam 2019. Small enough to slip in your pocket, the DB12 AAAMP is said to boost volume 12 dB and incorporates THX Achromatic Audio Amplifier (AAA) technology, which uses patented feed-forward error correction to reduce distortion by "up to 40 dB" for fatigue-free listening.
With a 3.5 mm minijack connector on either end, the mini amp goes between your headphones and smartphone or computer (Android, iOS, MacOs, and PC devices are supported) and is powered by a built-in rechargeable battery that lasts for up to 8 hours when fully charged. Listeners also have the option of goosing bass output by 6 dB via a switch on the side of the device. The DB12 is available through helmaudio.com for $200.
RepliTronics M90 Mini Boombox Bluetooth Speaker
And you thought the boombox was dead. Nope, it's making a comeback in miniature as a Bluetooth speaker. Back in May, New Wave Toys launched a campaign on Kickstarter to raise $75,000 to fund development of its M90 Mini Boombox and absolutely crushed it, raising almost a quarter of a million dollars ($242,359) from 2,759 backers in just 30 days. Made from a mix of aluminum, stainless steel, high-density rubber, and high-grade plastic, the M90 Mini looks is a dead-ringer for an Eighties-era boombox but it's only 9.75 inches wide and just over 5 inches tall, making it a heck of a lot easier to tote around than the real deal.
Behind its vintage façade is a 16-watt amplifier that powers a pair of 2.5-inch drivers, an AM/FM tuner (yep, the telescoping is real), and a Bluetooth 5.1 receiver. The front panel has controls for bass, treble, balance, play/pause, skip forward/back, radio tuning and — just for kicks — a cassette door that opens and closes. Around back you'll find a USB port, 3.5mm auxiliary input, and a compartment that houses the supplied USB cable you'll need to charge the M90's battery, which is said to last 60 hours when fully charged. Sorry, but you won't be able to rush order the M90 in time for your backyard barbeque but you should be able to get one in time for Christmas. The boombox retails for $100 and is expected to ship in the October-December timeframe. Visit kickstarter.com for more information. For more on New Wave Toys, click here.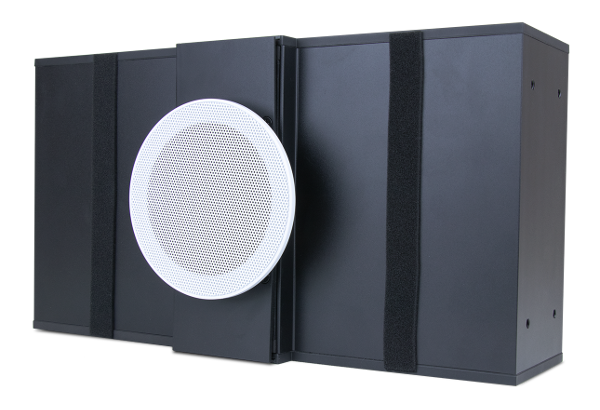 Artison In-Wall (or Ceiling) Subwoofers
How many times have you (or your significant other) wished you could make a bulky subwoofer disappear? Artison, the brand launched by Infinity co-founder Cary Christie and now owned by home automation powerhouse Savant, continues to refine the vibration canceling architectural subwoofers it introduced 15 years ago. The two latest models are ground-up redesigns that use opposing drivers in a "reactance cancelling configuration" (RCC) to cancel unwanted vibration and distortion.
Sold in pairs, the RCC160 MKII (shown) packs two 4 x 6-inch drivers in a shallow, 7.5-inch-tall aluminum enclosure designed to be mounted flush in the ceiling with bass venting through an inconspicuous round or square grille. The RCC320 MKII is a higher output version with four of the same drivers in a 13.5-inch-tall cabinet designed for mounting in a wall or ceiling; bass vents through a rectangular grille.
"As we acknowledged the changing ways that families interact within their homes, which include more active spaces that require excellent sound reproduction, we were challenged to develop a low-frequency driver that not only fit into small spaces but also delivered twice the acoustical output, twice the excursion, and twice the sensitivity of previous solutions," Christie explains. "With the MK II series subwoofers, we surpassed every preconception of what we had thought was possible."
Both models are rated to play down to 30 Hz (±3 dB) and designed to work with Artison's 1,000-watt RCC1000-SA power amplifier, which can drive up to four RCC320 MKII subwoofers or eight RCC160 MKII units. Contact the company for pricing at savant.com.