Nakamichi Offers Pre-Order Pricing for New DTS:X Soundbars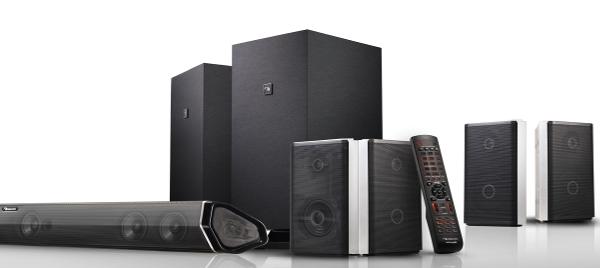 Nakamichi, the company that made a name for itself building some of the world's best cassette decks in decades past, has announced that it is accepting a limited number of discounted pre-orders for two new DTS:X-capable 7.2- and 9.2-channel soundbar systems slated for delivery in October.
The Shockwafe Elite 7.2 DTS:X and Shockwafe 9.2 Ultra DTS:X systems, featuring dual wireless subwoofers and discrete surround speakers, are being offered for $899 and $1,099 — $300 off the regular suggested retail prices of $1,199 and $1,499.
The new models are the result of "the most ambitious research and development project ever undertaken by Nakamichi," according to Rayman Cheng, CEO of Nakamichi USA.
Shockwafe Elite 7.2 DTS:X system includes a 45-inch soundbar with an up-firing effects tweeter on each end, two 8-inch wireless subwoofers, and two 3S rear-surround speakers. The Shockwafe Ultra 9.2 DTS:X system pairs the same soundbar with two 10-inch wireless subwoofers and a pair of Quad-U-Flex Modular 3S rear-surround speakers; each Quad-U-Flex speaker has two outward facing enclosures arranged in a dipole configuration to disperse surround effects away from the listener and eliminate localization. The enclosures can be detached and used as four separate speakers.
Both soundbar systems are optimized for DTS:X object-based surround sound and aimed at home theater enthusiasts who want to "jump right into a state-of-the-art multi-dimensional cinema experience in only a matter of minutes." They support HDMI Audio Return Channel (ARC), 4K passthrough, high dynamic range (HDR), and HDCP 2.2. Connection options include four HDMI ports (one with ARC) plus optical and coaxial digital inputs (one each)
Nakamichi says the rationale for including two subwoofers is that action-movie soundtracks often push sound bar subwoofers past their limits. "Even with careful placement, a single subwoofer will not provide an optimum frequency response at all listening positions in the room," the company explained in a press release. "Strategically placed dual subwoofers will help deliver accurate and balanced bass across the entire space, thereby making the entire room the sweet spot."
DTS does not require a specific layout for DTS:X yet systems are able to deliver individual sounds anywhere in a room and move them around in a 3D space, Nakamichi said, noting that the DTS:X dialog control can isolate speech as a separate object and increase vocal levels independently from other sound elements within a movie soundtrack.
More information on the Elite 7.2 is available here and information on the Ultra 9.2 here.
Related: