Nakamichi Shockwafe Pro 7.1 Soundbar System Review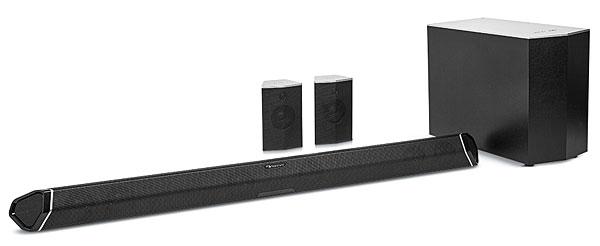 PRICE
$500
AT A GLANCE
Plus
11 drivers in system, including side tweeters
Separate surround speakers
8-inch wireless sub
Minus
Cabinet resonance in sub and sats
No stereo mode
Odd remote volume-key positioning
THE VERDICT
The Shockwafe Pro 7.1 is a beautifully designed soundbar that delivers solid surround performance, especially with movies.
Founded in 1948, Nakamichi became best known in the 1970s for building the booming audio industry's highest-end cassette decks, both under the company's own name and for other brands. Nakamichi pioneered three-head decks, which used the extra head to read and monitor a recording in progress. The company has also dabbled in CD changers, A/V receivers, and even TVs, and they provided audio systems for the Toyota Lexus from 1989 to 2001. Hong Kong–based Grande Holdings has owned the brand since 1998. Today, Nakamichi has, among other products, a line of soundbars. They include models selling for less than $100, but there are also some more ambitious entries, among them the Shockwafe Pro 7.1, which comes with two surround speakers and a subwoofer.
Top Two
The Shockwafe Pro 7.1 ($500) isn't Nakamichi's top soundbar system. The company plans to launch the Shockwafe Ultra 9.2 DTS:X this fall ($1,000), which ups the ante with 9.2 channels, 1,000 watts of power, dual 10-inch subwoofers, support for DTS:X, and other features.
So many soundbars are unimaginative rectangular solids. The Shockwafe, viewed from the side, is instead an asymmetrical hexagon. Behind the metal grilles of the 45.5inch-wide sealed plastic enclosure are five separate subenclosures. Those for the left, center, and right channels have two 2.5-inch full-range drivers each. Then there are the smaller subenclosures for the side tweeters. The LCR drivers face forward, while the side tweeters are angled outward, and just slightly upward and forward. Designed to reflect off walls, ceiling, and floor, they probably center their output on the side walls just a little in front of, and above, the listener, though that may depend on your room and seating position.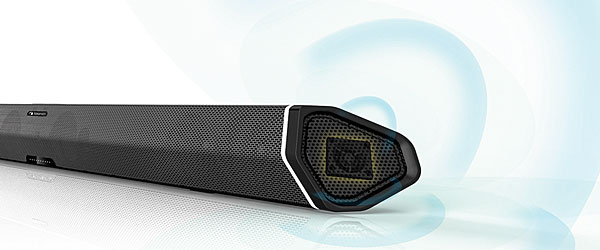 The side tweeters are served by their own amplifiers and fed signals determined by a proprietary algorithm to derive "special front effects surrounds." In other words, they make the bar sound wider and more immersive. They are distinct from the other three front and two surround channels, but do not reproduce discrete channels from the original mix—hence, the somewhat confusing 7.1 in the model name. Their cones are made of Mylar, a polyester film; the other drivers use treated paper cones. Nakamichi notes: "Cone geometry, proper dampening of the cone, and a properly executed crossover determine the quality of sound."
Each of the plastic-hulled, metalgrilled surround speakers has a single 2.5-inch full-range driver (parroting those in the bar) in a pentagon-shaped enclosure. The subwoofer has an 8-inch side-firing driver and a back port in another pentagonal enclosure. It houses amplification for both itself and the surrounds, which plug into it with supplied 26.2-foot cables with RCA plugs at both ends. A wireless connection mates bar and sub. When knuckle-rapped, the bar, surrounds, and sub all revealed plasticky cabinet colorations, though considerably less for the bar, which is slender, subdivided, and packed with drivers and amps.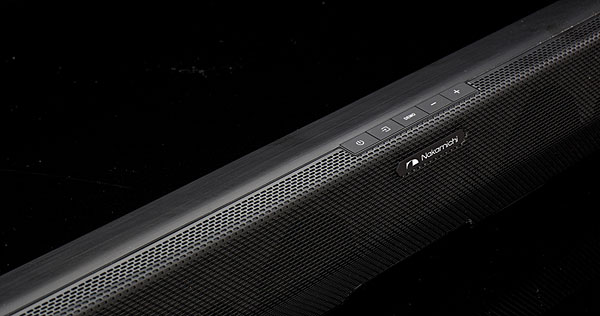 The system's surround decoding includes Dolby Audio—which, in this case, means Dolby Digital and Dolby Pro Logic II—and DTS 5.1. It does not include the lossless or heightcapable formats—but players include the ability to extract and play only the basic core track within Dolby TrueHD, Dolby Atmos, DTS-HD Master Audio, and DTS:X programs. So watching Blu-rays with your HDTV or Ultra HDTV shouldn't be a problem. Connectivity includes two HDMI inputs with 4K passthrough and one HDMI-ARC output; digital coaxial, optical, and analog minijacks are also provided. Bluetooth lets you play music from your phone without a tether. The system is rated to play as low as 35 hertz, but with few details provided. See our Test Bench measurements.
The top of the bar includes limited controls: power, source, volume plus/minus, and the demo mode (more on that later). The remote is full sized and decent looking, with big buttons, legible labels, and a small orange backlit LCD. It fires at a 45-degree angle to compensate for the tilt needed to read the LCD. There are dedicated buttons for a half-dozen EQ categories: Movie, Music, Sports, Game, TV, and Night. A single button cycles through inputs. The fourway rocker and center button are for navigation and channel. Oddly, and against industry convention, the volume keys are above the rocker, one on each side, separated by the menu button, requiring you to look and think before adjusting volume.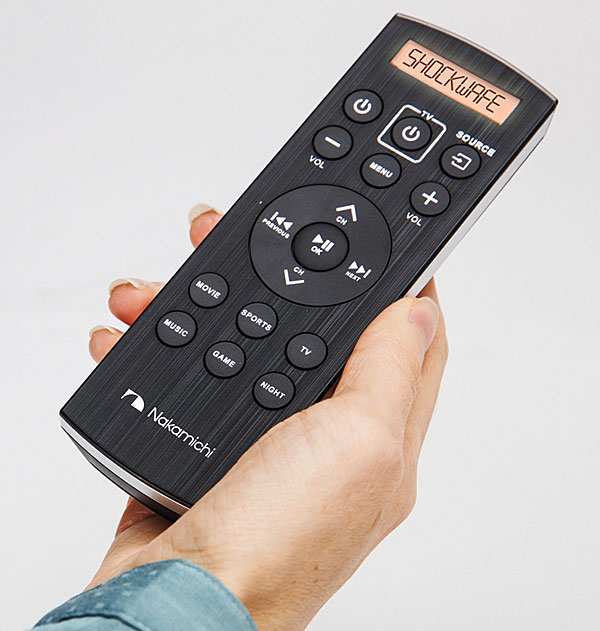 The easiest control confirmations come from the remote's LCD, but the white pinpoint LEDs along the front panel's bottom edge also deliver a lot of information. In default mode, the more LEDs, the higher the volume. When you select inputs, a different LED corresponds to each one. Five consecutively lit LEDs may indicate the middle position of center, surround, or sub volume.
Like other surround products in general, the Shockwafe comes with a small riot of preset EQs of varying quality. Be warned that some of the remote's EQ buttons access multiple submodes, and it pays to keep an eye on the remote's orange LCD for status. The Movie button accesses four submodes: Action, Drama, DTS EQ, and Dolby EQ (identified by the manual as the flattest and default). The Dolby and DTS EQ submodes reappear under the Music EQ button, joined by SW (Shockwafe) Music and Bass Boost. The TV button selects either TV or News EQ, while the Sports and Game buttons access a single EQ. The Night button cycles among Sub On, Sub Low, and Sub Off. After EQ selection, the remote's LCD briefly displays levels for center, rear, and sub. It's helpful to be conscious of those levels; getting them right makes a big difference on any system.
This native 5.1-channel system can be set up via remote-accessible controls for center volume, sub volume, surround volume, and surround balance. For casual setup, you might use the built-in demo mode. It consists of a channel identification and a snippet of orchestral music for each channel, culminating in all-channel music. It does not, however, include a steady test tone that would support an SPL meter reading. So I used the tones on my trusty old Avia test DVD.