NAD T 787 A/V Receiver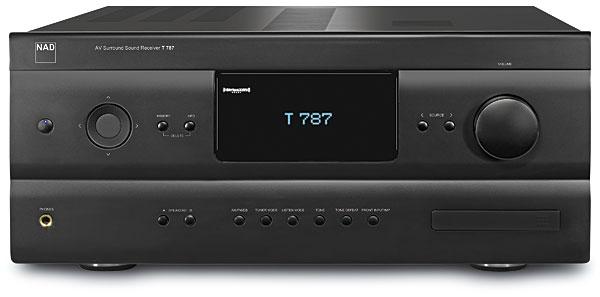 Price
: $4,000
At A Glance
: Seven powerful amplifiers • Complexity simplified • Future-proof modular design
For good reason, grizzled veterans of the audio/video hardware wars eagerly anticipate reviewing NAD gear. The company's distinguished history began in the 1970s with the invention of the business model that was adopted years later by Apple, among others. Rather than building a factory to produce its products, NAD contracted with existing manufacturing facilities, thus avoiding high capitalization costs.
But more important than the innovation that allowed the upstart company to go toe to toe with the existing audio establishment was New Acoustic Dimension's first smash-hit product: the NAD 3020. This shockingly inexpensive (under $200) integrated amplifier sounded far more powerful than its rated 20 watts per channel and brought high-performance audio to the masses.
The 3020 spread virally through dorms and graduate student apartments. Skeptics finally heard the difference between high-performance audio the mainstream magazines of the day failed to acknowledge (since, as everyone back then knew, if it measured the same, it must sound the same) and that era's mass-produced audio swill.
Originally a distributor collective, NAD was purchased in 1999 by Canadian firm Lenbrook (its first and current North American distributor), who retained its original business model. As the new T 787 A/V receiver demonstrates, at a time when too many other companies have lost their way in an insane race to tack on more unnecessary and unwanted features on the way to the price-point-driven, mediocre-sound-quality bottom, NAD has maintained its original commitment to high-quality sound, solid engineering, and the elegant simplicity of the design esthetic that launched the company those many years ago.
Inside and Outside the T 787
On the outside, the T 787 exudes simplicity and maintains the 3020's industrial design esthetic. The front fascia incorporates one large volume knob, yet no controls are hidden behind a fold-down door. Large, easy-to-read lettering populates a generously sized fluorescent screen. A fully equipped A/V input lurks behind a small pop-out panel adjacent to which is a button to select it without fumbling with the remote. Why has no one else thought of that? The operating system is free of confusing menu nests. Nests are for birds!
At the same time, the T 787 hardly skimps on features. It incorporates seven HDMI, three component video, and even four S-video inputs along with three each optical and coaxial digital inputs. It has three remote audio zones and offers seven channels of high-power amplification. It has XM and iPod ports, an AM/FM RDS tuner with presets, Audyssey MultEQ XT (including a bespoke NAD setting), defeatable tone controls, a 7.1-channel input and a multichannel preamp output, and five A/V presets that you can apply to any input at the push of a button. Also included is a proprietary EARS surround mode that avoids the usual added tinny reverb as it turns stereo sources into multichannel. A direct mode passes undigitized analog signals such as those from a turntable/phono preamp.
Of course, the T 787 has all the latest Dolby Digital and DTS codecs and can pass a 3D video signal. It has a headphone jack and also includes two remotes: a small one for remote zone 2 and the large HTR8, among the most ergonomically pleasing, easy-to-use programmable remotes I've yet encountered. The rear panel is a model of layout efficiency, and with their wide, easy-to-grip and -tighten flanges, the binding posts are among the best found on any A/V product.
Inside, the T 787 includes a stacked pair of large toroidal transformers. Rather than simply depleting the capacitor bank when called on to deliver high power, the 120-watt, sevenchannel amplifier section has a second high-voltage rail that can kick in when needed. The T 787 also includes NAD's proprietary soft clipping feature that gently limits output to prevent audible and potentially speaker-damaging distortion at high SPLs (I left it off to maximize dynamics).
What has NAD left out? All the unnecessary bells and whistles most users don't need or want, such as height and extra front channels, lousy-sounding DSP-based surround modes, and all the video controls that unnecessarily duplicate those that all modern display devices already include. NAD limits video processing to an unidentified chipset that upconverts legacy 480i video to 480p. NAD doesn't specify either the DSP or the digital converter manufacturer, preferring to let the sonic performance speak for itself.
Also omitted is the thick, small-print, incomprehensible instruction manual that accompanies most modern A/V receivers, or at least, used to. Instead, NAD supplies a full-color, one-sheet, quick setup guide and a DVD-ROM containing PDF files of the instruction manual in various languages. The manual, refreshingly written in the active tense, runs a relatively short 48 pages. At 55.6 pounds, the T 787 is heavy and comes with a heavy (by today's cheapened A/V receiver standards) $4,000 price to match.
Setting Up and Using the T 787
Although the T 787's GUI and operating system were unfamiliar, I fully set it up and began using it within a half hour and without the aid of the instruction manual. Still, it took me a few minutes to figure out how to access the GUI, which is not via the usual menu or setup button. Instead, you hit the cursor ring's right arrow, which makes complete sense since you're going to use those controls once you're in the GUI. Again, why has no one else thought of that?
Once that's figured out (and much appreciated), the rest is cake, although the easier-to-use Source Setup table view should be renamed the Normal view. In that mode, all inputs are listed vertically as a table of nine plus T for tuner. There, you can easily configure each input for both video and audio input jacks (HDMI, S-video, coaxial, or optical, etc.), assign a preset number, trigger function, and rename the input. Many GUIs nest the rename function elsewhere and force you to look for them and remember what each one was by number. Why? Let's just say that between the easy-to-access (once you know where it is!) GUI and the generously sized, properly illuminated remote control, configuring and using the T 787 is a pleasure.
A useful setup feature lets you assign more than one audio source to a given input. For instance, if your SACD player's multichannel analog output doesn't also output two-channel CD audio, you can assign a pair of analog inputs or coaxial digital inputs to the seven-channel analog input source. So configured, the 7.1-channel input can seamlessly output both 7.1 analog and decoded digital two channel.