My Morning Jacket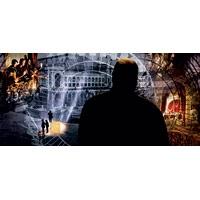 Evil Urges ATO
---
Music •••½ Sound ••••
My Morning Jacket is in the basement, mixing up the medicine. And we're at ground level - crouching down, squinting through the window, smelling suspicious fumes, listening to an intense jam that freely reconfigures 1960s pop, '70s riff-rock, and '80s funk. Step into this Kentucky quintet's time machine and feel the decades melt together - but don't worry if you've slept through the past two, because these young guys have, too.
You can practically smell and hear the big cardboard gatefold that should accompany Evil Urges. While singer Jim James spits out the title track and "Highly Suspicious" in a bizarre falsetto that channels Prince and Mick "Emotional Rescue" Jagger, and while keyboardist Bo Koster twists the synths back to the '80s as well, most of the album explores far more "Classic Rock" terrain under the surface glitz provided by James and co-producer Joe Chiccarelli.
Strip away the trippy electric guitars and extra reverb from "Thank You, Too," and you've got a ballad accidentally left off of The Best of Bread. In the orchestrated sweep of "Librarian," the haunting, lonesome squalls of Jimmy Webb and Glen Campbell come together. "Two Halves," with its concise and harmonious chorus, calls out to the Raspberries. "I'm Amazed" distorts the distance between Pure Prairie League and Bad Company.
MMJ isn't attempting to replicate these influences. They just come naturally. And the band has the chops and the actual songs to back them up. "Look at You" simply immerses itself in smooth harmonies and forlorn pedal-steel. "Remnants" uses the perfect dual guitars to cement its boogie.
In the end, the Jacket sounds like a band having fun, handling the craft seriously but taking itself for a laugh.