Multiroom Magic with Sonos Page 3
Other Air-Raising Options
Just before we went to press, Sonos announced the ZonePlayer S5, a $399 amplified ZonePlayer with built-in speakers. Sonos is pitching the system as the ultimate wireless music system for iPhone owners. Like Sonos's other ZonePlayers, an iPhone or iPod touch loaded with the (free) Sonos Controller app is the ideal (and free, if you already have one) remote control for the S5. iPhone/iPod-less people, after they overcome their shame (and come up with $349), can use one of the new Controller 200 remotes. The one-piece design means the only wire you have to deal with is the power cord, which makes the S5 the quickest and easiest of Sonos's ZonePlayers to get up and running. However, if you're starting a system with a single S5, you'll need to have either a hard-wired Ethernet connection between it and your broadband router or a ZoneBridge directly connected to your router.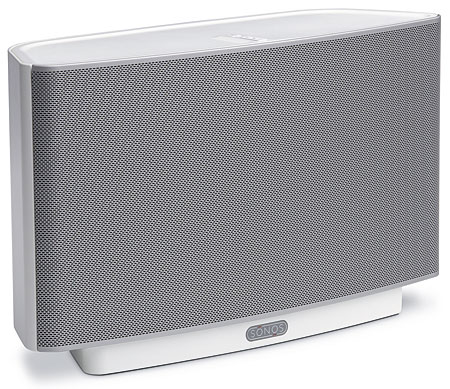 Casting About for More Music
While it's hard not to go gaga (that's a technical term) over the Sonos system, there are other wireless music systems available that are worthy of consideration when it comes to price, features, and configuration. Yamaha's new MusicCAST2 system, for example, is a tremendous improvement over the company's clunky first-generation MusicCAST product. The heart of the MusicCAST2 system is the MCX-RC100 Network Music Commander ($500), a Wi-Fi-based system remote that includes a 3.5-inch color display (not a touchscreen) and a touch-pad. Capable of controlling up to 32 zones of music, the MCX-RC100 can also control functions of Yamaha's Network Receivers, such as the RX-V3900 and RX-Z7, as well as Yamaha's YMC-700 neoHD Media Controller. In other words, as opposed to being a separate multiroom music system, a MusicCAST2 system can be an integral extension of your main (Yamaha) theater system. Like Sonos, Yamaha offers two MusicCAST2 Network Music Players, the amplified MCX-A300 ($400) and the preamp-only MCX-P200 ($400). Unlike Sonos, however, the MCX-P200 includes IR outputs for controlling other connected equipment. And both Music- CAST2 Network Players have iPod/Bluetooth compatibility via optional accessories.

Swimming Up Streamium
Philips's three Streamium network music players may take a tad longer to set up and are a bit more computer-like in terms of operation. Nevertheless, they do a good job of streaming music from your PC/Mac or connecting to Internet radio stations even when your computer is off. They look good, too, especially the NP2900 ($330, with built-in speakers) and the NP2500 ($230, preamp only), each of which features a 4-inch full-color display screen that can show album art and photos. The more basic but less expensive NP1100 ($180) includes a 3-inch black-and-white screen that displays track and artist info.
Logitechno Music
If you're interested in squeezing the ultimate audio performance out of a wireless music system, you should give serious consider- ation to Logitech's impressive $2,000 Transporter network music player. But if high-end DACs and audiophile-grade circuit paths are more than what you need for listening to Internet radio stations in the kitchen or bedroom, Logitech has a variety of Squeezebox network music players, starting with the all-in-one Squeezebox Radio. Considering that for $200 it includes a built- in speaker (mono), 2.4-inch color display, ambient light sensor that adjusts display brightness, and an alarm clock, it's probably the best value around in a network music player. But the new preamp-only Squeezebox Touch with a 4.3-inch color touchscreen plus USB port and SD card slot for playing music stored on external memory cards looks hard to resist at $300. Add another $100 for the Squeezebox Duet. The Duet Receiver doesn't have a display screen, but the included Squeezebox Controller does (a 2.4-inch color display), plus a rechargeable lithium-ion battery. The Controller uses 802.11b/g to communicate with the Receiver—so you can use it to control playback from any room in the house.
A Cheap Ticket to the AirPort
If you're computer-savvy, Apple's $99 AirPort Express can provide one of the most affordable ways to connect to an existing wireless network and stream music from your Mac or PC to an audio system or powered speakers. The small AirPort Express plugs directly into an AC outlet, and the line-out port provides both analog and optical digital outputs. While it's inexpensive, you do pay a price in lack of features. The AirPort Express, for example, doesn't have a display or a remote, so you need to use your computer or an iPhone/iPod touch for all control functions. In addition, the AirPort Express can't access Internet radio stations by itself. Your computer has to be on and connected to the AirPort Express in order to do that. For a basic, one-zone system, however, it's definitely a great option.