MantelMount MM860 Motorized TV Mount Review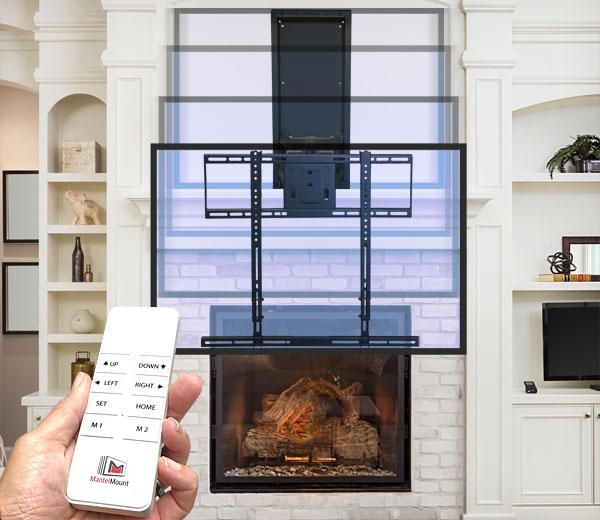 PRICE
$1,999
AT A GLANCE
Plus
Solves major TV installation issue
Solid build quality
Out-of-the-box automation
Minus
Limited horizontal swivel range
Awkward power/cable routing
Professional installation highly recommended
THE VERDICT
The MM860 costs more than many TVs, but it solves a common installation issue, performs reliably, and looks cool.
As long as architects design houses with a fireplace as the focal point of the living/family room, people will continue to mount their TVs above the fireplace mantel. But a problem with that location is that it situates the screen too high for comfortable viewing. And even though people know that height is going to be an issue, they often have no other obvious installation choice and are consequently forced to suffer life with TVOF (TV Over Fireplace) syndrome.
Chances are you or someone you know is suffering from TVOF syndrome. If that's the case, may I present a perfect cure: MantelMount's MM860, an automated, motorized mount that lowers and swivels the TV to an ideal, eye-level viewing position. Full disclosure: I am a MantelMount dealer and I installed the review sample in my custom showroom.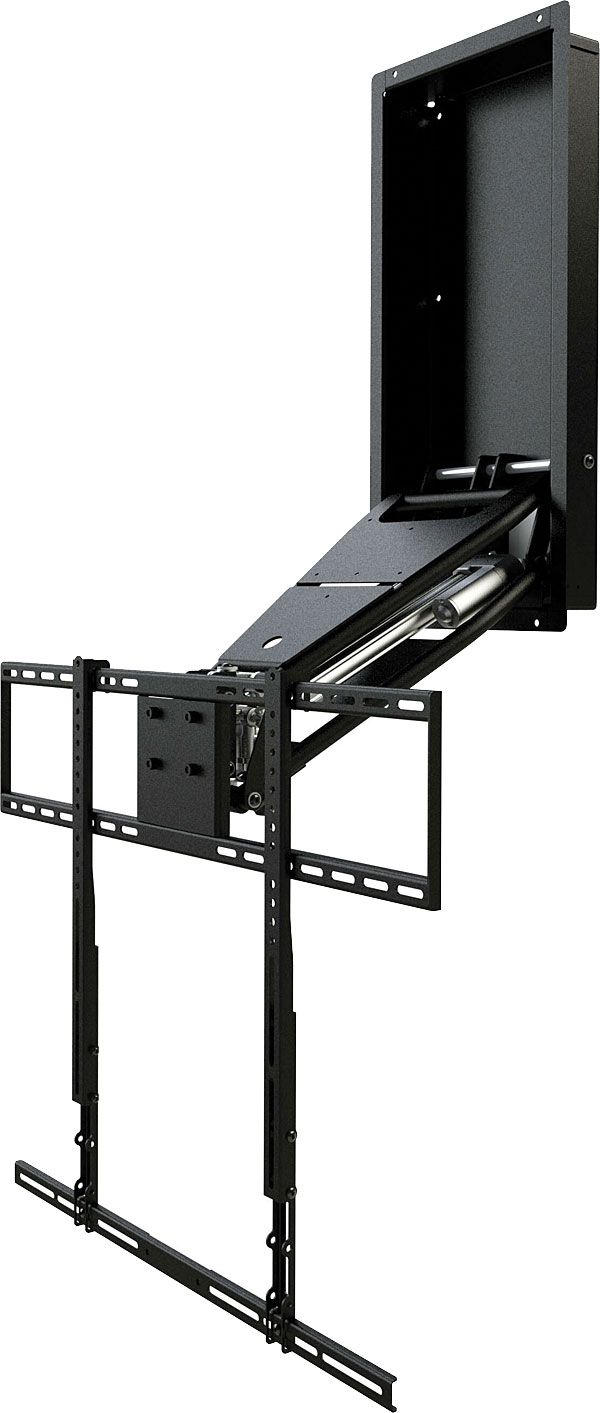 Installation and Setup
The near-100-pound box the MM860 arrives in announces it as a legit piece of hardware. And when you open the box and see all that metal plus the 20-page instruction manual, any reservations you might have had about attempting a self-install will only be exacerbated. MantelMount suggests using TVs 55 inches and up with the MM860 and maximum supported weight is 125 pounds. The included brackets will handle VESA mounting patterns from 200-600mm wide to 100-600mm high and there's a huge array of screws and hardware to accommodate almost anything. Wings are also included to mount a soundbar (included in the 125-pound maximum weight limit) to the MantelMount's bottom.
There are two ways to install the MM860: recessed or surface-mount. While MantelMount offers an optional surface-mount trim kit that gives the box a more finished look, it also holds the TV considerably further off the wall and is not nearly as sleek-looking as a recessed installation. Of course, surface-mount is your only option if your wall is solid brick or a similar material.
When recessed, the lift housing mounts between standard 2x4-stud walls and sits flush with the finished sheetrock. But since it's likely there won't be a 14-inch-wide opening where you want the TV centered, studding will need to be cut out and reframed. While the MM860 hardware includes provisions and instructions for doing this, it's not the sort of task that the vast majority of DIY-ers should tackle.
Beyond whatever cabling your TV needs, the MM860 requires a power connection and can link to your network via wired Ethernet. I don't love how MantelMount routes cabling through two small holes in the back of the mount—a drop in wall-box at the bottom would be much better—but it nonetheless works, and there are provisions for cable management.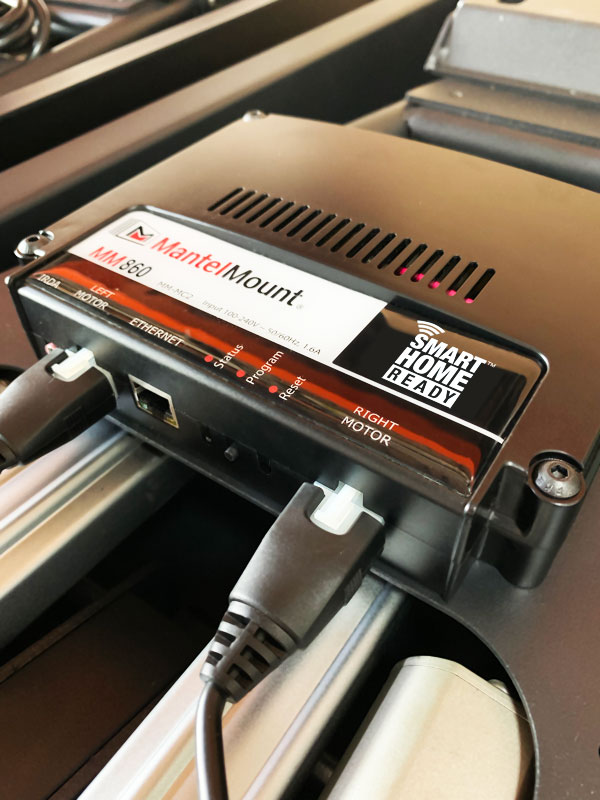 After you've secured the lift housing to the wall and attached the TV to the brackets, the next step is to pair the included RF remote control and run the mount through its range of motion. Screws located in the mount let you set physical "hard stops" to limit the range of movement—a necessary adjustment to prevent it from, say, hitting the mantel.
Performance
The MM860's ability to lower a TV up to 30 inches means you should be able to move the screen's center to an optimal viewing level no matter how high your mantel. Where it doesn't offer as much adjustment as a traditional articulating arm mount is in its range of swivel. Some arm mounts can swivel up to 180 degrees, but the MM860 only allows up to 25 degrees of left or right swivel, which likely isn't enough range for far off-center seating positions.
The mount is surprisingly silent when moving; it was definitely quieter than my motorized projection screen. You could even raise or lower the mount without disturbing someone sleeping in the room.
The no-point RF remote offers basic up/down/left/right operation, two memories to set and recall screen positions, and a Home" button that fully retracts the TV. If connected to a network, the mount can be controlled by a variety of third-party control systems like Crestron, Control4, RTI, Savant, and URC, and there's a mini-jack IRDA connection that permits IR control from Harmony-type remotes.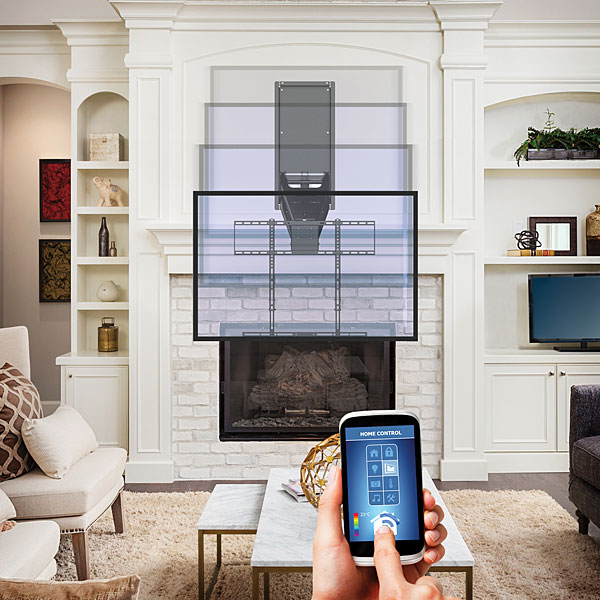 Connecting the TV's power cable to the MM860's control unit enables a feature called ALPS (Auto Lowering Power Sensor) that automatically positions the mount to a preferred location (memory #1) when the TV is turned on and then retracts it when turned off. ALPS setup uses a Web utility that lets you configure power sensitivity thresholds to sense on and off states based on your specific TV's power consumption.
MantelMount offers another web-based setting called Smooth Start Mode to accommodate different TV weights. This tool offers four levels of adjustment to the amount of force the actuator arms apply when starting their downward motion, which helps keep the TV from wobbling or lurching off the wall.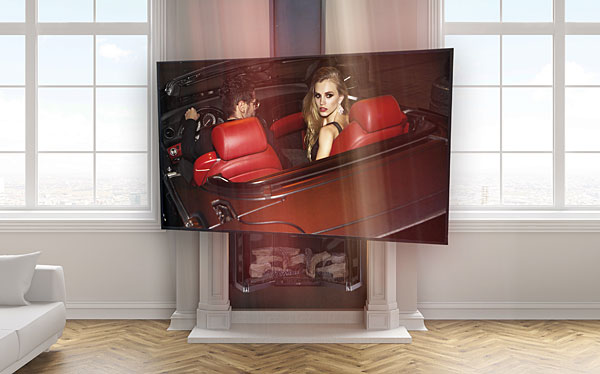 Now, no one in your house would ever lower the TV and use it with a fire roaring behind, right? In case that actually does happen, a built-in heat sensor will cause the TV to automatically retract if the temperature behind the screen reaches 110 degrees.
Conclusion
At, $1,999, MantelMount's MM860 is certainly more pricey than many TV mount options. But if you happen to be suffering from TVOF, it provides a perfect solution to improve your TV viewing, and it will also impress the hell out of visitors. In practice, the MM860 did everything it was supposed to: went down when commanded, and then went back up. Getting automation this reliable without having to depend on a third-party control system is awesome indeed, and a testament to the MM860's sophistication.