Niles Auriel MRC-6430 Multiroom Audio Controller Review

PRICE
$4,070 as reviewed
AT A GLANCE
Plus
Incredibly simple setup
Terrific home theater integration
Easily handles both analog and IP sources
Minus
No native sources
Typical Class D sound quality
THE VERDICT
Auriel is a breeze to set up, provides control over legacy and modern sources, and offers home theater integration along with a variety of easy-to-use interfaces.
Housewide audio distribution systems varied little in their design and feature set for many years. Whether they were from Niles, Elan, SpeakerCraft, NuVo, or Russound, you could essentially count on them offering six analog audio source inputs, onboard amplification for six stereo zones, and connections for a variety of controllers, usually including an in-wall keypad.
The problem was, those systems were designed with traditional, minimally interactive sources in mind, things like CD changers and cable boxes that didn't provide any feedback and were controlled with simple commands like "Play" and "Channel Up." When smart sources like iPods, music servers, and Internet radio came along—devices that required two-way metadata feedback for making an informed listening selection—those old audio distribution systems were left behind and quickly replaced with scalable, next-generation solutions like Sonos.
Many of the new systems, however, don't really play nice with legacy gear. Or integrate easily with home theater systems. Or offer any kind of wall-mounted control options. With the Auriel MRC-6430, Niles is looking to bridge the gap between old and new and hopefully deliver the perfect balance between both.
Meet the Auriel Family
Niles was founded in 1978, and the company has been at the forefront of custom audio installation for years, manufacturing more than 500 individual products, including speakers, amplifiers, control systems, and home entertainment accessories. Niles is now part of Core Brands (a division of Nortek Technology), alongside other audio names like Aton, Panamax, Elan, Proficient, and SpeakerCraft. Suffice it to say, Niles understands distributed audio.
The heart of what Niles calls "the Auriel ecosystem" is the MRC-6430 multiroom audio controller ($2,000), a component that's completely devoid of any front-panel controls (short of a power button). It has no onboard sources and can't play any tunes out of the box. Instead, it includes analog inputs for connecting six sources, along with minijack infrared emitter connections to control connected devices. The MRC-6430 has four zones of onboard amplification (rated at 30 watts per channel into 8 ohms, 45 watts into 4 ohms) with preouts for connecting two other externally amplified zones. Two MRC-6430 chassis can be linked together, doubling the number of audio zones.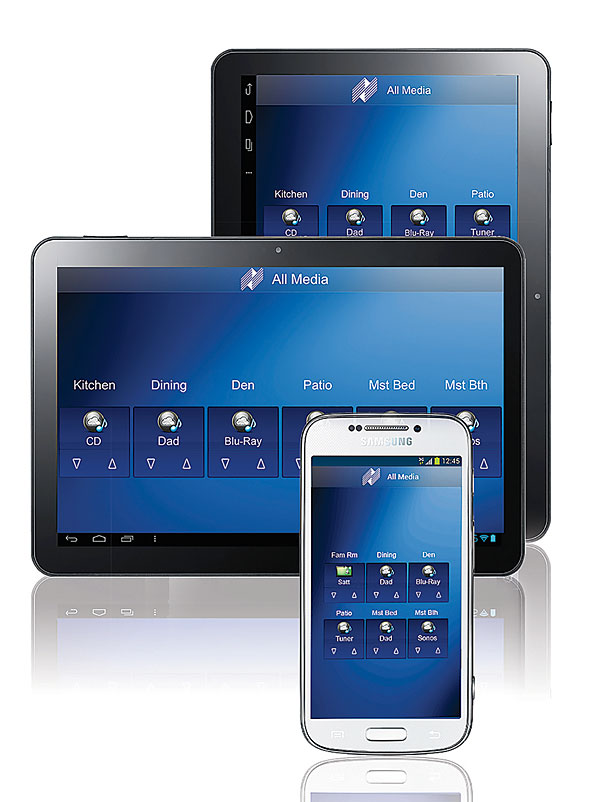 There are numerous control options, including free iPhone, iPad, and Android apps, as well as both Mac and PC desktop control. Beyond those, Niles offers three additional options in the form of the nHR200 handheld touchscreen remote ($870), the nKP7 slick in-wall seven-button keypad ($200), and the nTP7 7-inch in-wall touchscreen ($1,000). I'll discuss these in greater detail in a bit, but no matter how you prefer to interact with your audio system, Niles has a control solution available.
Setup
Auriel is intended for professional installation, but it's so easy to install and configure, it really can be tackled by a tech-savvy enthusiast, especially if the home is already wired for a distributed audio system. (You can download all of the setup and configuration documentation from Niles' Website.)
The back of the MRC-6430 is arranged logically, with source inputs taking up the left side of the chassis and speaker/amplifier connections on the right. An Ethernet jack provides connection to your home's network, and a USB Type-A connection is used for configuring. There are loop outs for each source, making it easy to add an extender chassis or to share sources between the MRC-6430 and a home theater. A paging input allows connection of the optional Niles DBI-2 doorbell interface that will chime through the speakers.
The speaker connections for zones 1 through 4 utilize Phoenix connectors that accept up to 14-gauge wire, and each zone also includes analog RCA preouts that are individually configurable as fixed or variable, providing a lot of installation flexibility. For instance, you could bypass the internal amplifier and use something more powerful, assign a zone to a dedicated headphone amplifier/wireless transmitter (not only could you listen to any source you desire, but you'll still hear the doorbell even when wearing your "cans") or add a subwoofer for more bass in a zone.
As the MRC-6430 communicates with Niles control devices over the network, all interfaces must be on the same network. The single-gang nKP7 keypad connects to the network and operates using Power over Ethernet (PoE). The nTP7 touchpanel fits in a double-gang wall box and can be positioned in either portrait or landscape orientation; it operates via either a local 12-volt power supply or PoE. The touchscreen also includes Wi-Fi if a hard-wired connection isn't available. The nHR200 touchscreen handheld remote connects via Wi-Fi and configures by USB connection to the MRC-6430. One hiccup I encountered: Because the nHR200 supports only a limited selection of Wi-Fi encryption options, it wouldn't connect to my network until I adjusted the encryption settings in my wireless access point. Once I changed the settings to an encryption it supported, I had no further issues.
With all devices connected, you can perform the configuration using any of the control apps (iOS, Android, PC, or Mac) or the nTP7 touchpanel. Pressing and holding the onscreen Niles logo presents an "Installer Access" screen that prompts for a four-digit password. After you enter that, you get configuration options for Chassis, Sources, Zones, User Interfaces, Home Theater TV, Handheld Remote, and Keypads.
Chassis configuration allows for adjusting network settings, adding a second MRC-6430, and taking advantage of one of Auriel's coolest features by configuring a home theater receiver for control. The MRC-6430 interfaces with a variety of IP-controllable receivers, including models from Denon, Onkyo, Integra, Marantz, Pioneer, and Yamaha.
Sources are grouped into IP- or IR-controlled devices. Adding an IR-controlled component is a breeze. A huge number of IR devices are in the database, divided into eight categories (such as CD, set-top box, and Blu-ray) and then sorted alphabetically by manufacturer, and then by device. Supported IP-controlled devices are fairly limited at this point—essentially, Elan and Yamaha tuners along with media servers from Sonos, Yamaha, and Autonomic and models based on Logitech's Squeezebox platform. Once you add a source, you can rename it, assign it an input on the MRC-6430, link it to an IR emitter output, and adjust the audio gain from –6 to +6 decibels to level volumes between sources. If you're using a home theater receiver, its inputs are also assigned so the MRC-6430 can control it. Favorite channels can be assigned if you're using a set-top box, making for easy recall later, especially via the nKP7 keypad's one-touch-to-music feature.
Zone configuration allows for naming each zone, setting defaults for tone and volume (bass, treble, and loudness, along with turn-on and maximum volumes for each area), and choosing whether it is part of wholehouse music (WHM) and doorbell events.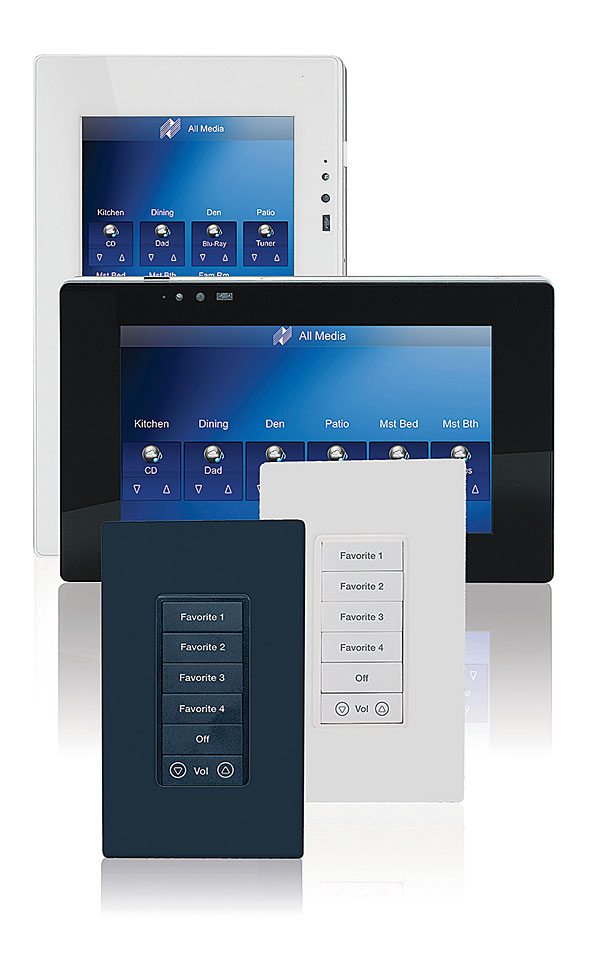 The remaining configuration options allow you to tweak settings to the user interfaces, connect the nHR200 to your Wi-Fi network, and assign favorites to the keypads. While it might seem like a lot of steps, in reality, the entire process is incredibly fast and took me less than a half hour.
Control: My Way, Your Way, Any Way
With such a variety of control options, things could get sloppy and confusing, but Niles smartly designed the control GUIs to look identical across all devices (handheld remote and single-gang keypad excepted). This not only ensures a consistent experience but also makes for an easy learning curve. The iOS app is optimized for iPhone and iPad, and I really appreciated the option of having both PC and Mac control, as I frequently have my laptop open when listening to music and love being able to control the audio system from the desktop.