Nexia Smart Home Control System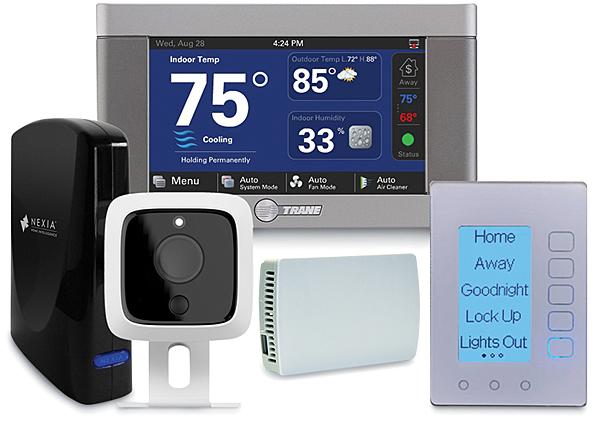 PRICE
Nexia Bridge, $87; Trane XL824, $334
AT A GLANCE
Plus
Nexia Diagnostics monitors real-time HVAC performance
Z-Wave-supported Nexia Bridge built into thermostat
Minus
$9.99/month subscription fee
Cloud-based automation works slower than local systems
THE VERDICT
The Nexia system is unique in that it appeals to both do-it-yourselfers and those who want it done for them. Its combination of a simple programming structure with an assortment of welcoming and intuitive user interfaces makes it a system you'll actually enjoy using.
I was beginning to worry that we'd run out of acronyms. After all, what would we do if we had to speak or write actual words instead of just using three- or four-letter shorthand? Saying "do-it-yourself" is so much more time-consuming than "DIY." Thank goodness there's a new acronym making the rounds: DIFM, which stands for do-it-forme. Although people have always wanted to have things done for them, the appearance of the acronym DIFM is the result of the wicked hangover that the DIY smart-home industry is suffering, after a couple of years when rapacious startup enthusiasm sucked all of the rational oxygen out of the air. The fact is that there are plenty of rooms in the smart home to accommodate the yourselfers, the for-me-ers, and the dedicated custom installers.
The smart home platform from Nexia, the company whose products we're reviewing here, is interesting for a variety of reasons—some of which you might think would be deal killers. To begin, there's the $9.99/month subscription fee that's required to keep the system running—and that's after you've bought the hardware. (Thankfully, there's no long-term contract, so you're not screwed for a year or more if you don't like the system.) Perhaps the most interesting bit is that Nexia isn't the latest smart home system-of-the-week. Its roots go back to 2009 when the nascent version of the platform was introduced as Schlage LiNK. (It was rebranded after Schlage, the lock company, was spun off by Ingersoll Rand, the parent company, which now owns Nexia.) Nexia is also intriguing because it's uniquely positioned to appeal to both DIYers and DIFMers, but I'll get to that in a bit.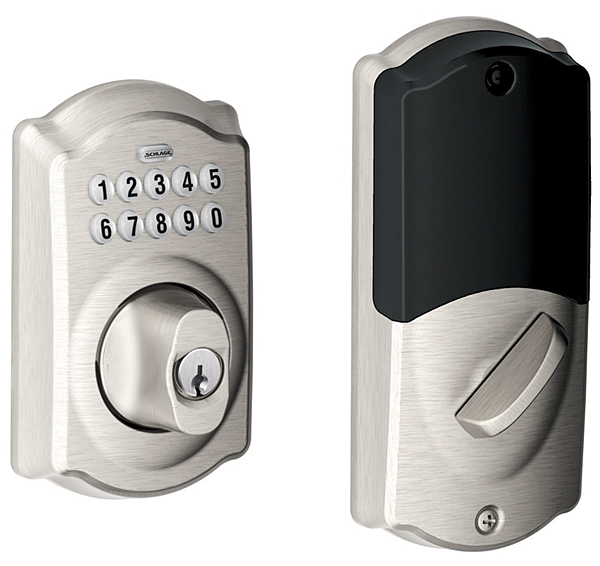 Bridge Over the River Smart Home
Nexia isn't a physical device or gadget. Like SmartThings and the now-defunct Staples Connect, it's an automation platform designed to connect smart products and services into one centrally controlled ecosystem. In other words, it's an operating system for your smart home. Traditionally—if there is such a thing as tradition when it comes to this topic—companies build their smart home OS and the basic communication hardware into one box, usually called a hub. Nexia refers to their core bits of hardware and software as the Nexia Bridge. It, too, is available in a standard hub-type form factor. But unlike many other smart home systems at the moment, the Nexia Bridge is also available as an element that's built into other devices, specifically (at the moment, anyway) two thermostats, one each from Nexia's sister companies Trane and American Standard.
Nexia sent a standalone Bridge and a Trane XL824 thermostat with a built-in Bridge for me to try. Other than in the mechanics of how Z-Wave devices get identified into the system, the end-user Nexia experience is virtually the same whether the system is built around the dedicated Bridge or one of the Nexia-loaded thermostats. Although the day-to-day user experience is often identical, it's at the front end—the installation and initial programming—where the split happens between DIY and DIFM. In theory, Nexia intends for the standalone Bridge to be the basis for DIYplanned Nexia systems, whereas the thermostats with the built-in Bridge (currently the Trane XL824 and XL850 plus the American Standard Gold 824 and Gold 850) are reserved for HVAC dealer installation and setup.
There are many reasons for this marketing divergence—including, of course, brand/dealer business relationships. But there are direct benefits for the homeowner, too, when going the DIFM route, one of which is that the HVAC installer will know the correct parameter settings to use with your particular HVAC system.
For basic HVAC setups, such as the 10-year-old system of electric AC and propane furnace in the newer section of my house, going DIY to install a new thermostat is a breeze. An advanced thermostat for the newer Trane two-stage air-source heat pump for the older part of my house is also easy to install, but setup can be mind-boggling because of the many parameters that need to be adjusted. An ongoing benefit of having a dealer-installed thermostat with the Nexia Bridge built in is that each one is Nexia Diagnostics compatible, so you can authorize your dealer to remotely monitor your HVAC system in order to identify any problems that might arise—hopefully, while they're still small and inexpensive to repair. (The dealer can only access the HVAC specs. The rest of the Nexia smart home gear is off limits.) The Nexia Diagnostics service is included in the $9.99 monthly fee.
It's important to note that after the DIFM installation and setup by the dealer, there's no reason why you can't switch to DIY for the rest of the smart home devices and programming, such as motion sensors, garage door openers, and preset automation routines. Or, of course, you can pay the dealer to take care of it for you.
It Does and It Doesn't
Nexia systems use two primary wireless communication protocols: Wi-Fi and Z-Wave. As with other smart home systems that include Z-Wave, not every Z-Wave device category is supported, nor, in some instances, is every function of a particular Z-Wave device. Nexia has a two-tier designation to indicate the level of support for a device. Nexia-certified products "have passed Nexia's rigorous testing for advanced integration to ensure a streamlined user experience [and] may offer additional features beyond the basic functions." Nexia-compatible devices "comply with Z-Wave open architecture standards and, at a minimum, the basic product functionality is offered through Nexia." Nexia certification isn't like THX certification, though, where THX determines the specs. In this case, Nexia certifies a Z-Wave device once it has the proper programming in place to handle what specific functions that device may have.
My experience with door locks was a good example of why DIYers should be aware of the differences between certified and compatible. Back when I began my evaluation, there were only five Z-Wave door locks on the Nexia-certified list. They're all made by Schlage and offer lots of available parameters to change, including low battery notification, auto lock on/off, keypad pepper on/off, and keypad lockout notification (if someone has been trying to use an incorrect code to open the door). You can also allow Nexia's Automations function to oversee the Schlage locks, such as setting up a regular schedule for locking (or unlocking) all the doors at a certain time or when the system detects (via geofencing; see below) that no one is home.
The Yale and Kwikset Z-Wave locks that I integrated into the system at that time were on the Nexia-compatible list, and they performed their standard lock and unlock functions quite well. But the only setting available through the Nexia system was lowbattery notification, and it was aggravating that neither lock could be included in automation routines, such as the aforementioned scheduled locking of doors. Fortunately, the company recently began offering enhanced compatibility with Yale and Kwikset Z-Wave locks that gives them the same level of integration and native functionality as the Schlage locks, but Nexia's evolution with door locks illustrates that, depending on the device, there may be significant differences between the certified and compatible products.
Third-Party's a Crowd
With a handful of exceptions, Nexia doesn't support ZigBee or other proprietary protocols or system hubs, such as Lutron's Caseta Wireless, the Wink Hub, or Philips Hue lights. The ones it does support are more on the higher end: the Pella Insynctive bridge (for operation of Pella Insynctive's really cool, motorized Between-the-Glass Blinds and Shades, as well as its Roomside versions), Andersen's VeriLock wireless sensors (built into Andersen E-Series windows and patio doors for monitoring locked/unlocked status—a very unusual and quite useful feature—as well as opened/closed status), and Somfy RTS-based motorized shades by Bali, Graber, and Budget Blinds (when using the Somfy ZRTSI2). Personally, I'm not bothered by the lack of ZigBee or third-party hub support—as long as Nexia continues to put a priority on certifying more Z-Wave devices.