More News & Gear for the New Year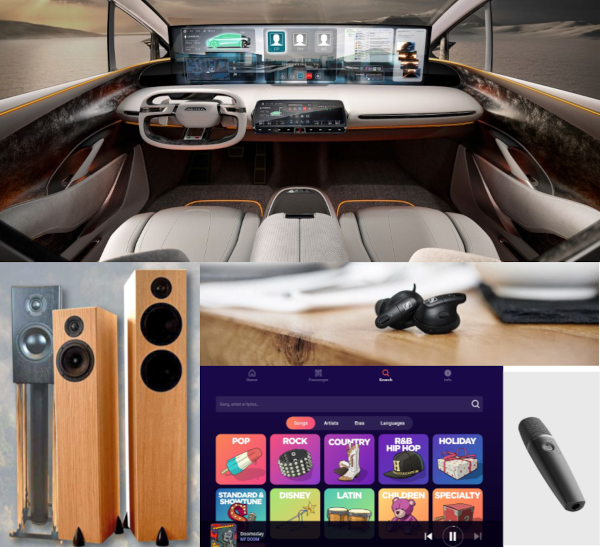 Now that CES and the holidays are behind us, we've gathered up some A/V news and new product announcements that slipped between the cracks in recent weeks, starting with a story out of China about counterfeit speakers.
L-Acoustics Shuts Down Counterfeit Speaker Operation
L-Acoustics, a French maker of professional speakers and other audio equipment, uncovered and recently worked with Chinese authorities to shut down and prosecute five counterfeiters that had been producing fake L-Acoustics loudspeakers in Shiji Town in China's Guangzhou Province. All were found guilty of violating the company's registered trademark, fined and sentenced to up to three years in prison, according to an official statement. Initial sentencing had called for one-year prison terms but the jail time was extended because "probation for similar activities had been revoked in previous cases."
Chinese counterfeiting is a longstanding problem. As one recent example, Amazon identified and disrupted three counterfeiting operations in November, resulting in the seizure of 240,000 imitation luxury, sports, and automotive accessory items. In 2021 alone, Amazon says its anti-counterfeiting programs blocked 4 million counterfeit listings, a decrease from 10 million a year earlier. Buyer beware.
Adding Karaoke to Your Road Trip Playlist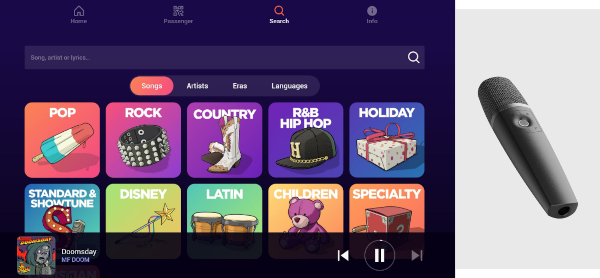 Automotive technology had a huge presence at 2023 CES, especially tech related directly or indirectly to autonomous vehicles. In the indirect category, Singing Machine demonstrated the world's first fully-integrated in-car karaoke system, complete with a microphone, scrolling lyrics, and vocal effects such as "studio-quality" pitch correction to make your crooning as good as it can be.
Developed in collaboration with Stingray, creator of a proprietary karaoke automotive app intended for use by passengers when the car is in motion, the system provides access to 100,000 licensed songs across all music genres, browsable by title, artist, lyrics, or genre. The app also allows singers to skip songs and rewind or fast-forward through them when the going gets tough, turn background video on or off, and sing with or without the recorded lead vocals.
When the car is parked, the driver can join in the fun but once it starts rolling, scrolling lyrics can only be synched on mobile devices, which requires scanning a QR code displayed on the car's infotainment screen. The system is being offered to automakers around the world and is based on a flexible platform that will support karaoke-based gaming in the future.
DTS:X Coming to LG OLED TVs, New IMAX Enhanced Movies on the Way
Xperi, owner of the DTS, IMAX Enhanced, TiVo, and HD Radio brands, made several announcements at 2023 CES that mostly flew under the radar. Topping the list was the news that DTS:X sound processing will be integrated into LG's 2023 OLED TVs and top LCD models, creating a new synergy with the brand's line of Dolby Atmos/DTS:X-enabled soundbars. The company also announced that Sony Pictures Entertainment has re-upped its commitment to support the IMAX Enhanced format with new titles over the next few years, including
Whitney Houston: I Wanna Dance with Somebody
(2022),
A Man Called Otto
(2022),
Gran Turismo
(2023),
Spider-Man: Across the Spider-Verse
(2023),
The Equalizer 3
(2023), and
Madame Web
(2024).
A new, expanded version of the format dubbed IMAX signature sound by DTS is also slated to launch on the Disney+ streaming service in 2023; the service started offering movies with IMAX's expanded 1:90:1 aspect ratio in 2021. Though the IMAX Enhanced format launched in September 2018, it has yet to gain any real momentum, despite having a reasonable amount of hardware support in several key AV categories. As of this writing, the official IMAX Enhanced website lists only 43 titles. The question is, will the Disney+ expansion give IMAX Enhanced a much-needed boost.
New SUV Boasts Super Dash with Home Theater Mode
AEHRA, an Italian American luxury car startup, is aiming to reach news levels of in-vehicle entertainment with a visual interface/display that extends across the full width of the dashboard in the sleek AEHRA SUV it unveiled last October (shown) and the Saloon sedan it plans to preview in April. Both are expected to ship in late 2025.
The display, which the company calls a human machine interface, or HMI, can be extended upwards when the vehicle is parked and configured for home theater, home office, or lounge modes, creating a "true step-change in entertainment and in-vehicle working." A smaller oblong-shaped touchscreen mounted in the center of a hand-stitched leather dashboard below the main display, provides controls for navigation and many of the vehicle's other functions.
When the SUV is moving, the display sits lower, providing easy access to essential information such as navigational instructions, speed, range, and settings for heating and ventilation, while its outer edges serve as virtual mirrors, relaying high-definition images from exterior cameras. Interestingly, the vehicle's spacious interior was designed not only for comfort — the company says it can accommodate "four full-size NBA players" and is crafted to create the most enjoyable seating experience whether one is driving or reclining — but to ensure easier viewing and operation of the expansive display, which would otherwise sit too close to the viewers' eyes.
"With the screen fully extended, the occupants can relax and enjoy a movie, perhaps when the car is charging or when a parent is waiting to pick up a child from school or a party," explained AEHRA's chief design officer Fillippo Perini. "And for those who have work to do, the screen and the spacious interior afford the perfect solution for video conference calls. Instead of staring at your smartphone or laptop, you can sit back and not only see all the participants on the call in perfect high-definition clarity, but also listen to them with crystal-clear, pitch-perfect audio quality."
Trinnov to Demonstrate Groundbreaking Acoustic Processing Technology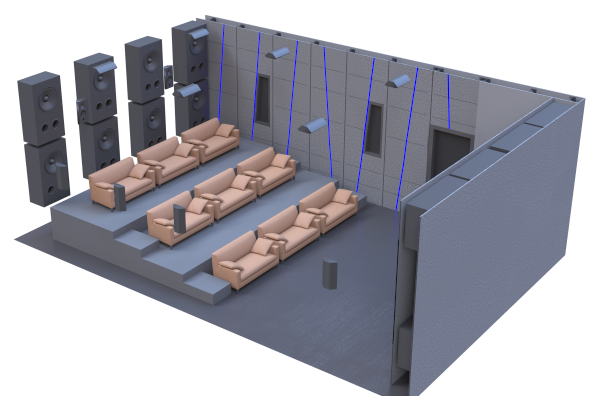 Trinnov Audio, the Paris-based company specializing in high-end immersive audio and room-optimization technologies, is getting ready to conduct the first public demonstrations of a technology six years in the making that uses sophisticated digital processing to effectively eliminate room modes and the need for physical acoustic treatments. The demonstration will take place at ISE 2023, which opens in Barcelona on January 31.
If this sounds familiar it's because Sweden's Dirac recently demonstrated an extension of its popular Dirac Live room correction tool that aims to achieve the same goal.
An evolution of Trinnov's acclaimed Optimizer room-correction technology, the new algorithm uses subwoofer arrays and sophisticated processing to control the acoustics of the room, according to Arnaud Laborie, co-founder and CEO of Trinnov, which is celebrating its 20th anniversary in 2023. "Traditionally, low frequency reproduction is handled through a modal analysis where resonances are identified in the frequency domain," he explained. "Through our extensive research and unique expertise in 3D acoustic fields, we propose something different. Our disruptive approach seeks to fully understand and control the behavior of the room in all its dimensions (time, frequency and the three dimensions of space) so that resonances are removed almost entirely and without artifacts."
The technology will be demonstrated in an over-the-top 13.16.6-channel home theater powered by Trinnov Amplitude16 amplifiers featuring 16 overhead speakers and 16 18-inch subwoofers (see rendering above). Trinnov plans to roll out the technology on specific projects before making a finalized version of the software available for free to owners of its Altitude16 and Altitude32 surround processors.
Totem Introduces New Speaker Series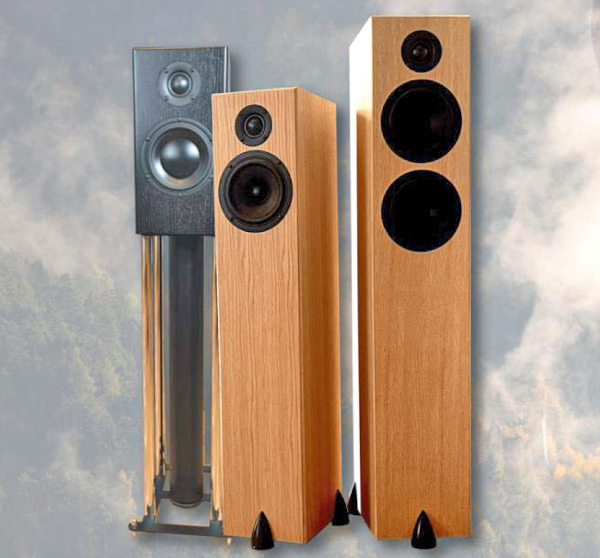 Totem Acoustic, the Montreal-based company specializing in high-performance speakers, is kicking off 2023 with its new Bison series of ported, two-way speakers featuring a new laser-etched 1.3-inch textile-dome tweeter. The lineup launches with three models, all currently available: the Bison Monitor ($2,500/pair), the Bison Tower ($3,500/pair), and the Bison Twin Tower ($4,500/pair).
In addition to the new tweeter, which is designed to Totem's specifications, each speaker features a lock-mitered, monocoque cabinet made of variable density fiberboard with full cross bracing and lined with borosilicate dampening material. The design is said to result in a super-rigid enclosure. All three models are also equipped with four-way, bi-wireable speaker terminals.
The Bison Monitor pairs the tweeter with a new, fourth-generation 5.25-inch long-throw woofer with a 3-inch voice coil in a cabinet that stands just over 13 inches tall. Rated sensitivity is 87dB (1 watt/1 meter) and the speaker is rated to play down to 40Hz (±3 dB). Nominal impedance is 8 ohms.
The Bison Tower features a slightly larger 5.75-inch woofer with a copper-capped voice coil in a 33.5-inch-tall cabinet. Rated sensitivity is 88dB and the speaker is rated down to 33Hz (±3 dB). Nominal impedance is 8 ohms.
The Bison Twin Tower is a three-driver design with two of the 5.75-inch woofers in a 38.4-inch-tall cabinet. Rated sensitivity is 90dB and the speaker is rated down to 31Hz (±3 dB). Nominal impedance is 4 ohms.
Both towers feature a cabinet that can be mass loaded to effectively modify interactions with room acoustics without altering the speaker's placement and include sound isolating claws at the base of the speaker; the claws are said to control surface resonance as well as tighten the bass and "accurately heighten the soundstage. Each claw is threaded to accommodate optional spikes.
Finish options for the Bison lineup are white oak, black ash, or satin white with matching magnetic grilles.
Sennheiser Earbuds Put Conversation Front and Center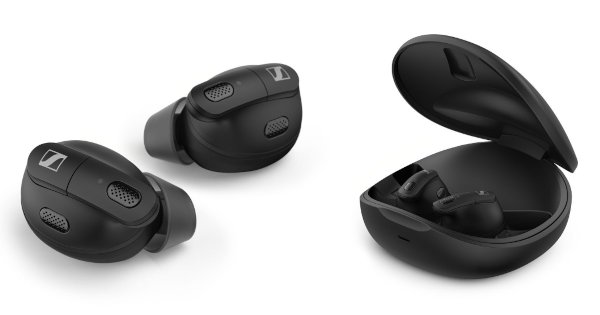 If you've ever had to step off in a corner in a noisy environment to finish a phone conversation, you'll appreciate Sennheiser's latest wireless earbuds, the Conversation Clear Plus. Slated to deliver next week, the new earbuds don't come cheap at $850 as they incorporate sophisticated chip technology from Sonova, the Swiss hearing care company that acquired Sennheiser in 2021.
Working in concert with active noise cancellation, "automatic scene detection" processing analyzes noise levels in real time and selects the appropriate level of speech enhancement to improve call quality. The processing also ensures clear speech during in-person conversations in challenging environments and lets you choose how much background noise you want to hear with its Ambient Awareness mode.
The earbuds provide three settings for different listening scenarios. Relax lets you customize the amount of background noise you want to block, while Communication and Streaming automatically adjust for the best performance and clarity during conversations or while streaming music.
Rated battery life is 9 hours when fully charged with another 27 hours of on-the-go play time available through the charging case.