Monster Music
It's not just cables anymore.
It was in the late 1970s when Noel Lee, a laser-fusion design engineer, started a little company, Monster Cable, which soon spawned, well, the entire high-end audio-cable industry. Over the decades, Monster maintained their dominance in the cable market as it branched into power conditioners and M•Design home theater furniture. Now, with Monster Music, they're jumping into the record business with a line of High Definition Surround SuperDiscs. Noel Lee's passion for multichannel music—and frustration with the stillborn SACD/DVD-Audio formats—pushed him to extract the best sound from Dolby- and DTS-encoded music. Monster Music claims that the SuperDiscs are the first music releases certified by THX for sound quality.
The first batch of SuperDiscs includes a concert DVD from indie sensation 3 Doors Down and a live jazz event, shot in HD video, with crooner Peter Cincotti. Audio-only sets include Ray Charles, a holiday classic from jazz pianist Vince Guaraldi, and 40 Years: A Charlie Brown Christmas with David Benoit, Toni Braxton, Chaka Khan, and others. Monster Music's marketing plan for SuperDiscs blankets all of the usual music outlets, plus nontraditional retail channels, including electronics stores and specialty shops. Lee, a hard-core audiophile, hopes his SuperDiscs will steer at least some consumers' attention back to great-sounding audio. To add some exclusivity to Monster Music's output, the SuperDiscs are issued in individually numbered limited editions.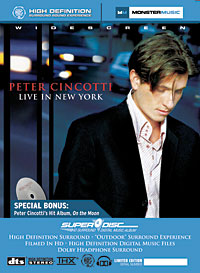 Of course, remastered music is nothing new; the majors and audiophile labels have tweaked and prodded the sound of our favorite music for decades. But Monster Music's SuperDisc releases go a lot further. Take a gander at, say, the 3 Doors Down Live: Away From the Sun DVD. It's positively loaded with alternative mixes. There's a Dolby Stereo and two different Dolby Digital 5.1 mixes—In the Audience and On Stage perspective mixes—plus an On Stage DTS mix. They all sound very different, and, while I generally prefer surround music with the band solidly positioned in the front three channels, I really liked the visceral, inside-the-band perspective of the On Stage mixes. Trust me, you don't have to be a golden-eared critic to notice the DTS Stage mix maxed out the band's low-end punch. The SuperDiscs all include 320-kilobit-per-second AAC and 192-kbps WMA files encoded in both stereo and Dolby Headphone surround from the master tapes. I loaded a bunch of tracks onto my iPod and discovered the Dolby Headphone surround experience varied with each headphone I tried. My Etymotic ER•4 in-ear monitors were nowhere as wide-open-sounding as my Grado SR125 over-the-ear headphones.
The 3 Doors Down SuperDisc is a single DVD, but the other releases, like pianist Peter Cincotti's Live in New York SuperDisc package, are CD-and-DVD sets. In this case, you get a stereo CD of Cincotti's 2004 On the Moon studio album and a live DVD, shot in high-definition video with DTS and Dolby Digital 5.1 mixes, a Dolby Stereo mix, plus those nifty Dolby Headphone files. Cincotti's funky jazz romps have a nice kick, and the small string section that sits in with the band on some of the tunes adds a touch of class. The lush video looks great, but, if I had to pick on something, it would be that the sound doesn't feel particularly live. It's a little weird, because you're watching an outdoor performance, but the sound has an in-studio vibe. The sound quality is wonderfully rich and sweet, with excellent dynamic impact. The complete On the Moon album has a PCM stereo 96/24 mix.
The Grammy Award–winning Genius Loves Company by Ray Charles gets the full SuperDisc treatment with Dolby and DTS In the Band surround mixes, plus a DTS 96/24 stereo version. The surround mixes effectively enlarge the soundstage, and the sound quality is refined. Ray duets with stars like Norah Jones, Elton John, B.B. King, Willie Nelson, James Taylor, Diana Krall, and Bonnie Raitt. The sound is wonderfully intimate, and you feel the artists' love in the room. Oh, and you get two bonus tracks that weren't on the original CD: "Unchain My Heart" with Take 6, and "Mary Ann" with Poncho Sanchez.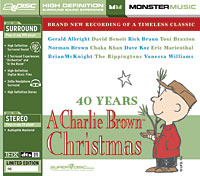 One of the most popular holiday recordings of all time, Vince Guaraldi's 1965 soundtrack to A Charlie Brown Christmas is a totally swinging affair. The audio-only DVD features three DTS 96/24 surround mixes—On Stage—Jazz Club, On Stage—Concert Hall, and Front Row Performance—and three matching Dolby Surround mixes, plus a PCM stereo 96/24 mix and files for your portable player.
David Benoit's 2005 smooth-jazz release, 40 Years: A Charlie Brown Christmas closes out this first set of five SuperDiscs. Benoit set out to reinterpret Vince Guaraldi's album, and, as with the other Christmas SuperDisc, Noel Lee rolled up his sleeves and personally produced original, multiple Dolby and DTS 96/24 surround/stereo mixes. I felt the In the Room surround mix was a little too close for comfort, so I mostly stuck with the more open-sounding Orchestral mix. This contemporary recording and dense orchestration fill out the sound in ways the 1965 original cannot.
Monster Music will release five more SuperDiscs before the year's end, including a brand-new recording from George Benson and Al Jarreau. The feature-packed SuperDiscs are all monstrous values, that's for sure.