Monolith MTM-100 Powered Desktop Speaker 2.1 System Review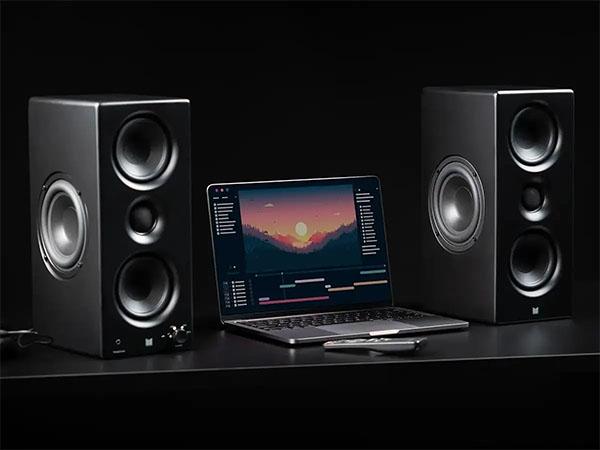 PRICE
$500/pair (speaker), $350 (subwoofer)
AT A GLANCE
Plus
Delivers high value
Subwoofer output allows expandability
EQ permits tailored sound
Sub is THX certified
Minus
Lacks HDMI ARC for wired TV sound
Large cabinets may overwhelm small spaces
THE VERDICT
A value priced, but stylish satellite/sub combo that forgoes the snobbish brand name to deliver high performance.
Founded in 2002, California-based Monoprice is an online retailer and original equipment manufacturer (OEM) that operates in the consumer electronic, professional audio, medical, and outdoor product areas. The company states that by controlling the design, manufacture, and sale of its products, it eliminates supply chain inefficiencies, thus allowing it to offer premium products at below market prices.
Monoprice's strategy seems to be working. It now sells over 7,500 products under its namesake brand and has OEM relationships with an ever-increasing number of third-party sellers. Whether you need a 3D printer, arial drone, wheelchair, audio/video component, guitar, camping sunshade, computer monitor, or almost any type of audio cable or adapter, Monoprice not only likely sells it, but may make it for someone else who does.
Monoprice's website states that the company's Monolith products constitute "the best value in high-end audio," which brings me to the MTM-100 powered, stereo desktop stereo speaker ($500/pair) and THX Certified 8-inch, 150-Watt Powered Subwoofer ($350) samples that the company sent over for review. Although not constituting "high-end audio" products in my mind, they must nonetheless offer excellent performance to find a place in the ever-competitive world of desktop audiophile gear.
Features: MTM-100
Removing the stereo pair of MTM-100s from their packaging revealed large (14"H x 6.3"W x 7.9"D each), heavy (approximately 21 ¼ pounds combined), and handsome speakers whose MDF (medium-density-fiberboard) cabinets are finished in black satin veneer. Most of the speakers' bulk is in their height so their footprint is rather small. Build quality is excellent, even more so when considering this product's price. I used gloves when handling the speakers as their finish easily shows fingerprints.
On the front of each speaker is a 1.25-inch silk dome tweeter, two 4-inch paper cone midrange/low frequency drivers, and a silkscreened Monolith logo. (That logo also appears on the speakers' rears.) On each of the speakers' sides, totaling two per speaker, are 5.25-inch passive radiators.
The sides of both speakers are subtly rounded. This is something that you often see on much more expensive speakers and is said by some to minimize vibrations and standing waves. The cabinet's corners are also rounded. Neither speaker uses a grill, which I think is good given the speakers' dapper looks and the fact that grills rarely improve sound.
One of the MTM-100's speakers, which Monoprice designates as the "primary" one, contains all the product's controls and almost all of its connectors. That speaker's companion is designated as the "secondary" one. To the left of the logo on the front of primary speaker is a 3.5mm headphone jack. To the logo's right is an infrared receiver for the remote control and a multifunction knob, the latter of which can be used to bring the speakers in and out of standby mode, cycle through the inputs, and adjust volume. Surrounding the knob's upper and side areas are source LED indicators.
Located on the primary speaker's rear are input connectors: USB Type-C, optical, and a pair of single-ended stereo RCAs, the latter of which can be used to connect to an external DAC. Also on that speaker's rear are a single-ended RCA subwoofer output, a stereo pair of speaker binding posts to connect the two speakers to each other, an AC power IEC connector, and a power switch. There is no HDMI ARC port, although that's admittedly a lot to ask at this price point.
The secondary speaker's rear is very sparsely populated. In fact, it contains only a stereo pair of speaker binding posts. The MTM-100 supports aptX HD Bluetooth wireless signal transmission. This allows it to connect to not only a laptop PC, but such devices as a tablet, phone, and compatible handheld gaming consoles and televisions.
Features: THX Certified 8-inch, 150-Watt Powered Subwoofer
Removing the 18.8-pound THX Certified 8-inch, 150-Watt Powered Subwoofer (the "Sub") from its box and cloth bag was easy work. The relevant THX certification is "THX Certified Compact," which covers gear that's designed to operate in smaller rooms. This certification mandates a battery of tests as determined by THX Ltd. to ensure that sound and/or picture quality is reference quality and true to the filmmaker's vision.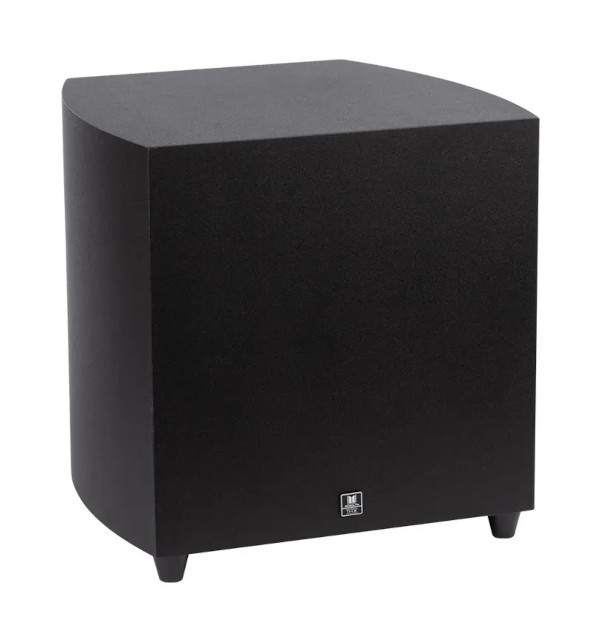 The Sub features a braced, ported cabinet that like the MTM-100's speakers is also made of MDF. Thankfully, the Sub's finish, mostly matte black, is pretty tolerant of fingerprints. The sides of the Sub's cabinet are curved in a way that is more pronounced than that of the MTM-100's speakers. All in all, the Sub cuts a handsome figure, though it is not as heavy or solidly built as many more expensive bass thumpers. Monoprice states that the Sub can produce frequencies down to 20kHz, although it would be surprising if it could do so linearly under real world conditions.
Moving around the Sub's exterior, we find on its front Monolith and THX logos. The exterior's rear contains larger versions of those logos, as well as the controls and connectors. There are three knobs, one each for adjusting the crossover point (within a range of 40Hz and 140Hz), phase (a range of points between zero and 180 degrees rather than only one or the other as with some subs), and output level. To the right of the knobs are three toggle switches for crossover on/off, equalization (EQ), and power.
The phase adjustment knob and the crossover on/off and EQ switches are marked with THX reference settings. For example, the EQ switch offers three settings ("EQ 1," "EQ2," and "THX REF") which allow the Sub's output to be tailored to a room's sonic characteristics. To the right of the switches is an LED power/standby indicator. The THX settings are the ones that are said to produce the lowest distortion.
Residing below these controls are one stereo pair each of single-ended RCA input and output connectors, a firmware/service port, a power switch, and an AC IEC connector with an integrated fuse bay. Unlike with some competing subwoofers, there are neither speaker-level inputs nor a high-pass filter on the RCA outputs.
It is on the Sub's bottom, where sort of speak, the rubber hits the road. There, one will find a downward firing 8-inch driver with a fiber pulp/glass fiber cone and a rubber surround. There is also a closed port and four footers. The port can be opened by removing its foam stuffing. According to Hobie Sechrest, who oversees the Monolith line, it's assumed that the Sub will be used in ported mode. Inside the Sub is a 150-watt amplifier.
Setup
The MTM-100 speakers came with a remote control, four small adhesive-backed rubber footers per speaker, an AC power cord, and a user's manual. Also included with the speakers were several no-frills cables consisting of an interconnect with a 3.5mm headphone jack on one side and a stereo pair of RCA connectors on the other, an unterminated (i.e., bare wire) speaker cable, and an AC power cord. The interconnect cable can be used to connect sources such as certain XBoxes and desktop PCs.
With its faux-aluminum face, the remote control is handsome enough. It also worked well. The remote contains a smart memory tone wheel that allows for treble and bass adjustment. There is even a "tone defeat" button on the remote that that can be used to bypass and reimpose the selected tone settings.
By using a desktop PC, external DAC, and television with the MX-100, I auditioned each of its wired inputs. To wirelessly pair my Bluetooth laptop and phone to the MTM-100, I merely selected the Bluetooth input via the primary speaker's front multifunction knob and located and selected the MTM-100 on those devices. Alternatively, I could have used the remote control's "pair" button.
The Sub comes with an AC power cord and a pair of white gloves that should have been provided with the MX-100. Curiously, the Sub does not come with a user's manual. Due to the number of setting options, the inclusion of a manual would be nice.
I placed the MTM-100's speakers on each side of my desk, with one speaker close to a wall and both slightly towed-in. This near field listening position minimizes performance degrading interactions between the speakers' output and the room.
Although the Sub is light enough to easily move, I experimented with it on the desk's sides as its large, center mounted leg did not allow for it to be positioned near my feet. Some might feel that due to the MTM-100's and Sub's large cabinet sizes, they represent a bit of overkill in a desktop system. Though, those who prioritize sound quality likely won't mind.
Taking Hobie Sechrest's advice, I mostly used the Sub in its ported mode. This provided more dynamic output than I obtained in the sealed mode, albeit with some rare port chuffing at very high volume levels. I mostly availed myself of the THX settings due to their low perceived distortion. Finally, I set the crossover at 80Hz, although that number will vary from setup to setup.
Even without the Sub, I turned down the bass on the MTM-100 speakers a bit to obtain the proper amount of low-frequency output. No mere gimmick, the MTM-100's EQ controls are useful. Although pressing the Sub into action improved low-end output and extension, it also decreased distortion throughout the frequency spectrum and improved sound staging. In any event, those who go with the speakers only won't want for middle and upper bass output.
Performance
The MTM-100 and Sub system brought naturally rich, full sound with plenty of deep, tuneful bass to my desktop. On "Find the Pocket," from the well-recorded Stereophile CD, Molto Molto, Works for Jazz Orchestra by Sasha Matson, haunting low register notes had respectably complex bodies with good decay. High frequency notes were clean and not fatiguing. Mostly though, I was gobsmacked at how full and rich the midrange was.
Although the system's ability to resolve small details is on about par with what I expected at its price point, its sound staging prowess was extraordinary. As the piano in "Find the Pocket" was closely miked, I even noticed how depending on their place on piano's keyboard (and thus frequency), the notes emanated from different parts of the piano's case.
Similarly, on "Well You Needn't," a Thelonious Monk number from Spirit Gatherer: Tribute to Don Cherry (Qobuz 16/44) by Kahil El'Zabar and his Ethnic Heritage Ensemble, the MTM-100/Sub system solidly placed Alex Harding's baritone sax just to the right of the left speaker, Coey Wilkes' trumpet in front of the right speaker, and the voice (assumedly that of Dwight Trible) just to the left of the right speaker. Although these sonic images were mostly confined to the space between the speakers, that's not uncommon when listening nearfield. To minimize this effect, make sure that your room is not over dampened or move the speakers away from the listening position.
My final note on two-channel listening is that the MTM-100/Sub system sounded very linear. In fact, I wouldn't be surprised if the MTM-100s found some use as a monitor in amateur recording studios and mixing stations.
Turning to movie and TV series soundtracks brought me to a western called The English. In episode six of this mini-series, the good guys are holed up in a small wooden cabin which is under relentlessly attack by a Gatlin gun wielding bad guy who is on the roof. The sounds of the gun's rapid-fire rounds were both deep as they pierced the cabin's ceiling and clean and detailed as they whizzed through the air. When a good guy tried to pick off the shooter with a single rifle shot, a sense of the prairie's space was nicely captured as reverberations of the rifle's discharge bounced around its hills. All-in-all, the presentation didn't want for detail and I was surprised by the amount of sonic drama that the system mustered.
Keep in mind that the Sub's internal amplifier is rated at only 150 watts and its 8-inch cone size is modest. As a result, the Sub will neither pressurize a room nor hit you in the chest with low bass frequencies as will many larger and more expensive subwoofers. Though, what the Sub did produce was pretty bloat free. Of course, this system is expandable as one or more additional Subs can easily be added.
I won't spill too much ink on the MTM-100's headphone function, which will do in a pinch but unsurprisingly won't provide the type of transparency that is needed to satisfy serious headphone junkies. That's no particular knock on the MTM-100 as I have been critical of headphone performance for a number of multi-function devices (e.g., streaming integrated amplifiers) that cost thousands of dollars.
The MTM-100 and Sub each have many competitors. Selecting the right products in a crowded field of high performers often comes down not only to sonic taste, but also features. The Kato YU6 ($519), for example, contains a built-in phono preamp. Q Acoustic's M20 HD ($599) processes high-definition signals up to 24-bit/192kHz via its USB and optical connections. ELAC's Debut Connex DCB41 ($600) contains HDMI ARC and a phono stage. Some of the Sub' competitors feature speaker-level inputs and/or a high-pass filter on the RCA outputs.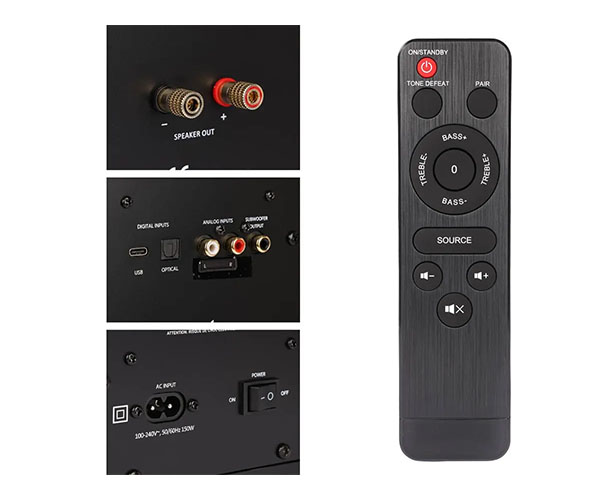 On the other hand, the MTM-100 features a headphone output, passive radiators, and killer looks. Further, the Sub features THX certification and the ability to run in either ported or sealed mode.
Conclusion
Audiophiles, movie enthusiasts, and gamers will be hard pressed to find a better value than that offered by Monoprice's Monolith MTM-100 and THX Certified 8-inch, 150-Watt Powered Subwoofer. Together, they produce warm, accurate sound with plenty of tuneful, deep bass, the latter particularly in smaller sized rooms. If the size of their cabinets is not too imposing for your desktop, they represent an easy purchase that may leave some money in the budget for some additional cables. Of course, I just happen to know a place where you can get them.
Specs
Monolith MTM-100 Powered Stereo Desktop Speaker
Dimensions: 12.59"H x 13.5"W x 12.59"D
Frequency Response: 45Hz – 20kHz ±3dB
Drivers (per speaker): 1 x front-mounted 1.25-inch silk dome tweeter, 2 x front-mounted four-inch paper cone midrange/low frequency drivers, 2 x side-mounted 5.25-inch passive radiators
Inputs: 1 x each USB Type-C, optical, single-ended stereo RCA pair
Outputs: 1x single-ended RCA subwoofer
Amplifiers: 1 x 50-Wpc, 100 watts RMS total, 150 watts total peak, Class D
Cabinet: Passive radiator
Weight per speaker (approx. lbs.): 11(primary), 10¼ (secondary)
THX Certified 8-inch, 150-Watt Powered Subwoofer
Dimensions: 12.59"H x 13.5"W x 12.59" D
Frequency Response: 30Hz ~ 20kHz ±3dB (anechoic)
Low Frequency Transducer: 1 x 8" fiber pulp/glass fiber cone
Cabinet: Ported
Connections: One pair each, stereo line-level RCA inputs and outputs
Controls: Crossover frequency, phase, output level, crossover on/off, three-setting EQ, power auto shutoff/always on, and master power on/off. THX settings marked as applicable.
Other: Firmware/service port, LED power/standby indicator, IEC AC-power
Amplifier: 150 watts RMS
Weight: 18.8 lbs.